2014 was a good year for restaurants. Openings in Toronto seemed like a daily, maybe even hourly occurrence -- but not every new spot is equally deserving of your hard-earned dollars -- so please allow us to direct you to the 11 most commendable eateries to cut the ribbon this year...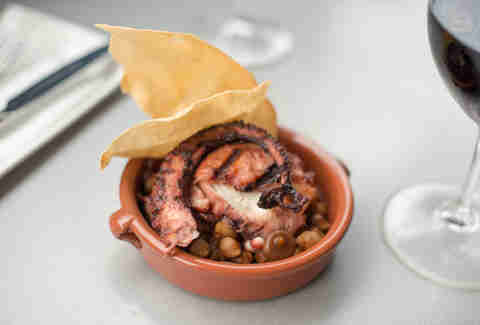 St. Lawrence Market
The area around St. Lawrence Market is becoming more and more diverse where eating options are concerned. Barsa Taberna is one of the standouts in the neighbourhood and it's smartly taken the concept of Spanish tapas to a fresh new level by incorporating flavours from around the world. So while the underlying idea might be Spanish in nature, you're likely to find it tweaked with unexpected ingredients (dashi, or tamarind for instance) that elevate every bite.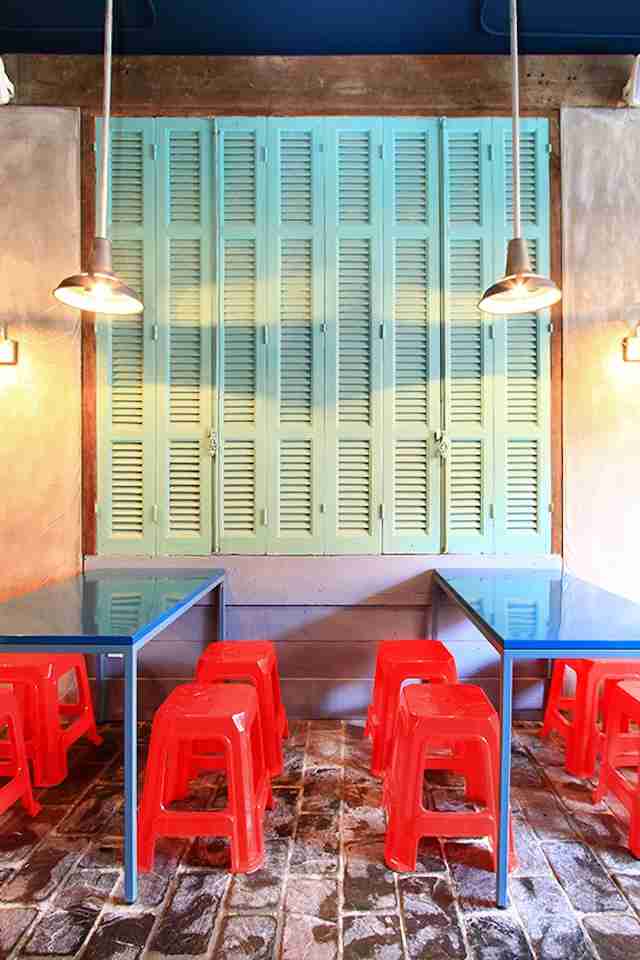 Queen St. West
After months of speculation and an elaborate hoax that had the whole city guessing as to what would be opening in the papered-over place on Queen, we finally have our answer -- and it's a good one. Anyone who has ever waited in line for the ridiculously good Thai food at Khao San Road should be happy to know that owner Montgomery Wan has bestowed upon us a new spot to snap up authentic eats you don't need to travel 12 hours to Thailand to get your hands on.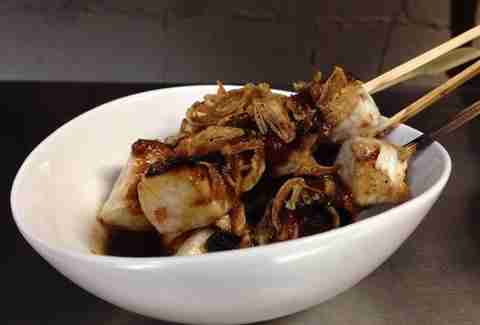 Uptown
Toronto runs the gamut when it comes to food -- in any given 'hood you can find everything from Indian to Italian to Greek. Indonesian however, isn't a cuisine you would have associated with the city -- until now. Little Sister is Toronto's only Indonesian restaurant and the Uptown spot is where to go to fill up on traditional Indonesian eats (or pretend you're on vacation in Bali). Flavours are bold, cocktails inventive, and the décor is decidedly more Downtown than Uptown.
Dundas West
Toronto has what feels like countless places to get your Chinese food fix, as well as any number of spots to enjoy some jerk chicken or other Jamaican fare, but a Chinese-Jamaican hybrid is a new concept in the city -- and it's one that works. The colourful space serves up dishes you won't find anywhere else, like kimchi potstickers done "pierogi-style", and a Jamaican patty double down featuring bacon, Swiss cheese fondue, and Sriracha.
The Annex
With seating for only 12, this tiny, tucked-away sushi joint is a haven for anyone who truly appreciates high-quality seafood. For $80 a person, you get 18 pieces of edomae sushi and dessert, and what you eat is entirely up to the chef. If you're in one of the 10 bar-top seats, you get to watch him work. Fresh, seasonal ingredients are sourced from around the world and reservations are (obviously) a must.
Yorkville
The newest offering from the King Street Food Company's family of restaurants, Buca Yorkville is the seafood-centric sibling to Buca and Bar Buca. You can still get the repeat visit-worthy pizzas and pastas Buca is so well known for at the newest incarnation, but the emphasis here is decidedly more pescatarian -- think cured fish platters, seafood-filled pastas, and a daily whole fish option.
Entertainment District
Celebrity Chef Susur Lee took dim sum upscale when he opened up Luckee in the SoHo Metropolitan Hotel. The sleek space is vibrant, elegant, and very much the opposite of that hole-in-the-wall you might go to in Chinatown after a night hitting the bars. The creative menu is comprised of what Lee dubs "Nouvelle Chinoise cuisine" and on it you'll find flavourful items inspired by several regions of China, including the Hunan, Shanghai, and Szechuan regions.
Harbord Village
The Food Dudes have further expanded their culinary empire to include a sit-down space (with a second one on the way). Rasa opened up in July in Harbord Village and has been quietly garnering terrific reviews among a growing loyal following of foodie fans. The cozy, inviting space serves a globally-inspired menu big on bold flavours, creative preparation, and textures that surprise the palate (spare ribs w/ a root beer float, anyone?).
Entertainment District
When Ivan Reitman made the move from directing classic flicks (Ghostbusters, FTW), and into fine dining, he made a smart move by teaming up with Jonathan Waxman. With their powers combined, they've created a huge bi-level spot with a large, yet inviting dining room, an upstairs lounge, private dining areas, as well as a large patio, and it's filled with with belly fillers that rotate with what's in season, and they boastfully list their all-local suppliers on the menu.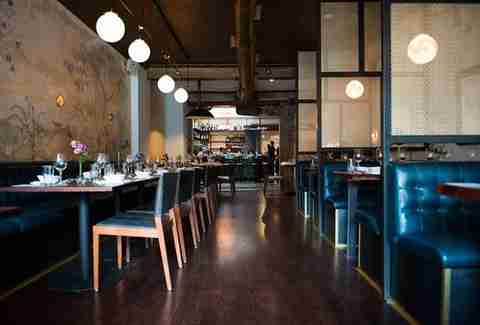 Little Italy
DaiLo, the long-awaited Asian brasserie from Chef Nick Liu in Little Italy, as it turns out, has been totally worth the wait. Like many new spots in Toronto, it's divided into two parts; downstairs is a sit-down resto with a full dinner menu incl. whole fried trout, Singapore chili crab, etc., while upstairs is the more causal LoPan, featuring bar snacks like Jellyfish Slaw, KFC Popcorn Tofu, and the fast food-inspired Big Mac Bao.
The Annex
Yes, this completely justifiably popular place may be busy, loud, and boisterous, but that's mostly because of Fat Pasha's amazing falafel; perfectly crisp on the outside and pillowy soft inside -- ideally dragged through house-made silky-smooth hummus. And whatever you do, don't leave without trying the whole (or half) roast cauliflower, doused in pine nuts, pomegranate seeds, tahini, and salty halloumi cheese.