Toronto rockers, The Darcys, know how to make good music. They also know where to eat, drink, and party, and've played pretty much everywhere in Toronto that does those things. Wes Marskell, the band's drummer, sat down with Thrillist to dish on the best the city has to offer.
Favorite Restaurant
Tacos El Asador. The best fish tacos I have ever had. Burritos are solid, good soup, and they make a great scrambled egg breakfast with beans, avocado, and plantain. On the cheap side and always busy.
Best Cheap Eats
Buk Chang Dong Soon To Fu. Not the prettiest but the best Dolsot Bibimbop in the city. Usually made with beef but they also do a great veggie option. Comes with unlimited tea, side dishes, and all the kimchi you can eat for under $10 with tax and tip. I also love that they sell Bud for $3.50.

Best Food Truck
The Hula Girl Espresso Truck. Trucks aren't big in Toronto yet, but this one is cool as it's essentially a mobile cafe.
Best Burger
Burgers are the "it" food in Toronto right now. Many swear by The Burger's Priest and Holy Chuck, but I still think Stockyards is putting up the best burger in the city.

Best Brunch
Farmhouse Tavern. This place is great if you feel like spending money. The brunch burger has a duck egg on it, and both the kale and trout Bennys are awesome. The Ace has a great pork belly, kimchi, and egg breakfast, as well as a good Benedict, and I often find myself eating eggs at Zocalo.

Best Donuts
Paulette's Original Donuts and Chicken. I'm not really into donuts... but if I'm going to eat them I want to go all the way down the road. It's not quite Roscoe's, but these donuts and fried chicken are still a wonderful thing. Next to Mercury Espresso Bar, which is handy for waking back up after the meal.
Best Cocktail Bar
The Northwood. New, somewhat affordable, and one of our friends is always spinning records in the back. Not yet the new hot spot, so you can still get a table relatively easily. Great cold-brew coffee from Toronto's Pig Iron roastery.
Best Beer Bar
Bellwoods Brewery. Great patio, snacks, and lots of seasonal beers that are subtle and delicious. When you leave, you can buy beer to-go from their adjoining shop that's open later than any of the city's beer stores.

Best Outdoor Spot
The Don Valley Brick Works. There's a fire-pit amphitheater overlooking the city. Essentially you can walk around in the middle of the city and feel like you're miles away from everything. Nice for a bit of an escape.
Best Coffee
This is tough and really depends where you are. If you're in the northwest, Crema pulls one of the bests shots in the city. Capital is good if you're in the southwest. Sam James is a lock for central-north, and south-central is a tie between Crafted and RSquared Cafe. Mercury is the best if you're in the east-end.
If You Have a Free Afternoon…
Spend $10 to sit in the 500s at a Blue Jays game. The Jays usually lose... but you're almost guaranteed to see a fight in the stands.

Best Comedy Club
Comedy Bar. Every night of the week you can see sketch, improv, and stand-up comedy. Two long-running shows worth seeing are Laugh Sabbath (stand-up) and Catch 23 (improv).
If You Have a Hangover...
Get the Huevos Divorciados from Easy Restaurant. It's big and comes with lots of bread. If it's going to come back up, at least it's tasty going down. You're close to the lake, so you can go for a walk along the water if you're feeling particularly resilient after a long night.
Coolest Street
Queen Street. It's a bit of a cliche but, if you're new to Toronto, it's definitely worth walking end to end. I also like Churchill Ave with its cute houses and steep hill. Feels a bit like you're in Nova Scotia. Good for getting coffee and taking a babe for a walk.
Best Concert Venue
Lee's Palace. Great sound, great sight lines, and it still feels intimate. The Horseshoe is always good, and I am really feeling Black Box Theatre.

Best Veggie Restaurant
Fresh. With soon-to-be four locations, Fresh is a consistent and reliable source for vegetarian or vegan food in Toronto. Great juices, burgers, and salads.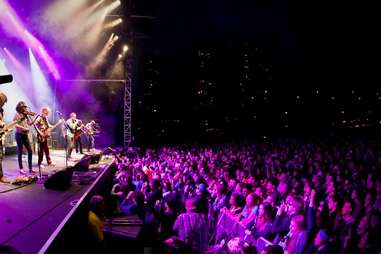 Favorite Annual Event in Toronto
Field Trip. We played Arts & Crafts' first annual Field Trip Festival this year with Broken Social Scene and Feist, and it was an amazing experience. Really excited to see what they'll be doing with the brand in the coming years.