While we'd gladly eat ramen year round, it's now the seasonally appropriate time to warm your cold, frozen insides and matching exterior with a steaming hot bowl of fragrant, fatty soup and chewy noodles known as ramen. What Toronto lacks in good quality sushi, it more than makes up for in its noodle bowls, many of its best spots hailing directly from Japan. Here are eight Japanese restaurants that pride themselves on serving one dish and one dish alone: delicious, steamy, hot ramen.
Downtown Core
This worldwide ramen chain based in Japan's most northern island keeps the Downtown Core nourished, happy, and warm serving up shio (mild salt), shoyu (soy sauce flavour), and miso (soybean paste flavour) ramen. While the classic flavours are drool-worthy and world-renowned, we recommend the Toroniku Ramen, the house specialty. This ramen, served plain with garnishes and melt-in-your-mouth pork jowl served on the side, will almost make you forget the long outdoor wait even during the winter months.
Downtown Core
Like most highly regarded ramen establishments in Toronto, Sansotei all but guarantees you'll face a long, cold outdoor wait on the sleety sidewalk of Dundas Street. Get there early and don't let the lineup deter you -- the unique flavours at Sansotei will be the hot, steamy taste explosion that you've been waiting for all winter long. Try just about anything with its black garlic oil for that umami punch, and most importantly -- do not leave Sansotei without trying the Slow Cooked Spicy Wings as an appetizer. We guarantee a plate of them will change your life.
Downtown & Other Locations
Ajisen Ramen features more than 40 kinds of ramen on the menu, and is one of a few ramen shops in town that's vegetarian-friendly. You'll find broths from Miso to Kimchi to Curry, with customizable spice levels from 25-500 -- just keep in mind that when Ajisen says spicy, it means spicy. (You've been warned.) Not feeling ramen? Try the rib eye steak teppanyaki or garlic chicken wings.
Dundas & Other Locations
Kenzo was one of the first ramen shops on the scene in Toronto, opening its doors in 2003. It may not have the hype of its neighbour Sansotei, but you know what it also doesn't have? The line up. Get seated right away at Kenzo and enjoy a bowl of its signature Tonkotsu, a rich, milky pork broth simmered for 24 hours, available in five varieties, from the potent black garlic to the subtler miso. The portions are huge, the service is efficient, and the gyoza is crisped and juicy -- you will wont for nothing at Kenzo.
Downtown Core
This North American ramen chain was founded on the goal of making quality ramen as fast, easy, and accessible as pizza or a burger. Toronto's Jinya prides itself on a loud, modern atmosphere with specialty snacks and a wide range of additional toppings for an entirely customizable ramen bowl. For something off the beaten track, try the Sprouting Up Ramen, a pork broth with green onions and Brussels sprouts, and the perfectly crisp and fluffy takoyaki, battered octopus balls with a mashed egg base.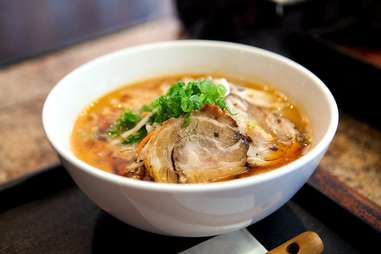 Kensington Market
Ramen Isshin is one of the few ace ramen joints outside the Downtown Core on this list, but this spot absolutely warrants the short trip to College and Bathurst -- you could literally order anything on this menu and have your tastebuds explode with happiness. Isshin's Red Miso is the chef's favourite and an absolute must-eat: the blend of red and white miso, wok-fried veggies, sake, and tonkotsu broth makes for a rich, golden broth served scalding hot over noodles. Plus, vegetarian friends rejoice: Isshin's vegetarian broth compromises nothing by being meatless, perfectly mimicking the richness, flavour, and texture of the fatty tonkotsu.
Downtown Core
With a house that seats around 70, there's rarely a wait at Ramen Raijin, so head straight here if you're hungry, freezing cold, and need your ramen fix ASAP. While it doesn't have the worldly reputation that some of the other shops on this list boast, the popular Spicy Tonkotsu can hang with the best bowls out there. The real winner at Raijin are the noodles -- they'll always be served al dente, chewy, thick, and entirely slurpable.
The Beaches
Ramen Kyouka head Chef Kenji hails from Japan, where he apprenticed under Ramen Kyouka founder and pioneer, Mr. Machida. Tweaking "Kyouka-ism" for the Toronto palette, both GTA locations feature your typical shio and shoyu, but the secret treat is the exceptional broth in the Kyouka special ramen. It's a powerful mix of pork, chicken, and kelp, producing a milky and rich flavour, topped with aromatic sesame oil and chili paste. It's well worth the streetcar ride to the Beaches.
Sign up here for our daily Toronto email and be the first to get all the food/drink/fun in town.
Sarah Cooper is a Toronto-based writer who survives winter by sprinting from one ramen shop to another. Follow her on Instagram at @agirlcalledcooper.