Toronto's West End is a growing culinary dream with multicultural dining ranging from cheap eats to high-end indulgences. The ever-changing Ossington Strip has become a new food mecca for people all over the GTA. What's most incredible about the 650-meter strip is that its culinary mosaic has no overlap in cuisine. Each restaurant is truly a standalone and the Strip inspires what could be the best culinary scavenger hunt in all of Toronto. These are the places you should absolutely know about.
The best fusion
207 Ossington
Typically a dirty word, "fusion" is often seen as a cheesy throwback, but Foxley is doing it right as it marries Asian and pan-Latin cuisines in tapas form. With an almost overwhelmingly extensive menu, you'll have a hard time deciding what not to order. Foxley serves up inventive tapas and an extensive wine list from around the globe. Whatever you do, don't pass up the blue crab and avocado salad and the lamb and duck prosciutto dumplings. Oh, and Foxley is walk-in only, so be decisive in your timing when you're trying to snag a seat.
Best Greek restaurant
80 Ossington
Fancying a quick hop over to Mykonos but don't quite have the time or funds? Walking into Mamakas Taverna instantly transports you to the Greek Isles. The narrow restaurant radiates Mediterranean colors, smells, and, dare I say it, sun! This is not your grab-and-go gyro shack. Mamakas focuses on traditional Greek fare with a medley of beautiful spices. For a memorable night you won't remember, have some traditional ouzo, an anise-flavored apéritif, to wrap up your meal.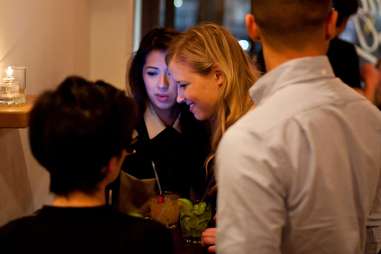 Best cocktails
164 Ossington
"Prove that you love me and buy the next round... " is the sign that greets patrons just before entering this dimly lit Ossington haunt. Serving up a small, yet well-curated menu of Korean-inspired tapas, Hawker Bar leaves diners full to bursting with delectable chili soy chicken wings and lasaka katong. However, the dynamic flavours of the food are not the only star; this small restaurant serves up a dangerously delicious interpretation of a Singapore Sling. Be here on a Wednesday for Wings and Slings -- $15 for a pound of wings and a Hawker Sling.
Best date spot
72 Ossington
This French-inspired bistro is all about comfort. Don't come in expecting cheap eats, but you'll get your money's worth with the size of the portions. Do not pass up Union's signature appetizer: elk sliders. These puppies are bursting with flavour and are big enough for an entrée. If you're still hungry and feeling extra carnivorous, try the sticky ribs that fall right off the bone and leave you happily satiated. Stop in on a Monday night for half-off all bottles of wine.
Best Cuban food
92 Ossington
This dinette serves up some seriously delicious chow. No need to hop on a flight to Miami to cure your Cubano craving -- its small menu boasts big flavour and traditional plates. From succulent, slow-roasted pork shoulder to chicken medianoche, you can't go wrong. The only decision you'll need to make is when you're going to come back. Come through on Thursday through Sunday and check out the backroom cocktail lounge for some cervezas and Cuban cocktails to go with a traditional Cuban sandwich.
Best cheap eats
57 Ossington
It might be in the best interest of this restaurant's regulars to tell you that Golden Turtle just up the street is far superior -- but that would just make us liars. This no-frills Vietnamese eatery isn't much for a venue, but the food speaks for itself. The pho broth is teeming with flavour and rich aromas, and the rare beef is a must-try. This cash-only nook will leave you full and your wallet unscathed.
Most Canadian restaurant
59 Ossington
Ever wonder what the native Canadian settlers ate? Ever wanted to taste it for yourself? Well, now you can thanks for Boralia, a whimsically decorated spot serving elevated Canadian fare. The menu is a bonafide history lesson, taking you back in time with your palate as your guide. Boralia is delicious in both concept and execution; the couple that runs the restaurant pays a beautiful homage to the country's culinary culture and rich history. The hearty pigeon pie and venison liver foie gras parfait would make the likes of Samuel de Champlain salivate.
Sign up here for our daily Toronto email and be the first to get all the food/drink/fun in town.