The Best Restaurants in Toronto, According to Local Chefs
From jerk chicken to boozy egg tarts, here's what to eat in Toronto's culturally rich food scene.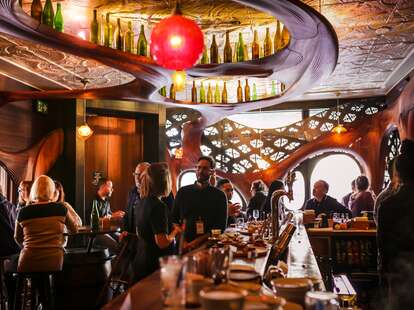 Bar Raval

| Photo courtesy of Alexa Fernando
Bar Raval

| Photo courtesy of Alexa Fernando
Go ahead and ask someone from Toronto about the city's most famous dish. We'll wait…
While Canada's biggest city doesn't really have any specific dish to brag about (sawrry, Teranna!), it more than carries its weight with the sheer volume of extremely tasty international cuisine on offer.
"We have masterful cooks from all over the world who have brought their flavors and skill to this city," says Joshna Maharaj, a chef, activist, and author of Take Back the Tray, a book about making institutional food more affordable and delicious. "What results is a very creative and wonderfully diverse food culture."
Go to a neighborhood like Greek Town, Little India, and either Chinatown (yes, there are two), and you'll get pretty much the same souvlaki, curry, and dumplings they eat abroad. Then you have neighborhoods like The Annex, Queen West, and Kensington Market, where you can do a full-spectrum, belt-bursting international food crawl.
But with so many restaurants—not to mention the tasty mom-and-pop joints in suburbs like Scarborough—the food scene in Toronto can get extremely competitive, according to Adrian Forte, a Jamaican-Canadian celebrity chef who has been featured on Top Chef Canada, Chopped Canada, and Netflix's Restaurants on the Edge. But, as restaurants have adapted to pandemic restrictions with meal boxes and pop-ups (including Forte's YAWD), the industry has developed a new sense of unity. "Everyone is facing the same challenges. Unprecedented times and struggle breed camaraderie," Forte says.
Suzanne Barr, a celebrity judge on Food Network Canada's Wall of Chefs, believes Toronto's food scene will never be exactly like it was before the pandemic—and that's a good thing. "I'm actually excited to see how restaurants have rebuilt (both figuratively and literally) when we eventually get to the new normal."
Barr adds that when you're sipping a flavor-packed pho, biting into a spicy jerk chicken, or eating some ethereal Ethiopian injera bread in Toronto, remember that you're getting more than a good meal: You're also getting a story of resilience, migration, and entrepreneurialism.
"Most people enjoy their food with their eyes, taste buds, and sense of smell. But the true beauty is in contemplating the intricate journey of the chef and all the ingredients that make up that dish before coming together on your plate," she says. "And Toronto is such a hub for culinary talent, from misfits to proteges… which makes the food so unique from a global perspective."
Whether you're waiting out the pandemic in town or itching to try the city's legendary food scene, here are the best restaurants in Toronto, according to these three prolific chefs.
Downtown
Ask around Toronto and there's a good chance most people will list Pai as one of their favorite restaurants—and Joshna Maharaj is no different. "Chef Nuit Regular's Northern Thai food is NOT to be missed!" Highlights include the khao soi and Thai chicken wings, as well as the iced tea ice cream, which you can take home by the pint.
Koreatown
"Chef Johl Whiteduck Ringuette is bringing the flavor and wisdom of local Indigenous cuisine to the table. You've gotta visit them for a taste of this fresh, seasonal food," Maharaj says. Nish Dish is closed temporarily due to the pandemic, but the restaurant's website assures it'll come roaring back.
Liberty Village
In pre-pandemic times, this brunch place had massive lines for one thing in particular: its legendary pancakes. "They're totally worth the wait," Maharaj says.
Little Italy
With its trippy Gaudi-esque interior and tasty pintxos, this tapas bar brings the tastes of Barcelona to Toronto. "You must eat the kitchen bread at Bar Raval," Maharaj commands.
East Chinatown
This Southeast Asian ice cream shop in East Chinatown sells fun flavors like boozy egg tart, Korean banana milk, and vegan lychee lemonade sorbet. Currently only available by the pint during the pandemic.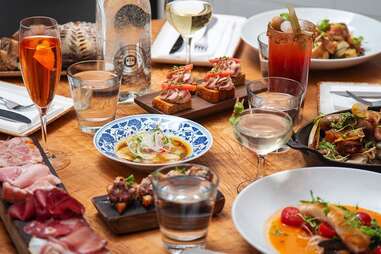 Downtown
Maharaj loves the "killer burgers" at this downtown restaurant from Chef Carl Heinrich, a winner of Top Chef Canada.
Alexandra Park
Being from Jamaica, the Caribbean food scene in Toronto has a special place in Adrian Forte's heart. He recommends this beloved late-night restaurant: "Hands down the best oxtail in all of Toronto, this place has been around over 13 years and is an institution," he says. If you go late, "be prepared to encounter some interesting characters."
Alexandra Park
When indoor dining is permitted, you can bet that Forte will be back sipping cocktails and tucking into small plates at this Asian-influenced hangout. "Great ambiance, cocktails, and a food menu by Top Chef Canada alum [Dustin Gallagher]."
Alexandra Park
Forte says his girlfriend calls this Filipino restaurant 'Ol' Reliable' because "it never disappoints. Great price points, big portions, and bold flavors." Try the sisig fries (pork jowl and ear with french fries) or arroz caldo (congee with hunks of egg and pork).
Christie Pits
After a night of drinking, Forte heads to this Nicaraguan restaurant near Ossington Station for a feast. "[I] usually start off with the seafood chowder then go into the fish of the day (snapper or sea bass) served with rice and peas, avocado, and plantains."
The Annex
Forte couldn't resist plugging this comfort food joint, whose menu he contributed to and American west-coasters should adore. "I wanted to bring a little of Los Angeles to Toronto, so when I was approached to design the menu, I used In & Out as the inspo," he says. Expect fried chicken, Big Mac-style burgers, and gooey grilled cheese sandwiches.
Little Italy
Both Maharaj and Suzanne Barr listed this Chinese-Jamaican restaurant as one of their favorites—it's just that good. "Chef Craig Wong has such great energy and enthusiasm behind everything that he does," Barr says, adding that her favorite dishes are the juicy jerk chicken, the Jamaican patty double down, and dirty fried rice, the latter of which brings her to her "happy place." Maharaj opts for the O.G. fried cauliflower, Jamaican oxtail, and the hibiscus negroni bag juice cocktail.
Danforth
Barr loves picking up from this east-end Thai restaurant any night of the week. "My son loves the curry chicken nuggets and my partner and I love pad thai, so it's definitely a crowd-pleaser in our household," she says. "Chef Mo cooks from the heart and when we eat her takeout at home, it's so cozy and familiar."
Downtown
Barr has been ordering a lot of oshi sushi from Minami to-go—but when pandemic restrictions ease, she can't wait to eat inside, as this Entertainment District restaurant is known for its theatrics. "I'm so excited to try chef Jason Do's wagyu on yogan stone and chef Aiko Uchigoshi's matcha baked Alaska (flames and all)," she says.
Leslieville
There's usually a huge line outside this cozy Egyptian brunch restaurant, but it's totally worth it. "Maha is the matriarch behind this beloved hot spot and her food has beautiful, intricate flavors and all the soul," Barr says. "I particularly love her beet salad and falafel sandwiches."
Garden District
The dishes at this Caribbean restaurant remind Suzanne Barr of her childhood growing up in Florida. "[Chef Kareema's] Escovitch snapper reminds me of my father's, with lots of sweet peppers, onions, and carrots and a bit of heat paired with sweet plantain," she says. "The jerk vegan lasagna is such a clever way to take an old meat-centric dish and make it a delicious plant-based one."
Joel Balsam is a freelance journalist and travel guidebook writer whose work can be found in National Geographic Travel, Time, The Guardian, Lonely Planet, and Travel + Leisure. Follow him @joelbalsam.