In the height of a sticky Toronto summer, what's better than a refreshing, cooling cone of ice cream? That exact same ice cream, just softer and creamier... and we're not suggesting half-melted. Haters will hate, but you can't deny that the smooth, textural heaven of soft serve isn't exactly what you want melting all over your face and hands on a hotter-than-hell summer's day. Knowing your every desire better than even you, the city of Toronto has sprung forth with an array of soft-serve options, especially in the past few years, to help cool you down on these blistering hot days.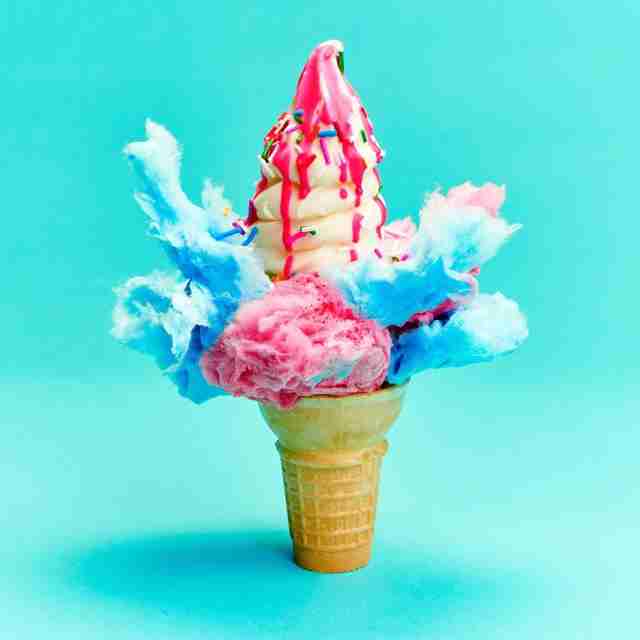 Entertainment District & other locations
The name "Sweet Jesus" is synonymous with soft serve in Toronto. Headed by Monarch & Misfits (of La Carnita and Home of the Brave), Sweet Jesus provides the heat-stricken masses with fully loaded, all-dressed soft serve in the summer, and warms Toronto's frozen soul in the dead of winter with signature hot chocolate and espresso drinks, each confectionary creation eminently Instragrammable. While the line can be around the block at the John St location, head over to Queen St East or Yonge and Eglinton for a much shorter wait time. Know that each location has unique flavours, so true SJ devotees will want to hit up all three.
Markham
If you can find this inconspicuous vendor in the New Kennedy Square strip mall in Markham, then you've hit the soft-serve jackpot. It regularly has just two flavours, matcha green tea and vanilla, but they're the only two you'll ever need from Wooffles & Cream. Dress up a matcha & vanilla swirl with one of its famous egg waffles -- we recommend the Lap Cheong (chinese sausage) & Seaweed for the ultimate sweet and savory combo -- or try it fully loaded in the Matchazuki parfait cup.
Etobicoke
Tom's Dairy Freeze is the godfather of Toronto soft serve. Swirling the best in the business since 1969, this institution is well worth the trip to Etobicoke. Everything from the walk-up window to the battered picnic tables speaks to Tom's legacy. The classic vanilla soft serve is far and away the best-textured in the GTA -- no iciness whatsoever, just pure, unadulterated cream. Try the classic soft serve dipped in a cone, or a whipped cream, peanut, strawberry, pineapple, chocolate-topped banana split if you're feeling especially decadent.
Downtown Core
This Japanese transplant specializes in one flavour and one flavour only: matcha green tea. Tsujiri comes from a long line of matcha-green-tea royalty: it was founded in Kyoto in 1860, over 150 years ago. It has a crisper, stronger matcha flavour than Wooffles & Cream, and the lineup 'round the block at the tiny Bay and Dundas location is indication enough that the Downtown crowds aren't disappointed in the least. If you're not feeling soft serve, branch out and try a matcha cream puff or matcha parfait.
Downtown Core
If you're feeling a good old-fashioned matcha soft serve bang bang, you can find infamous Uncle Tetsu, the original purveyor of Japanese desserts in the Downtown Core, literally 170 meters from Tsujiri. Right next to the famous cheesecake shop, you'll find the cafe serving a variety of matcha desserts. While some bemoan the matcha isn't as strong as Tsujiri's, you should try a deliciously melty matcha soft serve with a milk twist and judge for yourself.
Chinatown
Kekou is a gelateria specializing in Asian-inspired flavours, but its small-but-mighty soft serve selection is not to be taken lightly. If you're over matcha, hit up a twist of jasmine tea & almond tofu soft serve. The jasmine tea is subtle and refreshing, while the almond tofu's sweetness is reminiscent of a light marzipan -- the perfect complementary flavours to swirl on a hot summer's day.
Corktown
The portions at Roselle may be small, but these little cups pack a serious punch. Roselle made its name with its famous Earl Grey topped with a butter cookie and pearls, and now houses a selection of rotating flavours. Roselle is manned by husband-and-wife duo Steph and Bruce who met while working abroad in Paris, and who focus their dessert shop on French-inspired treats. Definitely get the turtle tart and banana eclair if you're not in the mood for ice cream.
Financial District
Yeah, yeah, Momofuku again. Is there anything franchise-owner David Chang can't do? Toronto is blessed with the only franchise location in Canada, and the cereal milk soft serve is simply another testament to the wizardry of the brand, this time under Christina Tosi. How they make it taste exactly like the leftover milk steeped in soggy cereal from your morning bowl of corn flakes, we'll never know. Have it with the sweet & salty cornflake crunch post-ramen (the noodle bar is directly below) and your life will be complete.
Entertainment District
While not a soft-serve vendor per se, there's nothing more heavenly than a chocolate-vanilla swirl in a mini Jays helmet to cool down during one of those long, hot weekend games. Going for $7 for a heaping portion (and a mini helmet you can take home!), it's one of the best value, and best-tasting, treats you can get at Rogers Centre.
Entertainment District
WVRST is a bumping Entertainment District mess hall-style sausage joint, and while it's primarily known for the wieners, it's also serving up some excellent house-made soft serve. Wash down a kangaroo sausage with a cup of maple rosemary soft serve with duck fat fry bits. The ultimate sweet-savory dessert, duck fat fry bits take this creamy cup to the next level.

Sign up here for our daily Toronto email and be the first to get all the food/drink/fun in town.