Five Kaiser sandwiches you need to eat right now
The Kaiser roll came from Vienna, and it came to party. Sized somewhere between a bread roll and an entire loaf, its soft and pillowy dough is surrounded by a crunchy, flaky exterior -- man cannot live on bread alone, however, so he must stuff that bread full of delicious meat & veg too, and that's exactly what Toronto's sandwich shops have gone and done. Here are the city's five finest Kaiser's, and by extension, pretty much its five finest sandos, period.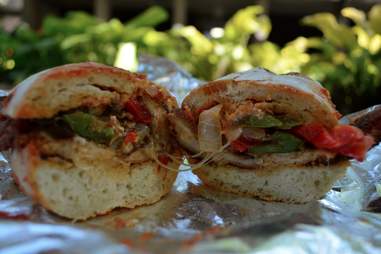 Credit: Sam Riches
5. Uno Mustachio
Located in the heaven-on-earth-for-a-foodie that is the St. Lawrence Market, Uno Mustachio has built up a reputation as one of the best sandwich stops in Toronto. Sully your mustachio with their hefty eggplant Kaiser, which's deliciously loaded up with caramelized onions, hot peppers, and sautéed mushrooms.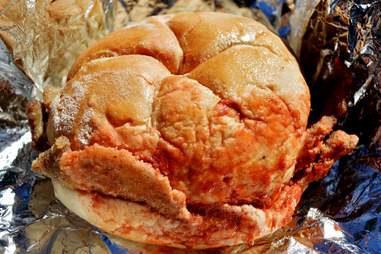 Credit: Sam Riches
4. San Francesco Foods
As one of the most popular after-the-bar stops in Toronto, you can always rely on San Francesco. Their consistently awesome veal Kaiser yields four layers of breaded meat soaked in house marinara, and topped w/ provolone, mushroom halves, and optional jalapeños (Note: another veal sandwich you need to eat is at the Sanremo Bakery).
Credit: Sam Riches
3. Carousel Bakery
The service is fast, the food is good, and Anthony Bourdain ate here once. What did he eat, and lavishly praise? The Peameal Bacon (Canadian bacon) sandwich, naturally, which will blow your mind (and it's only $5.50).
2. California Sandwiches
When it comes to the best Italian sandwiches in Toronto, the debate usually starts and ends with California Sandwiches. Their chicken sandwich -- two breaded and fried cuts of chicken and house-made tomato sauce served up on a Kaiser roll -- is infamous for tasty reasons. It's as big as your head and you need to eat it.
1. Vicentina Meats
Located in Vaughan, Vicentina's is a butcher shop that's also developed a rep as one of the best lunch spots around. There is every meat you could ever desire, but the winner is their signature porchetta Kaiser, stuffed to the hilt with onions, 'shrooms, peppers, grilled veggies, and cheese.