In a way, it's a great thing that food trucks move around so much, because that way people won't see you constantly going back to the same place to gorge yourself. That being said, it can be confusing to keep their locations on lock, so here's our list of the finest 10 chow-trucks in the city and their Twitter handles, so you can keep a firm hunger-averting lock on each of them.
Recommended Video
Debatable: Is Shake Shack Really Fast Food?!?
10. Rome'N Chariot @RomenChariot
As seen on Eat St., Rome'N Chariot serves up classic "handed-down-through-the-generations" Italian cooking, such as meatball sliders, or a two-cutlet breaded-veal sando called The Gladiator (which you'll be glad you ate). They also regularly give out free meals to the homeless, so they've got that going for them, too.
9. I Love Churros @Panchosbakery
This food truck of Pancho's Bakery (the first Mexican bakery in Toronto) offers totally authentic & delicious Mexican churros (who'd have guessed?), plus other stuff like empenadas, tamales, and "pan de muerto", which worryingly means "bread of the dead". It's called branding Mexico, Jeez.
8. Localista @localistaeats
All about the local food movement, Localista brings you "farm-to-truck" fare fresh from southwestern Ontario on a constantly rotating menu for the likes of these BBQ duck cakes, Thai goat curry, and huge flank steak sandos.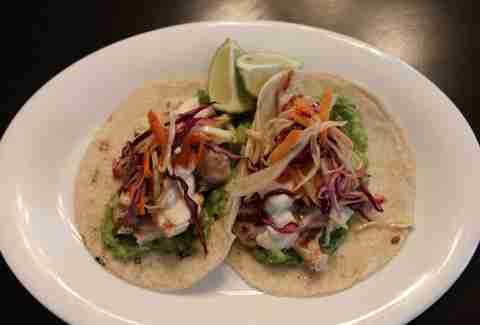 7. Gourmet Gringos @GourmetGringos
Toronto's first gourmet Latin food truck, GG throws out self-made recipes like their Peruvian Tiradito (seared tuna w/ a jicama & mango salad), and build-your-own tacos, tortas, burritos, etc. (which you can fill with the likes of barbacoa, fried pork belly, and grilled cactus).
6. Blue Donkey Streatery @bluedonkeytruck
Greek food, amped up Canadian style; they have a feta poutine, a grilled cheese pita, and even a gyro pita loaded w/ BBQ rotisserie chicken/pork, and French fries.
5. Thunderin' Thelma @caplanskytruck
The mobile version of the great Caplansky's Deli, it's worth following this truck around the city if only to eat the smoked meat sandwiches -- but there are other delicious things too, like the BBQ beef brisket on a bun, and the bacon-maple doughnuts.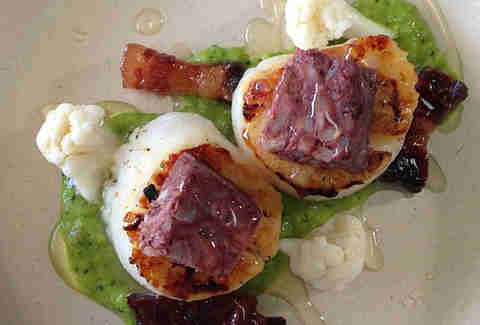 4. El Gastronomo Vagabundo @elgastronomo
This roller was actually Ontario's first ever food truck, and it retains its spot on the list thanks to its globally-inspired gourmet tacos -- the fish-stuffed numbers have won awards, and rightly so.
3. Gorilla Cheese @gorilla_cheese
These dudes make cheese from gorillas grilled cheese only, but in the most amazing ways possible; try the El Jefe (shredded pork, ham, pickles, mustard, swiss, and mozz) and The Lumberjack, which features cheddar, bacon, sliced Granny Smith apples & real maple syrup.
2. Smoke's Poutinerie @poutinerie
Serving up a healthy number of not-so-healthy variations on the classic poutine, Smoke's highlights include the Nacho Grande (w/ house chili, salsa, guac, sour cream, and jalapeños), and the Double Pork, whose pulled chipotle shoulder meat is matched w/ twice-smoked bacon.
1. Food Cabbie @foodcabbie
Owned & operated by a second-generation Napa Valley chef w/ 30yrs in the kitchen, FC's mission is to put out all-American comfort food classics, such as cheddar-smotherd cheeseteaks, Chicago-style "Dawgs", and strictly secret off-menu items like their chorizo-loaded "Manimal" poutine.