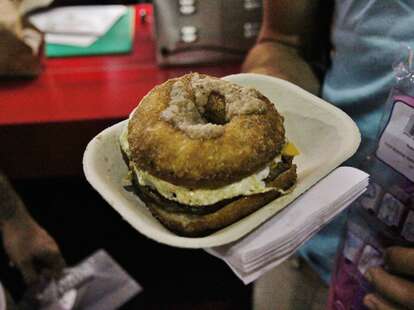 This is the cronut burger. The perfect storm of junk foodstuffs. The burger with which Elvis wished he had eaten himself to an early grave. It was only available for a brief shining moment at Epic Burgers & Waffles, before the place was shut down by the feds when a dozen people got food poisoning (or, more likely, their all-too-human systems simply couldn't handle the sheer amount of awesome within these buns). Thankfully, we were there to try it before it all went south. We didn't die. This is our story.
This hybrid-hybrid made its Toronto debut at the CNE, which is continuing on until September 2nd. We arrived at 8:30p, and made our way to the back of a 50-person line.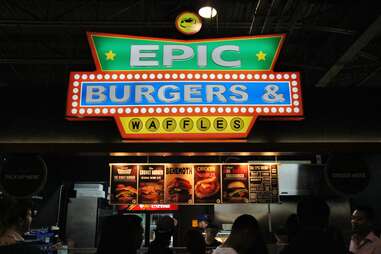 Pretty much everything on the menu at Epic is crazily out of proportion. Like grilled cheese? How about taking two of them and sandwiching a meat patty in between. They do that, and it's called "The Behemoth". We, however, came for something less nutritious. We're here for The Cronut Burger.
This is it: cronut, maple-bacon jam (oh Canada!), bacon, fried egg, cheese slice, patty, cronut and a prescription for Lipitor .
Initial impressions? While the meat patty was a little on the thin side, the doughy (croey?) bun and maple-bacon jam were delicious. The cronut itself was heavily coated in cinnamon and sugar, and acted as a sponge absorbing the fat and grease from the burger. Those two factors alone, to say nothing of the sense of accomplishment that comes with finishing it, made the $10 price tag worth it.
My partner, clearly not made for this sort of power-eating, tapped out half way through. I'm sure her heart is thanking her.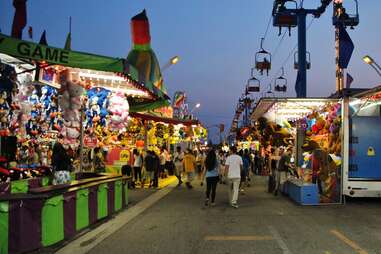 We retired, did not get food poisoning, and did not die. Now someone out there must take up the gauntlet and make a new cronut burger (that actually passes health code laws)!