Toronto has a lot of great food and drink, and a lot of great food and drink neighbourhoods. But what if you were stuck in some strangely mundane episode of The Twilight Zone, and could only eat in one of those neighbourhoods for the rest of time? Which one would you chose? And how would you avoid a horribly ironic ending? Well, to help you figure it out, we've narrowed the city down to its 10 best 'hoods for eating & drinking...
10. Entertainment District
What was once known strictly for clubs serving overpriced drinks to overdressed patrons, is now home to some seriously good food and drink. Susur Lee's Luckee in the SoHo Metropolitan Hotel serves upscale dim sum; eat authentic Mexican and drink all the tequila at El Caballito; get your seasonal, local ingredient fix at Ivan Reitman's California-inspired Montecito; or head to Thoroughbred Food & Drink for fun takes on pub snacks and inventive cocktails.
9. Leslieville
No matter what you're looking for -- brunch spots, wine bars, pubs, upscale Italian eateries, indie coffee shops, corporate coffee shops -- you'll find it in Leslieville. The Eastside location of popular West End seafood spot Rock Lobster is always bustling, brunch lineups are worth it at Lady Marmalade, you get to eat in a yurt at Irish pub The Céilí Cottage (in addition to regular seating), and places like Eastside Social, Glas Wine Bar, and Goods & Provisions take both their food and their booze very seriously.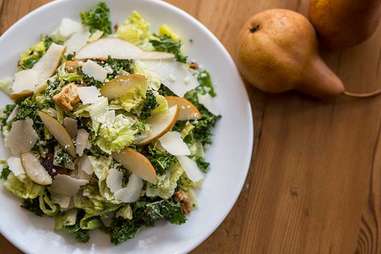 6. Financial District
Suits aren't the only thing you'll find in the Financial District. Stockbrokers and number crunchers need to eat, too, and apparently they aren't suffering for choice. David Chang's trifecta of Asian eateries (Noodle Bar, Shōtō, and Daishō) are here, as are Richmond Station, SpeakEasy 21, Drake One Fifty, and long-time neighbourhood mainstays Bymark and Canoe.
5. Ossington
It might not have the same buzz it was once known for, but Ossington is never down for the count. It's got a brewery (Bellwoods Brewery) where you can eat, drink, and buy beer. The ones who started it all are still here (Foxley, Pizzeria Libretto, Crooked Star, Sweaty Betty's), and diversity has continued to prevail (Malaysian at soos, Greek at Mamakas Taverna, Singaporean at Hawker Bar).
4. King West
Made up almost entirely of condos, coffee shops, and restaurants, the hardest part about getting something to eat or drink in this neighbourhood is deciding exactly where to do it. Mainstays Crush Kitchen & Bar, Khao San Road, Lee, Weslodge, Gusto 101, and Buca now sit alongside relative and ever-popular newcomers Portland Variety, Bar Buca, Byblos, and many more.
3. Little Italy
Little Italy is no longer synonymous with Italian eats. Instead of pizza and pasta, Bar Isabel is serving some of the best Spanish tapas this side of Barcelona; tucked away on Palmerston, Woodlot continues to impress with its simple, seasonal, belly-warming dishes; DaiLo and upstairs bar LoPan serve hearty, flavor-packed Asian fusion; tacos (and lineups) are the name of the game at La Carnita; and elegance is what you get at refined Japanese tasting restaurant Yunaghi. And if you're still hungry, there's always Italian.
2. The Annex
It's always been easy to find decent food in the Annex, but the 'hood has experienced a resurgence of sorts and it's now really easy to find good food here. This is the neighbourhood that houses three of the always rammed Playa Cabana restaurants (Playa Cabana, Playa Cabana Hacienda, and Barrio Coreano), and where you'll find all three of Anthony Rose's suburb supper spots (Big Crow, Fat Pasha, and Rose and Sons). Throw in cheap and cheerful noodle house Kenzo Ramen, boisterous Guu SakaBar, and more pubs and sushi joints than you could ever visit in one lifetime and you have a neighbourhood made for eating.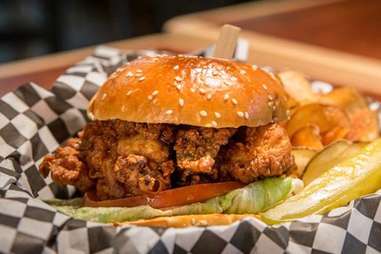 1. Dundas West/Little Portugal
Now that the breakneck speed at which Ossington was morphing from sleepy hipster strip to the hottest 'hood in the entire city has slowed, Dundas West is taking over. The length of Dundas between Ossington and Dufferin is packed with great spots to eat & drink, and they just seem to keep multiplying. Mr. Flamingo packs 'em in nightly, Essen is doing stylish comfort food you can only wish your Mom used to make, and Nathan Isberg's Atlantic (where diners barter for food or pay what they think the meal is worth), was recently given a rave review by Giles Coren, head resto critic at The Times of London. Plus, bars like The Dock Ellis, Get Well, Bambi's, and Unloveable are just a few places in the 'hood worthy of your booze money.