The 9 best new restaurants in Toronto
While you were busy gazing up at the summer sun, or at least the spot where the summer sun was SUPPOSED TO BE, you may have missed some of the newest restos to swing their doors to hungry Torontonian diners. Here are the finest openings of the last couple of months...
Montecito
Entertainment District
Making a foray from fine movies into fine dining, director Ivan Reitman (in partnership with Chef Jonathan Waxman) has opened up this two-story space, and given it a massive dining room, an upstairs lounge, private dining areas, as well as a large patio, and a menu that changes with what's in season (usually featuring fare like confit duck, or a sharing ribeye) and uses local suppliers who're all handily listed on the menu.
Little Italy
Chef Nick Liu opened DaiLo, his long-awaited Asian brasserie in Little Italy and like many new spots in Toronto, the inviting space is divided into two parts. Downstairs is a sit-down restaurant with a full dinner menu (incl. whole fried trout, Singapore chili crab, etc.), while upstairs is the more causal LoPan, featuring bar snacks like Peking duck, mushroom & scallion tacos, and the fast food-inspired Big Mac Bao.
Mamakas Taverna
Ossington
The resto-and-bar-laden Ossington strip can now add "Greek taverna" to its huge roster of dining spots. Designed to look like an open-air Greek market, Mamakas Taverna features a variety of flavourful mezzes, grilled items, salads, and sides, so you can wistfully pretend that beyond the white concrete block walls of the bustling restaurant lies a sun-kissed seaside village.
Connie Tsang
The Annex
Yes, this place is busy, loud, and small, but that won't matter when you take your first lustful bite of Fat Pasha's falafel, perfectly crisp on the outside and pillowy soft inside -- ideally dragged through house-made silky smooth hummus. And whatever you do, don't leave without trying the whole (or half) roast cauliflower, doused in pine nuts, pomegranate seeds, tahini, and salty halloumi cheese.
Pai
Entertainment District
Fancy a trip to Thailand but the budget gods haven't bestowed enough extra zeros to the end of your bank statement? Head straight for Pai. The design of the space takes inspiration directly from its name (a town in Northern Thailand) and the décor reflects the region. The menu boasts delicious pad Thai, and creamy khao soi; a Northern Thai specialty w/ egg noodles in a golden curry topped with crispy noodles.
Distillery District
Cluny Bistro's 11,000sqft of space is designed to look like a French bistro, and the sprawling space manages to exude warmth despite its size. The menu is divided into sections incl. small plates (Ginger-Chili Fried Frog's Legs, anyone?), a raw bar and seafood counter, large plates (choose-your-own steak frites), and a cheese section (go for the Brie de Meaux "Grilled Cheese"; a homemade brioche housing Brie and spicy tomato puree).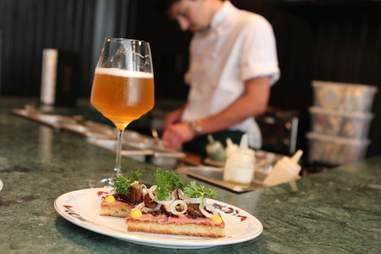 People's Eatery
Chinatown
This two-story space in Chinatown bills itself as two eateries in one. The main floor is where to go for more snack-style fare (potato latkes, a deluxe smoked fish plate, etc.), while upstairs you get a set menu (BBQ pork bao, a Peking duck platter, etc.) and a more formal, yet still easygoing space where everything can be ordered with or without drink pairings.
Entertainment District
Housed in a three-story Victorian, Thoroughbred's first floor is a snack bar, the second floor is a more traditional restaurant, while we have to wait and see what's in store for the third floor, which is currently TBD. Food is billed as contemporary Canadian, which basically gives the place license to serve just about anything, and does so with Kung Pao Cauliflower, and a mixed Waldorf salad w/ miso & almond.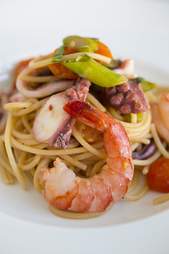 Nodo
The Junction
A whitewashed Italian eatery housed in a former antique shop, Nodo's checkerboard floors and salvaged décor items round out the reclaimed look, while the menu features homey Italian fare with a sophisticated twist. Try the house-made gnocchi, pizzas, or the Terra e Bosco ("earth to forest") platter, an almost-too-pretty-to-eat deconstructed salad of vibrant veggies scattered artfully among dollops of citrusy ricotta cream sauce.