While preparing for your upcoming mayoral campaign (uh, with a bar set this low, how could you not be?!), you may have understandably missed some of the awesome new Toronto spots that've been swinging their doors over the past few months, so we've faithfully rounded them up for you…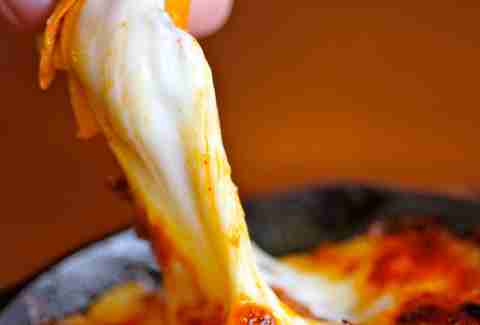 Mad Mexican
Bloor West Village
The official front to the Mad Mex food empire (w/ products available basically all over town now), this resto/deli's got a lot going for it. Everything from the tacos to the tortilla chips are made in-house (their salsa is already arguably the best in the city: all-natural, preservative-free, gluten-free, dairy-free, and with no sugars added), and they're rocking deliciously authentic tacos like slow-braised pork, spiced lamb, and grilled cod.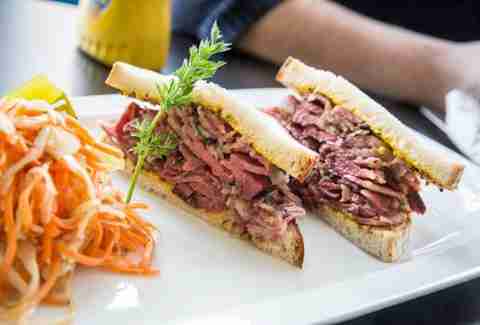 The 420 Smokehouse
Cabbagetown
Not at all what you may think it is, 420 will still nonetheless cure the munchies. While they're still tinkering with their menu, one thing is clear early on: this is heaven for a meat lover. The house smoked meat sandwich costs $12 and delivers a heaping portion of thinly sliced, hand-cut meat stuffed between fresh rye bread, and coated with beer mustard. The half-rack of Korean sweet & sour ribs is also worth trying, and it comes with braised kale for color. 
Wildfire Steakhouse and Wine Bar
North Toronto
Wildfire is already vying for a spot among the city's best steakhouses, and they should be, considering the likes of their hulking porterhouse, combining a bone-in sirloin strip w/ a tender filet mignon. If you're looking for something lighter (and cheaper) however, try the braised beef short ribs, slow cooked with the meat falling off the bone and basted in housemade BBQ sauce. 
SCADDABUSH
Yonge & Gerrard
This month, Mississauga-based SCADDABUSH Italian Kitchen & Bar moved into the city, opening a second location in the heart of Downtown to a packed housed. Dimly lit, with a relaxing, comfortable atmosphere, you'll find some classic Italian eats at solidly reasonable prices.Try the Parmesan veal or chicken mains; the meat comes breaded with Panko crumbs, topped with fresh mozz and housemade spices and served with spaghetti with tomato and basil sauce.
Copacabana Brazilian Steakhouse
Midtown
Another fine establishment to induce the meat sweats, Copacabana offer more than 20 cuts of animal protein (incl. but not limited to skirt steak rib, prime rib, bacon-wrapped filet mignon, lamb chops, Parmesan chicken) carved fresh at your table, and it's all you can eat. Fill up your sides at the fancifully named "Harvest Table", where you can enjoy unlimited salads, pastas, hot dishes, seafood, fresh bread, and whatever else is on tap that night. Afterwards, pass out in bloated shame.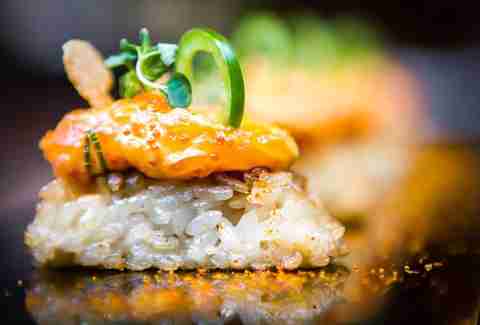 Shibui Robata Bar
Entertainment District
Set in a sleekly dark, wood-hewn space, Shibui is throwing out a wide range of Japanese grilled goodness (black cod, lamb chops, pork belly) alongside signature rolls of raw swimmers like salmon w/ tempura flakes, or yellowtail w/ jalapeños & mango. Drinks-wise meanwhile, there's a short cocktail list to accompany bottles of sake incl. a sparkling number.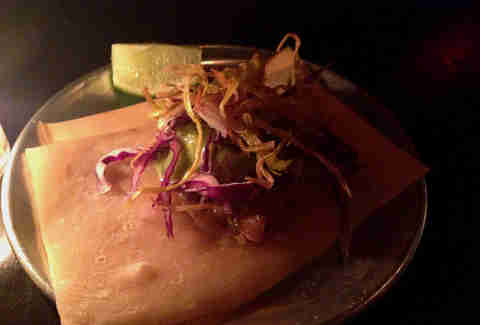 El Caballito Tequila Bar
Entertainment District
One of the city's newest entrants into the flourishing Mexican eatery scene is El Caballito Tequila Bar. This is the melding of two glorious worlds, tequila and affordable Mexican comfort food. The flank steak and baked fish tacos are top notch but if you want to try something different, go for the Al Pastor tacos; pork, pineapple, salsa verde, and coriander. Also, there's a ton of tequila! 20+ bottles, all arranged by age.