Despite the evidence presented by Rob Ford's pants tailor, Toronto does not have ALL the great restaurants in Central Ontario -- in fact there are a ton of amazing eateries just a (really big) stone's throw away from our hallowed metropolis. Here's where to eat when you're out of town...
Recommended Video
The History of Delivery & Takeout
The Craftsman Restaurant
Bancroft
This place has been around since 1955, and the key to that longevity is found, believe it or not, in the great food. They've got special features every night, such as Cajun-style blackened catfish, maple stuffed roast pork, and grilled rainbow trout, to name a few -- plus there's a traditional roast beef dinner every Sunday, which sounds just about right for a town of 4,000 people.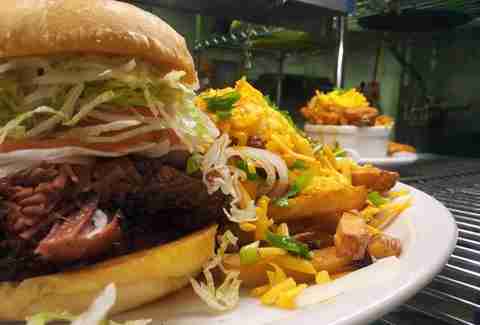 Memphis Fire Barbeque Company
Winona
Breakfast, lunch, and dinner are all on the menu here and the Sneaky Cheeseburger has developed a loyal fan following. You get a patty made from fresh ground beef from local farms, dressed with ranch, lettuce, tomatoes, dill, and caramelized onions and topped with a smoked cheddar spread... and while you can get a single, you need to get the triple.
Frijoles Fresh Mex Burritos
Niagara Falls
You'll find all the classic Mex eats here -- tacos, burritos, quesadillas -- without any of the unnecessary frills, but what you want  is the burrito, served with homemade guac, pico de gallo salsa, toms, sweet corn, fresh cheese, romaine, crisp cabbage, jalapeños, plus chicken, beef, and pork. And the kicker? There are eight of the house-made sauces to go with it.
Era 67 Restaurant & Lounge
Orilla
The steaks here are cut in-house daily and easily stack up against anything any big city has to offer, especially their 14oz AAA Angus Reserve Alberta Beef Ribeye monster. Feel like something different? Try some hand-made pasta stuffed with Era 67 homemade wild mushroom duxelle and a chardonnay reduction, shallots, fresh thyme, Woolwich goat's cheese and Balderson aged cheddar tossed with a roasted garlic cream sauce and topped with wilted baby arugula and duo of grape tomatoes in maple marinara. Yep.
That Little Place By The Lights
Huntsville
A fairly sizable family runs this amazingly named Italian eatery, where everything actually does taste homemade. Try the linguine puttanesca (black & green olives, capers, garlic, hot peppers, and anchovies in tomato sauce), or their meat-loaded Mamma Anna's pizza, w/ Italian sausage, salami, ham, and bacon.
Il Buco Ristorante
Barrie
This gem has been serving up Old World Italian eats for more than six years, and pairing them with wines from their extensive and pretty impressive list -- favorites include the already-boozy penne al la vodka, w/ bacon & Reggiano cheese.
Big Chris BBQ Smokehouse
Barrie
Sure, there are plenty of places that'll furnish your arteries with a full rack of smoked baby back pork ribs or, even an equivalent Dirty Burger with pulled pork -- but there's only one place that'll give you the Ultimate Dirty Burger Challenge. It comes with SIX 8oz patties, each topped with bacon and cheese, plus 2lbs of pulled pork, and some poutine for good measure. The current record holder finished it in 50 minutes and 59 seconds. Can you do better?
Lion City Restaurant
Mississauga
An institution in Mississauga for almost 20 years, Lion City serves authentic Sing-Malay food, cooked up by chef and owner Lilian Ow. Try the beef rendang curry and the rojak, a green mango, pineapple, and cucumber salad that's tossed with dried jellyfish, peanuts, and fermented shrimp paste. It'll push you outside of your comfort zone and it's so, so worth it.
Hot Belly Mama's
Peterborough
The music, food, and arts of New orleans... in Peterborough. Hot Belly Mama's is a local standby and for good reason, the food is fantastic and the atmosphere is cordial and relaxed. We recommend the Jamaican honey mustard chicken, which comes roasted in-house made honey mustard marinade, accented with curry, allspice, and Red Fife Wheat Ale, all served w/ fresh mango chutney.

Soulyve Caribbean Kitchen
Orangeville
Proudly known as Orangeville's premier Caribbean restaurant (!), you're going to want to try their trademark dish, the Reggae Wrap (for $10 you get your choice of jerk chicken, jerk pork, sweet BBQ chicken, vegetable, or cornmeal catfish), or some of the traditional dishes, like goat curry, beef patties, and jerk chicken.