We all know that Toronto has some excellent restaurants, but did you know that bright, shining culinary star has raised the game of the entire province? Yes, not only is it possible to get a decent meal outside of Toronto, there are several places worth the road trip alone...
Wellington
The Drake Hotel has been packing in both locals and out-of-towners alike for its regular roster of must-see events, its stylish space, and its food. Now you can get a different taste of the Drake outside the city at its new location in Wellington. The farm-and-lake-to-table menu features what's fresh, seasonal, and local, and the emphasis is on contemporary comfort food. The lakeside setting makes every meal feel like you're enjoying it at someone's cottage, albeit a really, really stylish cottage.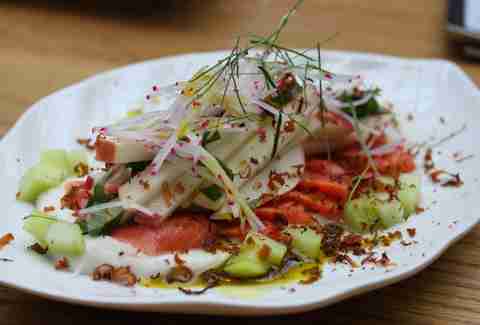 Ottawa
This sleek spot in Ottawa's ByWard Market consistently gets top marks for both its creative dishes (especially the tacos) and its knowledgeable, friendly staff. The concise dinner menu features tacos, dim sum, and sharable veggie sides, along with heartier mains like crispy Cornish hen with General Tsao and herb slaw, and butter poached lobster with green curry and seasonal vegetables.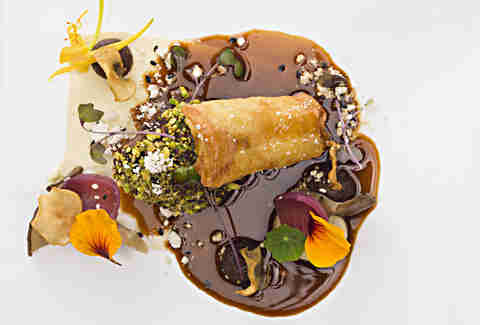 Ottawa
Also in Ottawa, Atelier was recently ranked number 19 out of 100 on a list of Canada's best restaurants. Opened in late 2008, the unassuming brick building with room for just 22 is putting together some of the most innovative plates in the country. And it turns out a lot of plates. Atelier serves a 12-course tasting menu every night, to every guest. The menu changes regularly but you can expect a focus on molecular gastronomy featuring Canadian ingredients.
Singhampton
The idea of enjoying a farm-to-table meal has never been more literal than it is at Eigensinn Farm. Almost all of what guests are served at Chef Michael Stadtländer's working farm/restaurant will have been raised, grown, or produced there. But don't think about just showing up and perusing a menu. Reservations need to be made months in advance for the renowned eight-course meals served in a rustic farmhouse.
Niagara-on-the-Lake
Opened in May 2006, Treadwell Cuisine makes it its priority to highlight the best ingredients the Niagara region and surrounding area have to offer, as well as the people who are behind producing those ingredients. Food here is simple and that's the point. No extraneous touches, just plates that highlight, rather than detract from the main ingredients.
Barrie
This place might look unassuming from the outside, but if you let that stop you, you'll be missing out on some of the best Indian food in Barrie. People love this place and it's not hard to see why. Bold flavours, attentive service, and comforting, well-priced dishes have created a loyal following.
London
Open since 1998, David's Bistro is somewhat of a London institution and serves as a go-to restaurant for everything from casual weeknight meals to special occasions. The traditional-style French bistro is as welcoming as going to dinner at a friend's place, but in this case, a friend who really knows their way around a kitchen. Elegant plating, sophisticated, yet approachable dishes, and a welcoming atmosphere make for an experience worth coming back for.
Hamilton
Known for its nose-to-tail menu, Rapscallion ensures nothing goes to waste, so there's an element of boundary-pushing here, which really is half the fun. No matter what you find on the menu, you can expect it will be plated with love by passionate, creative chefs. Oh, and vegetarians are taken care of, too. It even has a completely vegetarian/vegan-friendly day on Mondays.
Cambridge
Like Atelier, Langdon Hall also found itself on the recent list of top restaurants in Canada earning the No. 16 spot. A meal here won't come cheap, but what you order off of the award-winning menu will be worth any lightness in your wallet. The restaurant not only works with local producers and foragers to create a diverse menu highlighting the best food the area has to offer, it has its own garden from which to showcase what's in season.