If you're just going by the amount of sheer pleasure mankind as a whole has gotten from something, then the hamburger is probably the most important invention of our time (also maybe the back-scratcher), hence why we've made it our duty to scour Toronto for its finest beefwich purveyors. For your pleasure, these are those places:
Marben
King West
You're going to need napkins, a cheering section, and somewhere to lie down after. Order John's Burger -- we don't know who John is, but we suspect, based on this creation, he is a great man. This bad boy is beef and braised rib topped with aged cheddar and a sweet-and-sour Branston pickle.
The Burger's Priest
Queen West, The Beaches, North Toronto
Branding itself "Toronto's American Burger Joint", the Burger's Priest, now with three locations, is not messing around. Impress people with your deadly-sin-level gluttony and order the Vatican City: a double cheeseburger squeezed between two grilled cheese buns and hidden from mere commoners on the secret menu, which isn't posted anywhere in the restaurant.
The Stockyards Smokehouse and Larder
St. Clair West
Everything is great here, burgers included. Order the straight up Classic -- the beef is cooked with the griddle-smash method, which helps the patties form a crust that will blow your mind. Then they top it with toms, pickles, red onion, and crème fraîche aïoli.
Holy Chuck
Midtown
This "Burgers are our business" place will furnish you with possibly the biggest, most Lipitor-necessitating-est beefwich in the city -- aptly named the Cowlorie, you get two patties topped w/ bacon & onions, all packed between two grilled cheese sandwiches. Luckily, they "use only trans fat free oil". Whew!
The Yellow Griffin
Bloor West Village
With more than 35 types of cow-wich to try here, you might as well pencil in all your dinner plans for the next month. We recommend the New Mexican; Santa Fe salsa, Tabasco, extra-chunky guac, all topped w/ peanut butter, and sided by diced sweet pots & chopped coriander.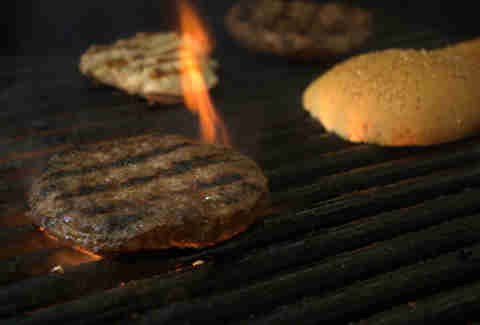 Magoo's Gourmet Hamburgers & Ice-Cream
Etobicoke
This is your Grandpa's burger stop -- extremely old-school, there's no flair, but the quality is high. The patties are made of fresh, lean beef and served up in satisfying, but not soul-crushing proportions. Everything is fully custom'd to your taste (add bacon, 'shrooms, cheese, etc.), and they'll call out your name when it's ready, like Starbucks, except you know, good.