It's that time again, when we look back on the year that was, on all of the new and noteworthy things we ate and drank across the city, and wonder how our waistlines have possibly remained this small (fine, this medium). And because so much great stuff opened in the past 12 months, we're going to award out honours on a reassuringly wide range of categories. Here then, is the best of Toronto 2015:
Best pop-up turned brick-and-mortar
Loka
Address and Info
Queen West
What began as a pop-up at Riverside watering hole Hi-Lo Bar is now Toronto's first successfully Kickstarter-funded brick-and-mortar restaurant. Chef Dave Mottershall's campaign raised enough cash to give him a permanent place to turn out creative dishes that showcase the versatility of each ingredient used. The focus here is on nose-to-tail eating and wasting nothing, as well as highlighting whatever is freshest, meaning the menu changes daily. Opt to eat a la carte, or dive in and order the entire menu (advisable).
Best new upscale restaurant
Alo
Address and Info
Fashion District
Patrick Kriss brought his refined tasting-menu concept to Queen and Spadina this year, and the city immediately took notice, recalibrating its opinion of what a tasting menu could be. This is a place where you go to experience as much as taste the food, and all in an atmosphere that gets everything right about fine dining (impeccable service, elegant surroundings, beautiful plating) without being stuffy.
Best new street food-inspired spot
Soi Thai Street Food
Address and Info
Little Italy
Toronto has a bit of an obsession with street food. Not food you get on the actual, literal street mind you, but instead restaurants that serve street food-inspired fare. One of the best to open its doors this year was Soi Thai Street Food, tucked away in a narrow space on College St, and recreating the look and feel of a Bangkok laneway food stall. Familiar favourites like pad Thai are replaced here with traditional Thai street snacks meant for sharing.
Best new beer bar
Bar Hop Brewco
Address and Info
Entertainment District
Walk into the King West location of Bar Hop any day of the week and you'll find yourself jockeying for a table. You'd think then, that by opening a second, much larger location around the corner, seats would be easier to come by. You would be wrong. Bar Hop Brewco packs 'em in thanks to the eye-popping amount of beer on offer, including 36 craft and seasonal brews on tap. There's also an expanded menu courtesy of Chef Mark Cutrara that includes nachos served in a pig's head.
Best new seafood spot
Honest Weight
Address and Info
Junction
Honest Weight is a welcome addition to a somewhat barren stretch of Dundas. Pick up fresh fish and shellfish at the counter, or order some food and stay for a while. The menu is simple and highlights whatever happens to be fresh that day. There's chowder, Tamil-style fish curry, a deceptively simple pan-seared fish sandwich, and even okonomiyaki (a savoury seafood pancake) to choose from among a few other items.
Best new cocktail bar
Miss Thing's
Address and Info
Parkdale
If we're predicting trends for the coming year, Tiki bars will be on top of that list and Miss Thing's is leading the charge. The tropical-inspired bar has been generating praise for its pan-Asian and Polynesian-leaning menu (with good reason), but it's the punchy cocktails with bright, bold flavours that we fell for.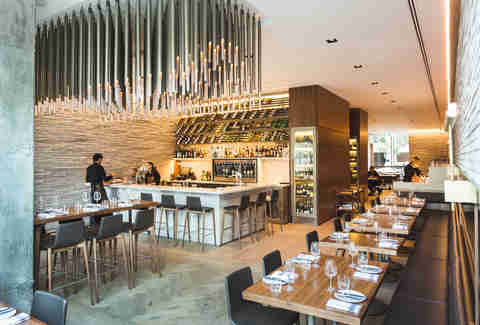 Best new brunch
Buca Yorkville
Address and Info
Yorkville
The newest outpost of Chef Rob Gentile's mini-empire of restaurants only recently started serving brunch, and for that we are grateful. Brunch here is one that you can actually make reservations for rather than impatiently waiting in a hanger-inducing lineup. Go for the Barbabuca, a heady blend of beet-infused Grey Goose vodka, Carpano Classico, apricot, raspberry, lemon, and olive oil. As for eats, this is brunch beyond the basics, which includes the likes of the bombolone: grilled mortadella and sopressata, mascarpone, salsa verde, and an egg all in a pressed Italian donut.
Best new diner
Old School
Address and Info
Dundas West
There's something so comforting about eating in a diner, a feeling that is captured perfectly by Old School -- a 24-hour joint serving up decadent all-day brekkie and brunch favourites alongside some good ol' fashioned barbecue, hearty sides, and sweet treats worth putting your diet on hold for.
Best new licensed cafe
The Walton
Address and Info
Little Italy
Toronto has seen several day-to-night spots pop up over the last few years where the tap of laptop keys can be heard during the day and cocktails get shaken into the evening. One of the most recent to be added to the roster is The Walton. The café and cocktail bar on College mixes a mean drink and also serves a variety of beer, wine, and cider alongside a short card of bar snacks. By day you have your pick of espresso-based beverages and pastries supplied by The Tempered Room.
Best new health food spot
Kupfert & Kim
Address and Info
Fashion District
While the subterranean PATH location of Kupfert & Kim has been providing healthy eats to office workers for a few years, the vegan, gluten-free eatery only recently opened above ground. Unlike the PATH location, you can actually sit down here to enjoy your wheatless, meatless eats. There's also kombucha on tap, to complement a selection of gluten-free beer and wine.
Best new brewery
Burdock
Address and Info
Bloordale
This new Bloordale space is quite the multitasker, combining a restaurant, event space, and microbrewery all into one. And while it's an ideal venue for intimate live shows and plates of local, seasonal comfort foods, it's the beer that really deserves a shoutout. Burdock might not compete size-wise with other Toronto breweries, but the depth of flavour in the beer it's producing is pretty phenomenal. Take the white peach Berliner, for example. Made with Ontario white peaches, its mellow tartness and ultra-fresh flavour make for a smooth, satisfying sip.
Best new sandwiches
TuckShop Kitchen
Address and Info
The Junction
Sandwich-lovers rejoice, there's a new spot in town to get your fix. TuckShop Kitchen smokes its own bacon, grinds its own burgers, and roasts its own turkey (not to mention makes its mayo in house). Whether you get the roast turkey and Brie, the BLT, the pulled pork, the vegetarian pulled pork (made with miso-marinated tofu skin), or a hearty burger, you'll be happy with your choice.
Best new nightlife spot
Fring's
Address and Info
King West
The collaboration between Drake and chef Susur Lee surprised the entire city when it had an opening party in September -- and no one was aware of its existence. Now that the upscale eatery is officially open in its King West location, and one of the biggest entertainers in the world is involved, not to mention one of the most renowned chefs, you can expect the bookings to fill up fast.
Best new snack bar
Hanmoto
Address and Info
Dundas West
Tucked just off of a bar-laden stretch of Dundas West, Hanmoto is a compact 30-seat spot for some seriously satisfying snack food. The Japanese-inspired plates make for perfect beer food: savoury, in many cases greasy, and filled with umami flavours. The tiny spot gets packed, especially on weekends, so go early if you want to nab a table.
Sign up here for our daily Toronto email and be the first to get all the food/drink/fun in town.
Jessica Padykula is a Toronto writer who will be going against the grain this New Year's by resolving to eat and drink even more in 2016. Follow her at @JessPadykula.