Toronto's summer openings roundup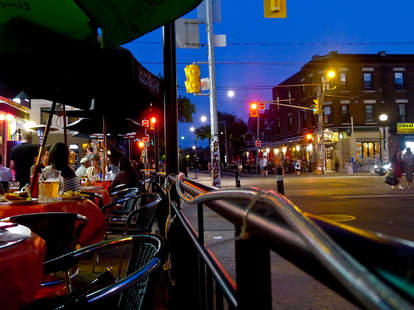 Because Tim Horton's doesn't do dinner (yet), other restaurants still need to exist, and Toronto's had a slew of awesome new ones swing open their doors in the last few months, so we've distilled a list of the town's latest & greatest ribbon cuttings (which doesn't include the newest T-dot locale).
Origin North
Name:Origin North in Bayview Village
Opened: August '13
Why You Should Care: A companion to the well established King St E location, Origin North's sleek and modern interior compliments the selection of internationally-inspired dishes, w/ everything from a 1/2lb of snow crab claws, to miso black cod, to Bangkok beef noodles, to a Sparta salad, whose shaved veg & yuzu will certainly not make you feel like you're dining in hell. While it's not cheap, it is delicious, and there's even an entire Mozzarella Bar! Last call for Emmental...
Name:Rock Lobster (Queen West)
Opened: June '13
Why You Should Care: Rock Lobster on Ossington has yet to celebrate its first birthday, but it's done so crazy well already they've expanded to a second spot -- the East Coast-themed, patio-equipped Queen location offers way more space, a larger menu (adding the likes of a fish sandwich labelled the Fillet "Eh" Fish, lobster-stuffed devilled eggs, and bacon-wrapped corn dogs), plus 'tails like their Fruit Loop-flavored alcoholic breakfast beverage.
Name:Amsterdam BrewHouse on the Lake
Opened: June '13
Why You Should Care: 14,000 sqft of BrewHouse big enough for you? No? Then your standards are way too high. With more than 800 seats spread throughout a vast rustic interior and lakeside patio, Amsterdam Brewery's latest is putting out fresh brews like Big Wheel & Boneshaker IPA, as well as experimental numbers like a four month-aged Baltic Porter. Food's all beer-paired (duh), and see the likes of boneless shortribs, French-dip sandos, and duck grilled cheese.
Name: Osteria dei Ganzi
Opened: May '13
Why You Should Care: Set in an elegant East Toronto mansion built in 1891 by famed architect George Horace Gooderham, OdG pairs its lush surrounds with Italian eats ranging from osso buco to homemade gnocchi w/ oyster 'shrooms, and dandelion & anchovy pasta. There are similarly inspired cocktails, w/ the standard Negronis & Sidecars meeting originals like the bourbon and maple syrup Time & Date, which may well make you forget both.
Facebook
Name:Grasslands
Opened: March '13
Why You Should Care: Vegan and delicious? Yes, the two words can, on occasion, hang out in a sentence together. This medium-sized, Queen Street West hangout is now decked out with wood and industrial lighting, and offers Mediterranean-inspired, allegedly healthy fare like maple scented yam mash, olive oil and yukon gold whip, and rigatoni w/ cashew cream & shiitakes.
Flickr
Name:Brock Sandwich
Opened: July '13
Why You Should Care: Not a power move in a Lesnar tag team, Brock Sandwich will actually sling you a delicious bread-packed meal for under $10 in a simple Bloordale Villiage space -- the sizeable lunchables include a pulled pork number, a crispy buttermilk fried chicken sammy, and a seared albacore tuna-wich.
Facebook
Name: Ryus Noodle Bar
Opened: July '13
Why You Should Care: A humble noodle bar offering meat & veggie options, this quiet restaurant with friendly staff will be a popular choice once the chill of fall sets in; the spicy miso tanmen comes recommended by both staff and patrons and's made with either tofu or pork. If noodles aren't your thing, first take a deep long look at your life, then order the AAA roast beef, served with rich truffle oil.