Toronto's best under-the-radar burgers
If there's one thing Torontonians love more than Jimmy Kimmel's astute insight into their political scene... it's probably burgers. And despite the abundance of delicious beef pucks in the city, when folks put together their "best burgers" lists, the same 10 places tend to end up on all of them (we're hungrily looking at you, Stockyards, Holy Chuck, and Marben).
Deliciously championing the underdog, we found the finest spots whose patties unjustly never made it onto those lists -- so leaving out anything that gets name-dropped on the "best burgers" lists for BlogTO, NOW Toronto, and Toronto Life, here are the best under-the-radar beefwiches in Toronto...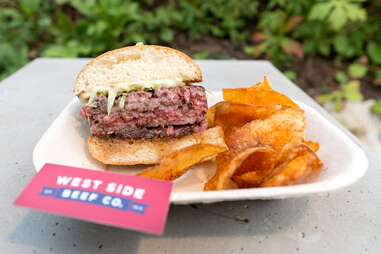 Richmond Station
Financial District
Top Chef Canada season two winner Carl Heinrich's downtown restaurant knows a thing or two about fresh, local quality. His eponymous Richmond Station burger is a drip-down-your-arm juicy short rib patty that's topped with aged cheddar and sweet beet chutney all in a house-baked milk bun. The plate comes with rosemary Kennebec fries and roasted radish salad. Plus the patty is made from pastured Ontario Angus beef that's broken down in-house by co-owner and butcher Ryan Donovan. It doesn't get a lot better than that.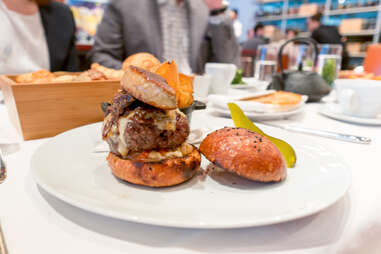 Splendido
Harbord Village
Fancy doesn't have to be hoity-toity, but it can be crazy good; The VB (short for executive chef-owner Victor Barry) burger is just that: an 8oz, grilled-to-order mix of naturally raised Cumbrae ground rib steak and braised short rib patty that's dressed with garlic mayo, red pepper jam, and melted fontina cheese on a buttery homemade brioche bun, and you can slap a 3oz slice of seared foie gras to the top of it. Finish it, (plus sides, bread basket, and all) and you get the chance to sign your name on the wall of fame (no, really) of one of the city's best upscale restaurants. Available at Sunday brunch or at the bar with a day's notice.
Guu Izakaya
Garden District
Billed as stewed beef meatloaf with soy demi-glace sauce, the Japano-Western fusion that is the Hamburg Steak Teishoku burger is anything but a mere meat puck: it's loose and fluffy, and tender-juicy from sopping all the savory-sweet gravy it swims in. Plus, there's no bun. It does, however, come w/ Japanese-style pickles, slaw, rice, and a hearty bowl of miso soup chock-full of sweet root vegetables.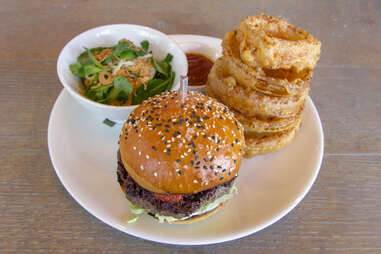 Momofuku Daisho
Entertainment District
Momofuku are known for a lot, but sadly not their kimchi burger... at least not yet. You'll find a patty made from eight substantial ounces of McGee Farms beef chuck, skirt and short rib that's crusted with kimchi breadcrumbs, then cooked, sandwiched in a butter-griddled buttermilk bun with sautéed king trumpet oyster mushrooms, shredded iceberg lettuce, pickles, and kimchi sauce, and finally served with a tower of tempura sweet Walla Walla onion rings and a side of kohlrabi white kimchi slaw. You'll want to wash it down with a customized Caesar made from their new Caesar cart, then schedule an afternoon nap.
The Beech Tree
Upper Beaches
Despite being a pub, every menu item here -- from the chubby char-grilled brisket burger, to the crunchy and meaty triple-fried English-style chips (that's fries for you non-Anglophiles) and thyme aioli it comes with -- at this eastside bistro pub is made from scratch. The unfussy burger is simply served with aged cheddar, pickled onions, and fresh lettuce.
Greenwood Smokehouse BBQ
Danforth
The Mushroom Burger -- yes, we realize it's vegetarian, but the 6oz chopped mushroom patty at the city's newest barbecue spot is moist and meaty (not literally!), smothered with a creamy smoked pineapple-avocado salsa, and loaded with alfalfa sprouts, lettuce, and tomato in a sesame bun, and it's freaking delicious.
District Oven
Dufferin Grove
Looking to kick up the basic burger with Middle-terranean flavors? Sure, why not. This fusion spot uses the flavors from a kefta kebab, a popular Moroccan street food, to make its signature kefta burger. The aromatic cumin and paprika spiced mixed lamb and beef patty is cooked and topped with arugula, fig jam, and Brie cheese.
The Chase Fish & Oyster
Financial District
You'll want to be that guy -- you know, the one who orders meat in a restaurant known for its sustainable seafood -- when it comes to Chef Nigel Finley's house burger. The simple 8oz beef patty is kicked up with pickled jalapeño-parsley aioli, and a pile of shaved PEI cheddar. The beefy gem comes with shoestring fries and is available all day.