It takes grit, hard work, and determination to stick with a New Year's resolution, which is great and all, but it also takes some serious grit, determination, and a complete disregard for the human body to eat some of the things on this list. That shouldn't go unnoticed. If this line-up of meals doesn't intimidate you, then you, sir, don't need to change a thing.
Real Sports Bar & Grill
Waterfront
Lets start this off slow, with a hot dog. But not just any hot dog, a foot-long hot dog, that's wrapped in a layer of bacon. Sure, there are other things to eat too, but to repeat: foot-long weiner, covered in bacon. This bad boy also comes with mustard, sautéed onions, cheddar cheese, and a basket of house-cut fries. Consider this your appetizer.
The Burger's Priest
Queen West, The Beaches, North Toronto
Next up, it's burger time. This joint continues to impress and reveal new secret menu items guaranteed to give you the meat sweats. The Four Horsemen of the Apocalypse is an incredible creation; a double cheeseburger and two roasted portobello mushrooms between the grilled-cheese buns. Eat it proudly.
Harbour 60 Steak House
Harbourfront
Double porterhouse with a lobster on the side. Yes, here, in the Harbor 60 Steak House, the lobster is a garnish. 
Ferro
St. Clair West
This list wouldn't be complete without man's best friend: pizza. We're going to recommend Ferro because the portions are huge and the ingredients are gourmet and nothing says serious classy gentleman like a gourmet pizza, and we want you to keep some dignity here. Order the Mi Casa with extra... Casa.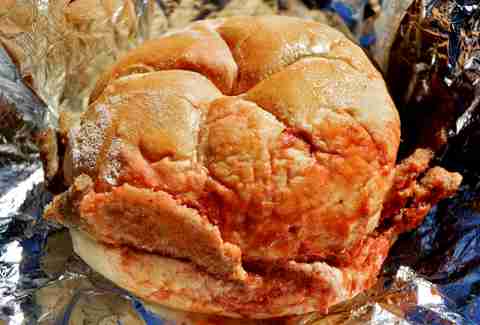 San Francesco Foods
Little Italy
This place is one of the most vital post-bar eat-stops in the city for a reason. They've got some seriously regrettably delicious choices here, like their veal Kaiser, which yields four layers of breaded meat soaked in house marinara, and topped w/ provolone, mushroom halves, and optional jalapeños.
Smoke's Poutinerie
Various locations
French fries, cheese, and gravy. Realistically you could eat here every day for a month and have a different type of poutine EVERY DAY. That's impressive.
Sneaky Dee's
Kensington Market
You can drink a lot for relatively cheap here, and then sober up with an order of the legendary nachos. Get the aptly named, The Destroyer, which is a bed of fries, gravy, and cheese, covered with salsa roja, piled high with frijoles, ground beef, tomatoes, onions, mixed peppers, jalapeños, more cheese, topped with guacamole & sour cream.
The Harbord Room
The Annex
This place has a burger that will make you lose your mind AND house-made donuts that are freaking delicious. It's a winning combo.
Banjara
Eglinton & Bloor West
Nothing quite says expanding waistline like an Indian buffet, so here we are. Banjara is, arguably, the best Indian restaurant in Toronto. The fact that you can get the lunch buffet for $10 is simply incredible and means that, seriously, that resolution never stood a chance.
Gandhi Cuisine
Queen West
This, my friends, is our winner. A VEGGIE ROTI. Vegetables, you say? Bear with us. The Toronto Star went all Dick Tracy on this bad boy and ran the numbers and they are impressive. One order of the Saag Paneer packs 1482 calories, 73 grams of fat, and 3360 mg of sodium. Buy yourself one of these, buy your cardiologist a boat.