Toronto's most underrated restaurants
Toronto's restaurant options are endless and varied beyond any reasonable expectation. Want Hungarian food at 2a on a Tuesday? Not a problem. How about Ugandan? We got you covered. Narnian? Well, you can't get that, but whatever. The point is there's a lot of choice. And with that choice comes the inevitable, borderline criminal under-exposure of some completely fantastic eateries -- the following are some of Toronto's best hidden gems.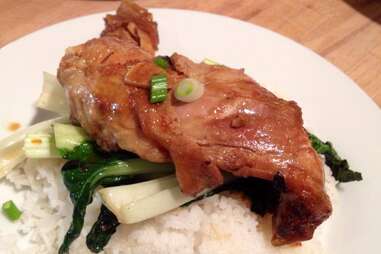 The Depanneur
Little Italy
The Dep isn't your traditional eatery. This magical little corner stop varies between drop-in dinners (featuring some of the city's best chefs) workshops, supper clubs, and weekend brunches. Check out the dinners, prepped by a rotating cast of chefs and priced between $10 and $15. Bring your own tupperware and bring home leftovers. Learn more here.
Atlantic Restaurant
Brockton Village
The Atlantic, like most places on this list, is pretty unassuming, and in fact somewhat sketchy from the outside, but once you're in, it's clear this spot does things their own way. This week, the ever-changing menu is rolling with numbers like Baharat spiced quail, stuffed with figs, and confit legs marinated in geranium mole and served with chickpeas. Not so sketchy now, huh?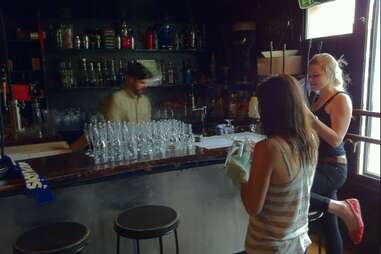 The Feasting Room
Palmerston
The Feasting Room is another spot that serves up creative meals and nothing goes to waste here. Feel like red meat? Great, be prepared to eat parts of the cow you didn't even know existed. Each week a new six-course menu rolls out focusing on one animal, and the animal featured for the night is a mystery until you're at the table.
Woodlot
Little Italy
They do it all at Woodlot -- from hearty classic comfort food to veggie cuisine -- using fresh and local ingredients whenever possible. Try the Wood Fired Tourtiere, with pork, beef, venison, maple thyme, and house-made ketchup. It's certainly generated a ton of buzz since opening, but this spot could & should reach so much higher.
The Guild
Dufferin Grove
The Guild seems like most brunch spots at first, serving bacon and eggs and the like, but everything comes with a little extra flair (the bacon and eggs? Has sous vide poached eggs). It's a beautiful space with a relaxed, comfortable atmosphere and at less than a year old, it's popularity is still growing and deservedly so. Try the pickled asparagus wrapped in ham and the fish croquette.
Maialino Enoteca
Parkdale
A small spot tucked away, Maialino will impress you with a few things. Firstly, the wine list is extensive, with at least 10 different reds to try by the glass. Secondly, the menu, while frequently updated, is always exciting and creative. Completely recommend is the Porchetta Fatta in Casa, slow-cooked pork roast with roasted garlic, rosemary potato wedges, and seasonal veggies.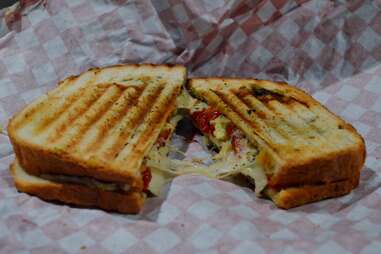 Sky Blue Sky Sandwich Company
Koreatown
One of the best sandwich stops in the city and deserving of so much more love, Sky Blue Sky serves 30 (!) signature sandos, with most tallying around $5. The king of them, though, is the "I'm the man who loves you," -- smoked chicken topped with tomato, pickles, lettuce, ricotta cheese, chile cilantro, and a red pepper spread.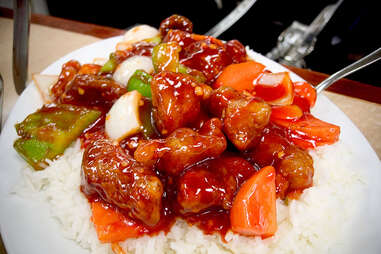 Swatow Restaurant
Chinatown
Another nondescript place, Swatow unfairly seems to blend in with the surrounding restos in Chinatown but its huge menu, massive portions, affordable prices, and the fact that it never seems to be closed, separate it from the rest of the pack. Try the Shrimp Dumpling Soup and Garlic Pork and do it at 1 in the morning, just because you can.