There's a battle for turf & hungry customers raging in the Toronto pizza market, with a lot of great spots serving up crazily well-crafted 'za, and all looking to wear the crown as the best in the city. Bravely, we ventured into the rough-and-tumble streets to find out who's really flinging and slinging the town's best pies, then power ranked them for your pleasure. Behold!
Recommended Video
This Burger Has a Pizza Bun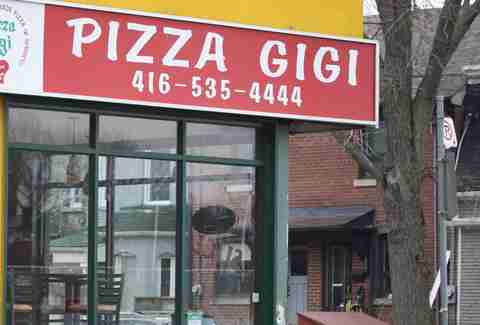 8. Pizza Gigi
The Annex
What you're ordering: Pollo Pesto
This place isn't the prettiest, but it's not about looks, it's about the product -- and at Pizza Gigi, you get tried & true classic, fresh pizza. Create your own or choose from the 11 in-house options. Added bonus? It's also open 'til 4a seven days a week.
7. King Slice
High Park
What you're ordering: Sicily
The chefs at King bend the laws of science itself to create massive, awesome pies on super-thin, crispy crusts that beguilingly refuse to tear or crumble despite the heaving mountain of toppings heaped on them. Also try the Canadian Special w/ pepperoni, Italian hot sausage, crispy bacon, ground beef, ham, and 'shrooms.
6. Ferro
St. Clair West
What you're ordering: Mi Casa
A family owned and operated Italian eatery serving piping hot pies out of a wood-fired oven. Generous portions, reasonable prices, and a laid-back atmosphere help push this one up the list. Go here, and very soon the soppressata salami-loaded Mi Casa will be su... Mi Casa.
5. Mangia & Bevi
Corktown
What you're ordering: Bufalina
This 'za; a combo of tomato sauce, Bufalina cheese, and arugula, piled on top of a thin crust is one of life's great joys. The location is a little tricky to find, but consider it a treasure hunt (or whatever the hell gets you there) -- once you find it, you'll keep coming back.
4. Vesuvio
The Junction
What you're ordering: the chicken, red pepper, and asiago pizza
Vesuvio was one of the first restos to put down pizza stakes in the city, introducing their New York-style pizza to these mean streets in '57. In recent years, new kids have challenged their territory, but their fresh, handmade pies still remain among the best, and the pizzas themselves are basically all create-your-own.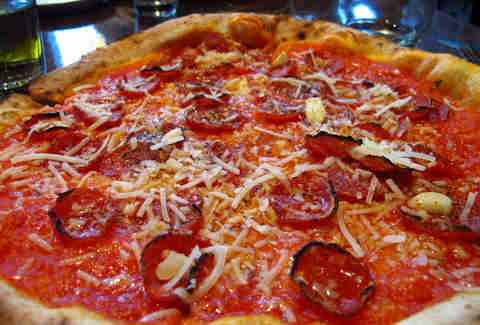 3. Queen Margherita Pizza
Leslieville, Baby Point
What you're ordering: Calabrese
Queen Margherita Pizza goes to great lengths to ensure the quality of their product. They cook their pies in a 900 degree wood-fired oven that was made in Naples, import their flour and tomatoes from Italy, and have their mozz produced exclusively for them in Ontario. It's paying off -- they'll soon be opening a third location in Dundas West. In other words, they are coming for the title.
2. Terroni
Adelaide, Yonge, Queen
What you're ordering: Capricciosa
A long-standing favorite and with good reason. Terroni take the No. 2 spot thanks to their famed thin crust numbers; the Marinara, Quattro Stagioni, and San Giorgio being among the most popular. They've put some serious work into crafting their menus, and it shows -- they've even opened up two spots in the notoriously competitive cut-throat 'za market down in LA.
1. Pizzeria Libretto
Ossington, Danforth
What you're ordering: 'Nduja Sausage
Pizzeria Libretto rolled into town five years ago, opening up their first location on Ossington St and ripping away Terroni's crown as the best Neapolitan pizza in the city. Now, they've opened a second location on the Danforth, and until someone else steps up their game, or another player comes into the city, they remain the pizza king in TO's streets.