Where to eat before, during, and after the Jays games
Because you don't want to embarrass the Jays by showing up to the Rogers Centre in better shape than, well, pretty much all of them, you'll need to do some serious eating & drinking around the game (after all, the glorious Steam Whistle Brewery can only do so much) -- so here's where to go pre-game (food!), mid-game (more food!), and post-game (not food!) before/during/after another heartbreaking loss.
Pre-game:
1. Street Meat
Don't be fooled into waiting until you get inside the Rogers Centre to get a classic ballpark hot dog. Hit up the vendors outside for classic Toronto street meat -- it'll be greasy, shamefully delicious, and much cheaper than what you'll find inside.
2. Real Sports Bar and Grill
Entertainment District
Real Sports is just a short walk from the Rogers Centre and has a 39ft television screen that might confuse you into thinking you're actually at the game when really you're just drunk off of $6.50 bottles of Tankhouse. Be careful. They are also known for their chicken wings -- try the signature Thai Sweet Chili.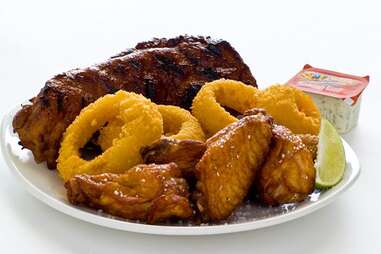 3. St. Louis Bar and Grill
Entertainment District
Basically, more beer, wings, and televisions can be found here. And that's a good thing! They have half-priced wings on Tuesdays from 4pm until close and a huge selection of sauces to choose from (we recommend the Mississippi Honey BBQ).

Mid-game:
4. The Roundhouse Carvery and Bar
Entertainment District
Once you've made your way into the Rogers Centre, there's no good reason, aside from a heart condition, to stop eating. The Roundhouse, located behind Section 122, is the best place in the stadium to do that. There's a carving station with chefs preparing fresh creations like beef top sirloin and Santa Fe Chopped Pork Nachos. Try the smoked and chopped BBQ Pork Sandwich, it comes fresh on a Kaiser roll stuffed with pork, BBQ sauce, and onion rings.
5. Arriba
Entertainment District
Located in the Renaissance Hotel, this restaurant & bar actually overlooks the field. There's no cover to get in, but when the Yankees or Red Sox come to town it'll set you back a $50 food & beverage seat minimum. What to spend it on? Try the Classic Burger with bacon and cheddar: Certified Angus Beef, a toasted poppy seed and onion bun, house burger sauce, lettuce, tomato, and shaved red onion served w/ fries.
Post-game:
6. The Loose Moose
Entertainment District
Probably the rowdiest bar within walking distance of the Rogers Centre, don't expect much intimate conversation here. What you will find, though, aside from loud music and lots of energy, are seven magnificent beer cocktails, such as the Moose Juice: vodka, triple sec, rum, gin, grenadine, OJ & some suds.