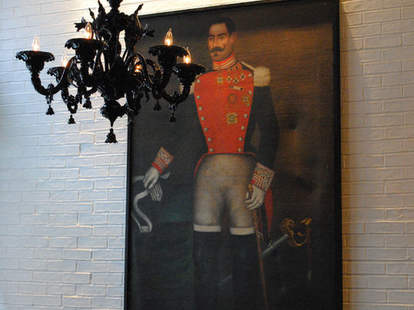 When one hears the term "swank", the mind conjures images of sweet cars, grandeur, and the question "So when exactly did that cute chick from Next Karate Kid become a dude, and is she a chick again yet?". Throwing down a resto in some seriously swank digs, Tweed
Opening tonight in the former Les Bon Temps, Tweed's a contemporary American joint decked out in, surprise! ... tweed ... serving up farm-to-table grub at a silver-topped bar featuring plaid stools and dining rooms replete with dark leather banquettes, gray booths, and textured brown chairs surrounding silver tables -- also an 80s show about an even richer Ricky Schroeder. Get things started with asparagus & ham chef's soup; smoked salmon deviled eggs w/ dill, green apple, and salmon roe; cheesesteak fritters with sweet onion and tomato marmalade; and a roasted beet salad with goat cheese, orange mint, and frisee, easily spotted as the only lettuce wearing a hat on humid days. Entrees include a rotating list of daily specials along with veal escalope milanese with lemon, capers, and arugula; orechiette with sauteed wild boar sausage, broccoli rabe, and garlic; a magret duck breast served on a cornmeal-ramp pancake with a cider espresso glaze; and a roasted and braised spring lamb, served with sheep's milk yogurt, mint, and Tuscan kale, one of two regionally-themed cabbages sampled by Dickens prior to penning "Kale From Two Cities"
For the tippling, they've got a serious selection of reds and whites, DelVal-centric brews like Yard's Extra Special Ale, Victory's Whirlwind, and Troeg's Troeganator, plus cocktails like a "herbaceous Pimms Cup" and a capiroska with basil and pear -- the perfect drink to buy for HIlary, provided she's got hers back.