The Most Important DC Chefs to Watch in 2016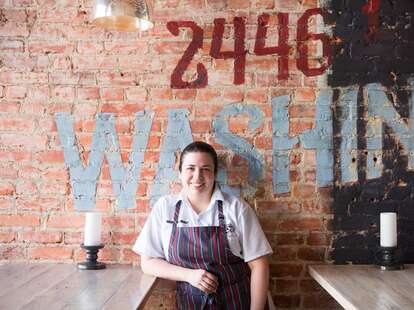 Elizabeth Parker
Elizabeth Parker
No one can slow DC's roll. 2016 will be another electrifying year for restaurant openings. But a restaurant is nothing without the people running the show. These are the 10 most important chefs to know for next year, especially because many are flying solo for the first time, enabling Washingtonians to really get a taste of what they're all about. Just don't do that DC name-dropping thing.
Rob Rubba
Hazel (address and info)
Shaw
Meet a man who knows his way around a duck. Rob's smitten with the waterfowl because it was what inspired him to make the leap from pastry chef to cook. "I picked up a butchery book, the wrong knife, and said 'I'm going to f*cking cook duck today.'" He's since perfected it, so look forward to trying his "Get Ducked Up," duck feast at Hazel when it opens in Shaw in late winter/early spring. Rob's resume is ridiculous. He's worked for household names like Gordon Ramsay, Charlie Trotter, and Georges Perrier -- earning Michelin Stars left and right -- but his first solo project won't be stuffy. "I want it to be energetic like the Shaw neighborhood itself, you walk around and just feel lit. Eating here should be like chugging a Red Bull." In building his menu, the South Jersey boy will draw influence from Japan, Korea, and South America.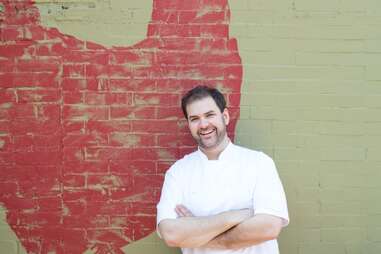 Mike Friedman
All Purpose (address and info)
Mt. Vernon Square
You don't have to recruit your taste buds to taste the love that goes into Mike's food. That's why it's still challenging to snag a table at The Red Hen nearly three years after it opened. So, onto the next: Mike's gearing up to open All Purpose near the Convention Center. "AP is going to be old school Italian -- the shit you grew up with -- we're talking stromboli, fried calamari, antipasti salad, garlic bread," Mike says. But pizza is the main component, and he's currently recipe testing. "I want to incorporate rye flour into the dough because it's a cool nod to my Jewish heritage," he says. The pizzas (done in a deck oven) will all be named for pizzerias Mike grew up with, yet another nostalgic nod.
Marjorie Meek-Bradley
Smoked & Stacked (address and info)
Mt. Vernon Square
You can catch Marjorie on Top Chef right now being her usual feisty, talented self. No big deal. Oh wait, YES BIG DEAL. But that's not the only reason the chef behind Roofers Union and Ripple is going to have a banner year. She's also opening Smoked & Stacked (two words that make us drool for different reasons) in Spring 2016. "The name sounds more like a weed dispensary, it's fun, that's the point," she jokes. The Convention Center sandwich shop will focus on pastrami -- something she learned from a gal pal in New York and then perfected at Ripple for brunch. Diners will be able to choose from a signature sandwich menu or build their own with pastrami, smoked chicken, or a portobello mushroom as the base. The pastrami and bread will be made fresh daily so good luck passing by without popping in.
Matt Baker
Gravitas (address and info)
TBD
Matt earned instant cool points when he announced a Portlandia-themed pop-up. The vegan dinner is a window into his forthcoming restaurant, Gravitas, which will offer both a regular and a vegan tasting menu. "Why can't you have someone eating a super well executed menu for a vegan side-by-side with someone eating foie gras and duck? That's the world we live in in 2015," he says. The 28-year-old chef is raring to go. "This is more than my first solo venture. This is the first true introduction to my cooking," he tells us. Matt comes to DC by way of Singapore and Texas -- two places we'd happily dine for life -- so that's a sign of good things to come. Experience Gravitas through various pop-up dinners and brunches before the brick and mortar opens in Fall 2016 in a soon-to-be-revealed location. He's aiming for Rose's Luxury-level hospitality and atmosphere -- serious food in a not so serious setting.
Jonah Kim
Yona (address and info)
Ballston
Jonah Kim's noodle bar is THE restaurant worth crossing the river for in 2016. His miso porky ramen slaps Momofuku in the face when it comes to flavor, and he also squashes the status quo with new takes on America's en vogue drunk food with ja-jang ramen that doesn't need broth. The small plates at Jonah's new restaurant speak to the time he spent rolling raw fish at Pabu in Baltimore, including an uni-topped waffle popping with caviar that draws appreciative expletives from everyone who tries it. Try to grab a seat at the bar looking into Jonah's kitchen so you can see him, clad in a hat and hipster glasses, not stressed in the least as he turns out winners.
Eric Ziebold
Métier (address and info) & Kinship (address and info)
Mt. Vernon Square
Eric impressed with his finesse for a decade at CityZen. Since its shuttering, the chef, who has also cooked at The French Laundry, has been nesting on two restaurants that stomp out the norm. Take Kinship opening Dec/Jan. Instead of appetizers and entrées, the modern American menu has: ingredients, craft, history, decadence, and for-the-table. "Some people are going to struggle with it," he admits. The decadence section is home to lobster French toast, which no one will struggle with. Métier, on the other hand, belongs in Europe or New York, but hopefully we'll get it. Opening in early 2016, the restaurant is accessible by private elevator from Kinship. "It's Alice in Wonderland going down the rabbit hole," Eric says (we prefer an Eyes Wide Shut comparison). Your night starts with a drink and menu selection in a salon with high fashion furniture before you're unshed into a small dining room serving a seven-course tasting menu for $150. "It's a celebratory experience; it's about hospitality, luxury, indulgence, and magic," Eric says.
Jennifer Carroll
Requin (address and info)
Mosaic District/Waterfront
Jennifer is another Top Chef contestant bringing the DC area a new restaurant next year. She's also bringing more Philly swagger than the cast of Creed, so it's appropriate that her forthcoming restaurant be named Requin or "shark" in French. Try it first in pop-up form in the Mosaic District from now through Spring 2016. Requin will then open in its permanent home at The Wharf in Southwest DC come 2017. Expect a lot of seafood (shark, remember!) like whole grilled fish, a bouillabaisse filled with the bounty of the sea, and funky pickled mackerel. The French and Mediterranean restaurant will also have some classics like imported wild burgundy snails sautéed in a garlic mushroom broth served en croute. Her resume includes Harlem's Red Rooster, New York's Le Bernardin, Philadelphia's 10 Arts Bistro & Lounge, and sharing the screen with Mike Isabella on two seasons of Top Chef.
Tim Ma
Kyirisan (address and info)
Shaw
If you're a District Denizen, trying Tim Ma's creative cuisine has always come with a schlep. 2016 will change that as he opens his first DC project in Shaw called Kyirisan. You'll be able to say it after a few drinks. The Chinese French fusion restaurant that tugs at Tim's Chinese heritage is the first project where he hasn't had any outside partners, so he can really let his freak flag fly in the form of beef heart tartare or whatever else he dreams up. Maple Ave fans will be glad to hear the crème fraîche chicken wings will make an encore, so too the risotto with scallops and savory ice cream. "A lot of people are doing things just because they're cute. I want to return to being known for being a good restaurant," Tim says. "I'm done with a few things and just want to cook and serve people dinner." He also recently opened a sandwich shop that trumps all sandwich shops called Chase the Submarine in Vienna. Expect a February opening for Kyirisan.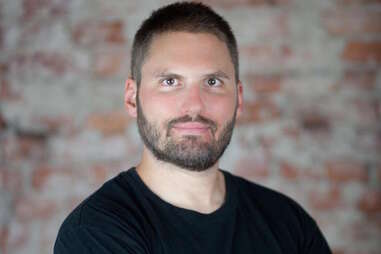 Brad Walker
ANXO Cidery & Pintxos Bar (address and info)
Truxton Circle
In readying to cook the hell out of some Basque cuisine at a cider and pinxtos bar, Brad pillaged pinxtos bars in Bilbao and San Sebastian in the name of research. "No one ever says 'ehhh San Sebastian was okay,'" he says. The chef who was most recently at Boundary Road has also cooked at Fiola, Cashion's Eat Place, and Proof. "I'm trying to bridge traditional pinxtos bars with American by using ingredients from around here," he says. The menu will be split into small bites like the hilda (skewered anchovy, olive, and pickled pepper), ensalada rusa, and croquettas, followed by a massive slab of meat for sharing. Anxo, coming early 2016, will focus on cider as much as food. "We will be making cider in addition to selling a huge variety you won't see anywhere else in the country. The food will be simple and mostly accessible, but complex enough to stand up to the cider we're pouring," he says.
Alex McCoy
Alfie's (address and info) & Crisp Kitchen + Bar (address and info)
Petworth/Bloomingdale
Culinary nomad Alex McCoy will open a Thai traveler's bar in 2016 in Petworth based on his many extended trips to Southeast Asia. We got a sneak peak and found dishes so hot they snap like a towel to the rear. In a good, NFL kind of way. But of course the humble, baby-faced chef fresh off Food Network Star isn't working just one concept at a time. December saw the opening of Crisp Kitchen + Bar in Bloomingdale, where Alex can flex his sandwich muscles, be it a patty melt, fried hot chicken, or griddled cheese. It's already drawing two-hour long lines.
Sign up here for our daily DC email and be the first to get all the food/drink/fun in town.
Laura Hayes is a DC-based food, drink & travel writer who also contributes to Washington City Paper, Food Network, Arlington Magazine, and others. She's currently cracking up at the auto-corrects for Kyirisan. Follow her on Twitter @BTMenu.