12 Chefs Name Their Favorite DC Sandwiches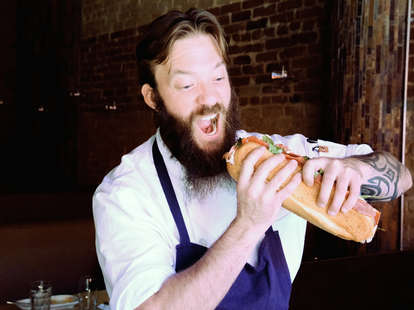 Laura Hayes/Thrillist (edited)
Some of us spend years identifying our favorite, go-to sandwich that has a perfect meat-to-bread ratio and the ability to fill us with all the good feelings. To aid your unending quest for sandwich bliss, we asked 12 top DC chefs about their all-time favorites.
Why we picked him: He loves hoagies so much that he named his dog Hoagie Bear.
Favorite sandwich: Bub's Italian Hoagie at Bub & Pop's
Where to get it: Dupont Circle
What it is: Genoa salami, prosciutto, capicola, pepperoni, aged provolone, arugula, Roma tomatoes, hoagie relish, mayo, Bub's vinaigrette, and pecorino romano
Why he digs it: "I've probably eaten thousands of Italian hoagies -- at least one a week since 1988," Kyle tells us. "I grew up in Southeastern, PA, where the greatest convenience store of all time, Wawa, is prevalent. But there are also countless mom-and-pop hoagie shops in the region. Bub & Pop's nails my favorite sandwich. The shop has a great vibe -- they're always ready to take care of you."
Why we picked him: Surely the man responsible for Osteria Morini's epic lunch paninis knows a good sandwich when he sees one.
Favorite sandwich: The Half Street at DGS Delicatessen
Where to get it: Dupont Circle & Merrifield
What it is: DGS pastrami, corned beef, sauerkraut, Swiss cheese & mustard on double-baked rye
Why he digs it: "When I take the first bite it just reminds me of NYC, and it's always delicious," Matt tells us. "I like to ask for a side of Russian dressing for dipping. That, and a Doctor Brown's black cherry soda and you pretty much have the perfect lunch."
Why we picked her: We are really REALLY excited about her upcoming Petworth cocktail bar, Twisted Horn.
Favorite sandwich: The Good Feather at Buffalo & Bergen
Where to get it: Union Market
What it is: Turkey, bacon, Mixtress-made pesto, mozzarella, and tomato on a bagel
Why she digs it: "It's a hearty portion and has a delicious combination of flavors," Jamie says. Hearty indeed. The thing is basically a leaning tower of PLEASE-a. Pro tip: get it on an everything bagel.
Why we picked him: He just opened a restaurant, which requires a lot late nights fueled by sandwiches. Oh, and he's on TV a lot.
Favorite sandwich(es): Both the Cauliflower and Spiced Baby Goat at G by Mike Isabella
Where to get them: 14th Street
What they are: The Roasted Cauliflower with romesco, pickled vegetables, and paprika & the Spiced Baby Goat with harissa, lemon potatoes, and oregano
Why he digs them: "Luckily, both of my favorite sandwiches can both be found at the same place," Michael says. "Each of these sandwiches packs a lot of punch between the bread, and it's such a toss-up that I usually order both so I can have half of each!"
Why we picked him: We wanted to see Kaz out of his sushi-chef element.
Favorite sandwich: The 4 Meat Grinder at Stachowski Market
Where to get it: Georgetown
What it is: Salami, coppa, mortadella, soppressata with provolone, lettuce, tomatoes, onions, hot peppers, and house vinaigrette
Why he digs it: "Chef Jamie knows how to play with meat," Kaz tells us. "At $12.99, the 4 Meat Grinder sounds a bit pricy, but it is big enough for two people, so it's actually very good price."
Why we picked him: Danny won Cochon this year. Being the Prince of Porc comes with responsibility, like pointing us towards good sandwiches.
Favorite sandwich: The BLT at Breadsoda
Where to get it: Glover Park
What it is: Applewood-smoked bacon, iceberg lettuce, tomato, and mayonnaise on toasted sourdough bread
Why he digs it: "The BLT at Breadsoda is great because it's a no-frills, standard BLT, but done with a lot of care," Danny says. "The bacon is nice and thick, and has a nice exterior crunch. They also keep the lettuce ice cold until they place it on the sandwich so that it keeps crispy, and then the sourdough is toasted perfectly for that extra bit of char and texture." He also likes the bread-to-filling ratio.
Alex McCoy, formerly of Duke's Grocery and chef/owner of a forthcoming DC restaurant
Why we picked him: The guy gained a reputation for being a sandwich guru on this season of Food Network Star.
Favorite sandwich: The pastrami at Stachowski Market
Where to get it: Georgetown
What it is: Thick slices of pastrami on pumpernickel with mustard on rye
Why he digs it: "The brisket has a gentle brine and great smoke to it, the bread is fresh, and the mustard is spicy," Alex tells us. "What makes the sandwich great though, is the size. If you head over for lunch, clear your schedule for the day, because you're going to be living in smoked-pastrami heaven for the next few hours. My suggestion is to find a shady tree in the park and take a personal day."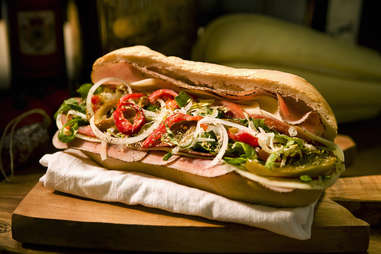 Why we picked him: He's gearing up to open a sandwich shop called Chase the Submarine, so surely he's done a lot of between-the-bread research.
Favorite sandwich: The Roma at The Italian Store
Where to get it: Arlington
What it is: Dry-cured prosciutto ham, lightly smoked mortadella, Genoa salami, and provolone cheese
Why he digs it: "It's just a properly made Italian sub, but with the bread torn out of the middle," Tim tells us. "The meat wraps around the lettuce, sweet peppers, etc., and it's made to order, making it incredibly fresh."
Why we picked him: Ummm, have you tried the Cambodian sandwich at Maketto? He knows what to do to a sandwich.
Favorite sandwich: Green chili chicken sandwich at Meats & Foods
Where to get it: Bloomingdale
What it is: A chicken sausage kicked up with chilies with customizable toppings
Why he digs it: "Meats & Foods makes the best sausage in Washington, DC," Erik says. "They put a mango chutney on top of the green chili chicken sandwich that is just amazing."
Why we picked him: We were really excited to see Lonnie in his new role at The Royal.
Favorite sandwich: Build-your-own roast beef sandwich at MGM Roast Beef
Where to get it: Brentwood
What it is: A hand-carved roast beef sandwich on a soft roll with endless topping options
Why he digs it: "I really love a good roast beef sandwich, especially at places where they have the meat out on the counter and slice it right in front of you, old-school-deli style," Lonnie tells us. "I add lettuce, tomato, onion, hot peppers, mustard, and horseradish mayo when possible."
Why we picked him: The height-advantaged chef needs a lot of sandwiches to feed his tall frame, so we imagine he's found some good ones.
Favorite sandwich: The Real Obama at Bub & Pop's
Where to get it: Dupont Circle
What it is: Chicago-style Italian beef, slow-braised beef brisket, giardiniera, and aged provolone
Why he digs it: "The jus is so good, I usually just drink it," Scott says. He also says he has Kyle Bailey to thank for introducing him to Bub & Pop's -- the mom-and-pop shop that'll win any sandwich lover over in no time.
Why we picked him: We have respect for this comeback kid who fought his way into the final stages of the last season of Top Chef. And the guy knows meat.
Favorite sandwich: Roasted turkey at G by Mike Isabella
Where to get it: 14th Street
What it is: Roasted turkey with spinach, giardiniera, and lemon-thyme mayo
Why he digs it: "Everyone loves the lamb and suckling pig sandwiches at G, and they are great," George tells us. "But I am on my feet all day cooking that lamb and pig for Kapnos, so that's the last thing I'm looking for. In addition to being delicious, G's turkey sandwich is substantial enough to be filling, but light enough to keep me on my feet."
Sign up here for our daily DC email and be the first to get all the food/drink/fun in town.