Summer has been very good to DC. We landed new restaurants from celebrity chefs, a game-changing fast-casual spot, a cat cafe, and a whole lot of burgers. Now that you're back from working the wedding circuit, here's your 14-stop agenda to get you all caught up.
Union Market District
Visit Masseria by traipsing past graffiti-tagged walls and wholesalers near Union Market to find an oasis that feels like it should require a password. While this hideaway from Nick Stefanelli is meant to evoke an Italian escape reminiscent of his grandmother's home region of Puglia, it's hard not to compare the relaxed space with a SoCal hotspot that would attract celebrities in need of discretion. Ready your palate with a sipper from a former PX mixologist -- the Cognac-based You Better Head Back to Hennessy Jed comes out swirling with smoke like a tempest and tastes like the orange you used to stab cloves into to make a Christmas ornament. Then, it's on to either a three- or five-course adventure winding through antipasti, pasta, and proteins that lean toward fine dining but with attitude (hint: you can add a cigar to your bill).
Dupont Circle
Celebrity chef Michael Schlow is back with a second DC restaurant -- this time tapping into a nostalgic era of American eats. A look at the stunning space and menu boasting classics and you might be quick to consider The Riggsby the American version of Le Diplomate. Try the Tavern Burger with bacon-onion jam and cheese served on a house-made milk bun and hit the "bar snacks" section of the menu hard because it includes jalapeño tater tots and chorizo-stuffed mushrooms. New-fangled cocktails would feel a little out of place here, so seize the retro moment and sip on classics like Sazeracs, juleps, and Harvey Wallbangers.
Glover Park
The long-awaited Glover Park location of Mad Fox Brewing Company will blow your beer-loving mind. There are 16 taps, plus three casks, dispensing fine suds including Broad Street IPA, Chimney Porter, and Kellerbier Kolsch. While the food menu is already enticing with its chicken cracklins, Wagyu Reuben, and grilled pork belly confit sandwich, you're visiting on epic burger Wednesdays. This hump day tradition that started at the Falls Church location means Chef Travis Weiss goes bun wild. But don't get so engrossed in the edibles that you ignore the space. It's stunning enough that "we met in a bar," will be a source of pride instead of shame at your wedding.
Downtown
Forget Cronuts. No really, forget them. They're ruining your tank-top arms anyway. Burrito-sized sushi rolls from Buredo are a way better Frankenfood. The new fast-casual spot that drew Taylor Swift-level lines its first week continues to impress with seven fat rolls with names that sound like they're off a list of 2015 baby names. The Sofie, for example, stars shrimp tempura, while the Beatrix packs in both tuna and salmon sashimi. Unlike regular sushi, you'll find ingredients like dill yogurt, pickled fennel, pickled red onions, and kimchi slaw.
Ballston
It'll take 55 visits for you to try every drink on Pepita Cantina's menu because the restaurant is like a laboratory for a mixology mad scientist, whose name happens to be Taha Ismail. Taha's bible of libations includes everything from Tiki drinks, punches, and margaritas to frozen cocktails and classics. Channel Cabo and sip a banana colada on cushy rainbow patio furniture while you wait for your carnitas tacos to arrive. Or, gather a group and order a family-size portion of smoked short ribs and a tub of Caribbean punch with rum, pineapple, lime, raspberry, and rhubarb bitters. Pepita Cantina is the latest from Mike Isabella to open in Ballston.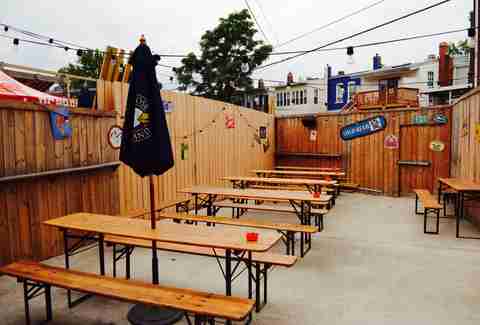 Park View
Park View's new sports bar named for Washington Senators hall-of-famer Walter Johnson takes care of sports fans from across the nation. That's because the happy hour is time-zoned. Folks accustomed to the West Coast clock, for example, can enjoy a few bucks off beers like Lagunitas Pils or Anchor Cali Lager from 8-10pm. The bar also boasts nine flat-screens; an inviting back patio with beer garden seating; bites that should remind you of a baseball game including house-made beef jerky; and cheap drafts. But there's another side to Walter's -- an impressive list of Prohibition-era cocktails for $8 or $9 including a really tasty take on a julep.
H Street NE
There are a lot of things you don't have to worry about when dining at this H Street retreat. The first is figuring out Sally's Middle Name, because she doesn't have one. The second is tipping (18% gratuity is automatically added). The third is fussy, complicated food. Instead, you'll find local ingredients highlighted in simple ways on plates that look like they were lifted from a cutesy bed & breakfast. The menu, which you'll find scrawled on the walls, changes daily, but try to visit on a day when the star dish is scribbled down: pickled & fried chard stems with a ranch dipper.
Brookland
Drew Drop Inns are traditionally pit stops for weary travelers, but in DC, the Brookland bar is more of a hiding place for millennials looking to forget the workweek. That's not to say transportation is unimportant at the bar positioned next to the MARC tracks -- it will soon debut a shot special for when trains cross paths. The spacious inside bar looks like it was decorated by A&E's most talented hoarders, while the outdoor patio has a beer garden feel. You're drinking beer-and-shot combos like the Rowdy Rowdy Rye combining Wild Turkey with Atlas Brew Works' Rowdy (because, RIP Roddy Piper). There's chow too, like Carolina pulled pork sandwiches and a platter called The Milwaukee for munching on alongside a beer.
Woodridge
Nido could prove to be The Red Hen of the Woodridge neighborhood -- it's tasty enough to draw out not only neighbors but also food lovers from throughout the city. The name means "nest" in Spanish, which should clue you into the restaurant's European leanings. Think baby clams with house vermouth, Basque seafood stew, and pappardelle with pork sugo. In an age when chefs are really piling it on, it's refreshing to see an eatery bold enough to serve dishes with merely two or three ingredients. The chic, bird-themed blue and white space may lean a little Twitter headquarters, but it's a place you want to spend time in.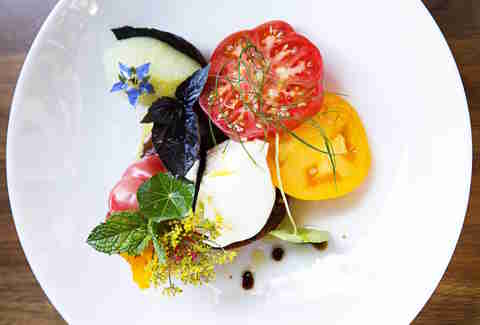 Barracks Row
The plates flying out of The Garrison's kitchen on Barracks Row are full of whimsy. In fact, they look like miniature gardens that should come with the tiniest of gnomes. Take this tomato-scape for example, made texturally interesting with burrata and cucumber sorbet. But before working your way down the menu that also includes treats like Virginia bison tartare and a chicken liver parfait, warm up with a cocktail from mixtress Gina Chersevani and an order of warm poppyseed gougères. The Garrison comes from Chef Rob Weland, whose food you've tried before at Poste.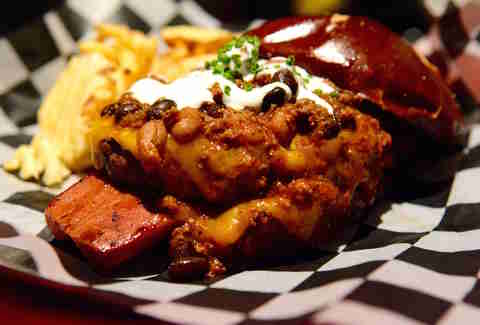 Petworth
The burger list at Slash Run is 14 lines deep, but try the one that gives off patriotic warm and fuzzies: the Bases Loaded with a griddled hot dog, hot dog chili, sour cream, cheddar, and scallions on a pretzel bun. It eliminates the burger OR dog conundrum and makes you shout 'MURICA. Too much? Even though Slash Run is a burger bar, there's also a small arsenal of schnitzel dishes. You're drinking beer or whiskey or both because this is far from a mixology joint, and it's proud of it. Bring some bills for the jukebox and be prepared to lose track of time.
Navy Yard
This Navy Yard newcomer named for DC's official tree is hoping to fill several niches. The simple menu full of go-to dishes like pizza and pasta encourages neighbors to pop by on a whim when they don't feel like cooking, while its proximity to the ballpark makes it a pre- and post-game pit stop. Sure there are more refined cocktails organized by the lead booze, but you're pairing your spicy pork sausage pizza with the 909 Triple Play: PBR, Dickle, and house pickle juice. Note that two outdoor patios have coming-soon status.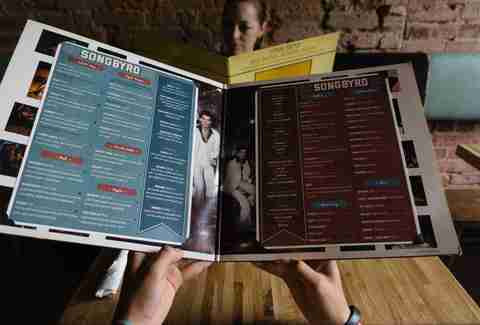 Adams Morgan
The team behind Songbyrd Record Cafe turned up the volume by opening a full-on bar and eatery next door. You can keep things as simple as a Natty Boh and a plain beef burger or get crazy with a rum-based Coconut Cooler cocktail and crispy corn-fried trout served with Southwest succotash, a scallion-beer hush puppy, coleslaw, and lemongrass tartar sauce. The environment begs for the attention of audiophiles with its vinyl focus and DJs. Pop in for dinner, or stay for late-night antics.
Georgetown
Felines, not food, are the star at this Georgetown hotspot with two floors of adoptable cats and quirky furniture. That being said, you can order coffee, smoothies, shakes, and desserts from Georgetown Bites to fuel your meow time. DC's really grabbed the cat cafe trend by the whiskers, so be sure to make a reservation before heading over. See how DC's cat cafe stacks up to the Japanese original.
Sign up here for our daily DC email and be the first to get all the food/drink/fun in town.