Don't bring your uptight cotillion instructor to Daikaya's Ramen Shop, whose chef asserts that not only is it acceptable to slurp your noodle soup in Japanese culture, it's also highly encouraged. On the first floor of what will eventually be a multi-level emporium of Japanese flavors, the 40-seat broth house's hanging bulbs bounce light off all-oak seating and tables perfect for enjoying: Ramen's done one of four ways: miso, shio, shoyu, and this, vegan, piled with all sorts of bean sprouts, carrots, onions, and mushrooms. Pork Gyoza: The Other White... Gyoza. And here's the ever popular shoyu, a soy broth made with pork, beef, & chicken stock, 1/2 nitamago (soy marinated egg), nori, scallions, and sliced roast pork called "chashu", which your cotillion instructor will insist you follow with "God bless you".
Recommended Video
This Nacho Mountain Destroys All Other Nachos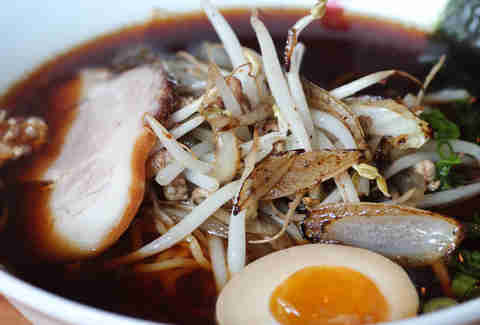 Previous Venue
Next Venue
Venue Description
1. Daikaya
705 6th St NW, Washington, DC 20001
Don't let the wait for this Chinatown ramen shop deter you: it's more than worth it for the chewy noodles imported from Japan and the chicken, pork, and beef Chintan stock that's cooked over 16 hours for extra richness. An unsuspecting standout among the Sapporo-style ramen on offer is the vegan version topped with Brussels sprouts, snow peas, carrots, and braised shiitake mushrooms. As if the ramen didn't already, Daikaya's wooden accents, dangling lightbulbs, and blue- and yellow-striped walls will have you feeling warm and cozy.