The original Beuchert's opened 130yrs ago and closed down in 1934, presumably because they refused to sell Midori shots served in test tubes, which were quite popular at the time. Point is, the reborn saloon now graces Eastern Market with a locally sourced "farm American" menu, plus hand-blown chandeliers, taxidermy-ed buffaloheads (named "Mike" and "Ike"), and leather waiter aprons among other period pieces (or as they called them 130yrs ago: "pieces"). Owned by one of the restaurant's partners, East Oaks Organics Farm will be delivering fresh cured meats like this charcuterie plate of sopressata, bresaola, saucisson sec, and pickled Purple Haze carrots, which are quite the tasting experience. Bringing his skills from PS 7, exec chef Andrew Markert has put together a menu flush with goodness like this Carolina golden rice plate fulla roasted lobster. Tremble in awe of this homemade fudge popsicle w/ graham cracker crumbs and marshmallow fluff. And the bar gets in character with a barrel-aged Manhattan amongst its 13 cocktails, so enjoy having your life fall to pieces.
Recommended Video
Make This Apple Brandy Elderflower Sparkler for Your Next Fancy Party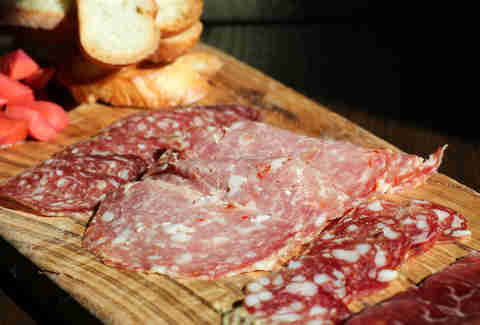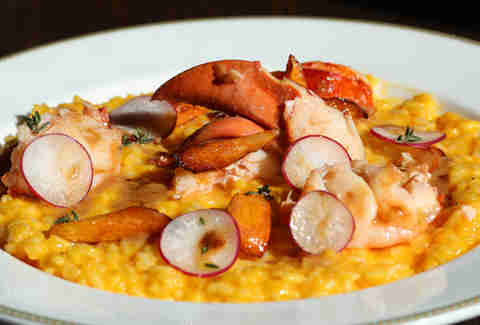 Previous Venue
Next Venue
Venue Description
1. Beuchert's Saloon
623 Pennsylvania Ave SE , Washington, DC , DC 20003
A reborn western saloon with the upscale hipness of Eastern Market, Beuchert's takes "farm-to-table" fare to the next level. Everything on the market-driven menu is sourced from local coops and farms, resulting in an abundance of fresh flavors. We suggest you sip on a specialty cocktail and order the roasted bone marrow -- a verdant combination of pickled pistachios and mustard seed, served with a parsley salad -- to fit in with the local herd, providing the taxidermy Buffalo (mounted above the cherry wood bar with lifelike expressions) haven't done so already.