Grilled, baked, steamed: delicious and under 500 calories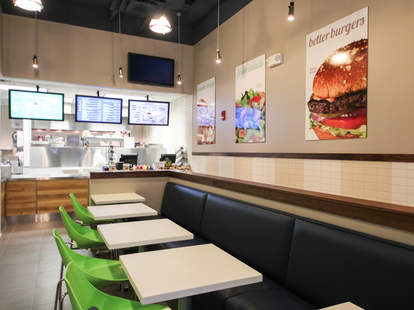 Helping you through way more than 5hr work days and that post-lunch crash, Energy Kitchen is a counter-style resto where you'll supplement your toned, weirdly tatted, Bod-body-sprayed... bod with "fast food, not fat food", as it's all only grilled, baked or steamed, never fried, and always under 500 calories.
Baked sea salt fries accompany the 90% lean premium sirloin that's on a toasted whole wheat bun and "grilled to perfection", meaning Curt Hennig inspects every. Single. Burger
Put on your most expensive, thickest shoulder-padded suit and coolest Bluetooth ear piece before taking down this "Power Breakfast" full of high profile eats like the five-egg-white, fat-free cheddar cheese, turkey bacon breakfast sandwich
And instead of that teeth-grinding 2:30 feeling, get actual "smart shakes" like Berries & Cream (vanilla protein/ mixed berries/ vanilla yogurt), Peanut Better (chocolate protein/ peanut butter/ bananas), and the kind of menacing sounding Vaccinator (bananas/ orange juice/ vitamin-c).