Forecasts you can sink your teeth into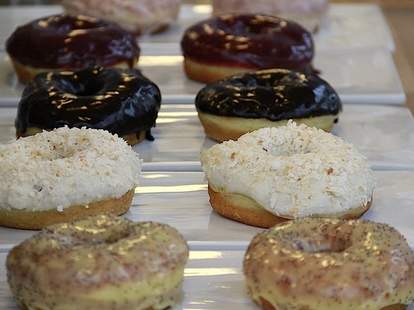 Turns out Nostradamus knew very little about barrel-aged cocktails, so instead, we asked some of The District's most soothsayful food & drinkers to predict the year 2013 in edible trends
Jonathan Fain, Bar Manager at Bar Pilar"Fernet xo (if not, Pilar will make it), more barrel-aged cocktails from the distilleries, more DC distilleries, mustaches will die, and top hats will make a come back, or at least try.
Nahem Simon, Beer Director for Jack Rose Dining Saloon"Global warming will devastate the world's climate and society will collapse. Every day becomes spring break . Also, Korean Rapper PSY marries Taylor Swift in an intimate but classy ceremony with family and friends.
Will Artley, Executive Chef at Pizzeria Orso"I think we will see plenty more culinary venues opening with similar themes (fried chicken and donuts). I also think we'll see a big push for Greek-inspired restaurants and healthy dining options including juice bars, create-your-own-salad spots, etc. I think the burger and cupcake trend has run its course too.
Emily Sprissler, Executive Chef/Owner at Mayfair & Pine"With the Inauguration coming up in just a few short weeks, I think DC is going to rip open! This is what we, as Washingtonians, do. We bubble, bubble, toil, & trouble for three years, then BOOM! For one weekend in late January we rock it Sodom and Gomorrah style for 72 hours straight.
Rob Yealu, Chief Mixologist at The Federalist"I predict that the world won't end. And seeing that the earth will still be spinning, I think that the farm-to-bar movement will continue. I think there is still potential to make some really cool cocktails and reintroduce flavors to people who haven't quite stepped away from lining their bar shelves with artificial flavors. Fresh, seasonal, and local just makes more sense and it challenges bartenders/ mixologists to be more creative, and think of new ways to produce great libations. For me I'll probably just drink more scotch!
Michael Harr, Executive Chef at Food, Wine & Co."Latin foods are going to continue to draw attention, especially Mexican. I think people are appreciating the flavors of the lost south and looks to be true with all of the taco joints opening up. Many restaurants are turning into the bistro / comfort upscale to offer guests value at reasonable prices. Organics no longer play a large role as it is now a trend of buying local; local is better for the environment,;your money supports small farms and more money goes directly to farmers, instead of Big Agriculture. I think people are realizing this and supporting it.
Missy Frederick, Editor for Eater Washington DC"Noodle backlash (people whining that ramen is the new cupcake). More Shaw restaurants. Restaurateurs jumping on the Navy Yard bandwagon once more bars open up near the ballpark. More new restaurant activity in Maryland. I could see another concept from Stephen Starr coming (El Vez, perhaps) if Le Diplomate takes off, and other Philly restaurateurs following (Jose Garces?).
Logan Cox, Executive Chef at Ripple"I think fermented foods will be making a strong comeback. I have a feeling more people will be willing to try fermented vegetables other than kimchi and sauerkraut. We're experimenting by making our own miso paste with different legumes.
Danny Bortnick, Executive Chef at Firefly"Health and wellness in the form of super foods, whole grains and balanced nutrition will become the top trend and it will be done in ways that are incorporated into traditional and modern preparations so that it is presented as inspired cooking. Also, RG3 will become the most polarizing figure in sports.
Svetlana Legetic, Coach Taylor at Brightest Young Things"That we will all eat ALL THE DOUGHNUTS from all the new doughnut places in January and then go on extreme cleanse diets.
James Horn, General Manager at Daikaya"I predict someone in DC will win a James Beard Award this year.
Jade Aldrighette, Bartender at The Passenger"DC will continue being awesome. Hogo is opening really soon and that's going to be a lot of fun. Daikaya will definitely be a new favorite.
Erik Bruner-Yang, Owner/Chef at Toki Underground "Mixed retail and restaurant, plus multi-faceted restaurants. It's all about taking the experience to another level.
Victor Albisu, Owner/ Chef at Taco Bamba"Fried dough will rule in DC. Traffic will suck and parking will be worse, DC sports will continue to get better."