5 sweet, newer brunch spots you should have hit already
If you believe the Internet (and you should!), "brunch" was coined in 1985 as a meal for "Saturday night carousers" by a British writer for Hunter's Weekly. And since you also like to carouse on Saturday nights, and Hunter's Weekly is sadly defunct, we thought we'd recommend our favorite five brunch spots that've opened in the past year. Dig in:
Beuchert's Saloon
Eastern Market
The original Beuchert's opened 130yrs ago and closed down in 1934 -- but the reborn saloon now graces Eastern Market with hand-blown chandeliers, taxidermied buffalo heads, and other period pieces (or as they called them 130yrs ago: "pieces"), as well as PS 7 alum/Exec Chef Andrew Markert, who's putting together deliciously anachronistic brunch goodness like oxtail gravy and biscuits, a pork- and egg-stuffed "Breakfast Sammie", and bottomless mimosas.
See more deets here
Le Diplomate
Logan Circle
This stunner of a Parisian brasserie from award-winning Philly restaurateur Stephen Starr is basically made for brunch. Start with some seafood as fresh as the atmosphere -- or go big and get them all on a multi-tiered plate called the Grand Plateau. Move on to a heaping plate of custard-y brioche French toast or eggs en cocotte, then round your morning off (or finish it up?) with a few of their breakfast 'tails. All are best enjoyed on the sunny, yellow-hued terrace.
The place is tres frickin' jolie. Check it out here...
The Grill Room
Georgetown
Next door to The Rye Bar, The Grill Room's putting out artisanal meats, from American Wagyu to suckling pig, to accompany your brunch overlooking the C&O Canal. Snag some Stachowski-made sausages paired with your choice of sauce (like maple breakfast w/ pumpkin butter), then go all in on some pastrami hash or lobster salad. Don't even think about getting up without ordering a rye cocktail or a made-to-order ice cream sundae doused with gourmet toppers from caramelized popcorn to warm Nutella.
Get more meaty food p*rn here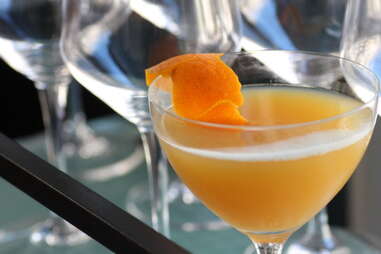 NoPa Kitchen + Bar
NoPa
Exotic spots like Rasika and Bombay Club are what put Ashok Bajaj on the map, but his foray into more traditional brasserie fare is what may put a whole new neighborhood on the map. NoPa means "North of Pennsylvania", and it also means splitting the old Zola space between a dining room fitted w/ red leather banquettes, and a lounge w/ a zinc-topped bar. Sweet breakfast treats, like peaches 'n cream-fueled biscuits, and savory bites -- butter-basted eggs -- are the MO here. Best of all, though, might be the more than 10 brunch- or any-time drinks.
Feast your eyes on the gorgeous pics, here