7 secret DC supper clubs you need to join
Tired of fighting the crowds for a table at a hot restaurant on 14th Street? Secret, under-the-radar dinner clubs are popping up all over DC, and if you're going to find your way into any of them, you first need to know how to score yourself a seat, as some of them (much like that band you USED to like) sell out quickly. Luckily, we have the details on how to land a spot in seven different secret DC dining societies.
Chez Le Commis
When: Every few weeks
Where: Originally at the chef's Clarendon apartment, but they're planning on relocating to Capitol Hill
Why You Should Join: Tom Madrecki hosts this intimate dining experience in his Arlington apartment. He earned his culinary stripes at Noma and Le Chateaubriand and receives accolades for his dinners that play with ingredients ranging from rabbit to monkfish to popcorn.
How to Join: With his dinners selling out quickly, join the mailing list at chezlecommis@gmail.com to grab a seat.
The Dinner Social
When: Every other month(ish)
Where: Anywhere and everywhere
Why You Should Join: Qui-Juan Jones of Dishcrawl fame has branched out into doing his own thing, organizing pop-up dinners highlighting up-and-coming chefs in the city. The inaugural event in mid-February had a Southern seafood flavor to it. The next installment (March 26th) features chef Tyonne Johns from Adams Morgan's Carriage House.
How to Join: Follow them on Twitter (@thesocialgroup_) to monitor for upcoming events.
Hush Supper Club
When: Every few weeks
Where: Somewhere around U Street
Why You Should Join: This is as secret as its name implies. Hosted by a woman named Geeta, this super-secret dinner party requires more than a simple RSVP. The meal will be Indian vegetarian and includes a spice tour so guests will fill their brains AND bellies.
How to Join: If you want to participate, there's an application and picture that must be submitted to even be considered. And when you fill it out, expect to be judged. The hostess picks an array of people to sure the dinner convo is plenty interesting.
Little Miss Whiskey's Golden Dollar
When: First meeting of 2014 is March 29th, then every other Saturday for five meetings
Where: 1104 H St NE
Why You Should Join: "Crawfish", "crayfish", "crawdads" -- whatever you call them, Little Miss Whiskey's delivers with its crawfish boil. For $40 enjoy all-you-can-eat of the delicious mud buggers and all-you-can-drink keg beer. This is not a formal affair. Expect to get messy amidst a funky blacklit interior and leave full and happy.
How to Join: To get on the guest list and snag a ticket, you'd better talk to Mark. Don't know who Mark is? Head to Little Miss Whiskey's to meet the right guy.
Beau Thai
When: Monthly
Where: 3162 Mount Pleasant Rd NW
Why You Should Join: The Shaw Thai restaurant expanded into Mt. Pleasant and is launching its own monthly supper club. The first go-around was over Valentine's Day, and Beau Thai is ready to bring it back for more. Each dinner will be thematic -- there are plans for a Northeastern Thai meal, one with a seafood focus, a vegan meal, and another that's all about noodles.
How to Join: Details will be on Beau Thai's website, Facebook, and Twitter accounts.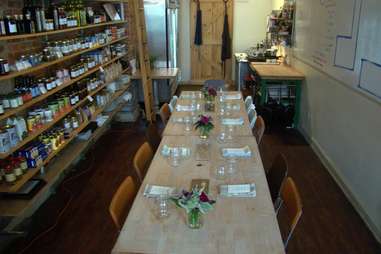 Seasonal Pantry
When: Wednesday-Saturday, 8pm
Where: 1314 1/2 9th St NW
Why You Should Join: The Shaw eatery brings out the big guns with a supper club that can host 12 people on Wednesdays through Saturdays. Don't expect a private room for this meal either. The supper club meets right in the middle of Seasonal Pantry's market. Prices range from $130-$160 depending on what's being offered. Since many of the items are seasonal, expect lots of variation between different times of the year. Dinner begins at 8pm, and no, the chef will not wait for late arrivals.
How to Join: Don't call Seasonal Pantry to score a reservation. It's only handled online at the restaurant's website.
Mari Vanna
When: Monday evenings
Where: 1141 Connecticut Ave NW (or any Mari Vanna location worldwide)
Why You Should Join: This Russian restaurant on Connecticut Ave knows how to keep its VIPs coming for more. If you are kind enough to the server or just generally wow them with witty repartee (maybe avoid chit-chat about Crimea), you may receive a special key. This key will unlock the restaurant's front door, allowing those deemed worthy to enjoy an exclusive evening of vodka and Russian delicacies.
How to Join: Impress the staff.
George Perkins writes about DC's food scene for Thrillist DC and Eater DC. When he's not pigging out, George is in the kitchen making Cajun/Asian fusion dishes for @cajunmeetsasian. Follow his food adventures @grperk.