DC neighborhoods, ranked by their food and drink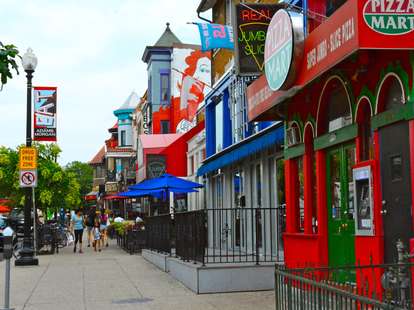 Laura Hayes
Laura Hayes
Ever wonder how your neighborhood stacks up when it comes to eating and drinking? Have you been too busy eating amazing things to even ponder such a question?
Either way, we've aimed to settle the score on which DC 'hood brings the most to the metaphorical and literal table when it comes to ingesting and imbibing. By all means, defend your neighborhood's honor in the comments.
12. Georgetown
There's been very little new life breathed into this neck of the woods, besides Rí Rá Irish Pub and their accompanying Whiskey Room; beautiful but wallet-swallowing Fiola Mare; or Pinstripes, in case you want to bowl and play bocce while you booze. Many other bars and restaurants are toned down for tourists. Fortunately a few classics still dazzle like 1789, Bourbon Steak, and The Rye Bar inside of the Capella Hotel.
10. Navy Yard
Bluejacket, with its palatial beer-making accommodations in an old boilermaker factory, put the Navy Yard on the map as a dining and drinking destination. Others soon followed, including Italian gem Osteria Morini, taco-centric Agua 301, Buzz Bakery, and Ice Cream Jubilee. Coming attractions include TaKorean's first full-service restaurant, Willie's Brew and Que, and 100 Montaditos.
9. Bloomingdale
This small section of the city is inching up there when it comes to great eating. The Red Hen is certainly the star -- the rustic restaurant reeled in the accolades this year, and for good reason (like rigatoni). Then there're hidden gems like Big Bear Café with a sweet patio swallowed by vines, Boundary Stone for laid-back eats and whiskey, Rustik for a solid brunch, and newcomer KoChix -- a Korean wing hut that will make you forget Bonchon exists.
7. Dupont Circle
The buzz has dipped to a low din in Dupont, but standbys like Little Serow, Iron Gate, Sushi Taro, DGS Delicatessen, GBD, and Duke's Grocery help the 'hood retain its status as a nightlife anchor. Glen's Garden Market, with its beer club and yummy sandwiches, also ups the foodie quotient. Most of the bars still skew a little college with sticky floors and Long Island iced teas -- here's hoping Spike Mendelsohn's new speakeasy, The Sheppard, is one of many new cocktail options for those not looking to grind with strangers.
6. Metro Center/Chinatown/Penn Quarter
For starters, you have the José Andrés triple play -- Jaleo, Oyamel, and Zaytinya -- which are reliably a good time. Graffiato, Daikaya, and Hill Country Barbecue offer great pre- or post-Verizon Center meals and Rasika is home to the best Indian in the city. Additionally, there's nothing happier than happy hour on Poste's terrace and newcomer, The Partisan, impresses with its charcuterie and bar program.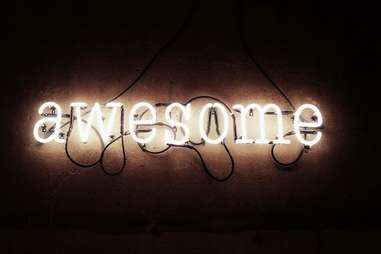 2. Shaw
Not only is Shaw hot now, but it's also the future. The center of all things cool is undeniably moving East. Shaw's already home to the Derek Brown drinking-and-dining trifecta of Southern Efficiency, Eat The Rich, and Mockingbird Hill. Then there's brewpub Right Proper, cozy corner bar All Souls, bumping beer garden Dacha, quirky dive bar Ivy & Coney, hipster coffee joint La Colombe, and new spots like Chaplin and A&D. Want a full meal? Try Rogue 24, Table, Thally, or Seasonal Pantry.
1. Logan Circle/14th Street
Let's be honest about where you've been spending all your Friday nights. The 14th Street corridor, stretching from Logan Circle to U St and beyond, is officially in beast mode. It's home to one of the best beer bars in the country (ChurchKey), the buzziest French bistro in town (Le Diplomate), an oyster powerhouse (Pearl Dive), top tapas spots (Estadio and Barcelona Wine Bar), a small but charming beer garden (Garden District), and an intimidating amount of new restaurants well worth trying -- that is if you can keep yourself from repeating the great spots you've already frequented.
Sign up here for our daily DC email and be the first to get all the food/drink/fun in town.