While you were hibernating this Winter, some big things happened. Some of the best of Baltimore invaded DC, the city became even more meaty, and whiskey continued its utter and rightful drink domination. If you haven't added these nine fresh spots to your repertoire, then the time is now! Well, soon -- right after you finish reading.
Heavy Seas Alehouse (click here for info and address)
Arlington, VA
This pirate-themed alehouse had the potential to get a little too Epcot, but it has just the right amount of nautical-ness. Beers from Baltimore brewer Heavy Seas are the focus, but don't miss the Musket Ball cocktail with bourbon, rye, house-made Gold Ale syrup, lemon, and black walnut bitters. Finish a meal of Old Bay caramel corn and crab cakes with a Peg Leg Float. There's nothing like vanilla ice cream bobbing like a buoy in a pint of Imperial Stout.
Roofers Union (click here for info and address)
Adams Morgan
From defunct and debaucherous to coolly industrial, Roofers Union has no resemblance to its former tenant, The Reef. Marvel at the makeover from your seat under the coverall wall or from the recently opened roof deck. Chef Marjorie Meek-Bradley, despite her XX chromosomes, knows how to throw a sausage party. Links are the stars of her menu -- like the Andouille corndog or beer brat. You'll be drinking craft beer or a cocktail named after your bartender's favorite song.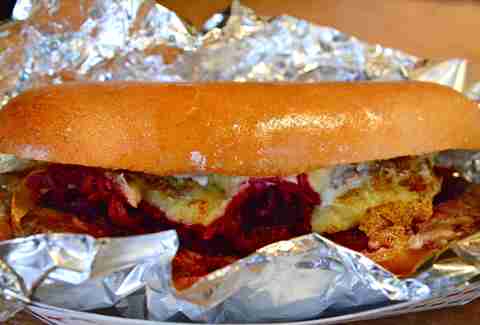 Red Apron Butcher (click here for info and address)
Penn Quarter
"Where can I get a @#$%& breakfast sandwich in this city!?" Calm down, disembodied voice -- all you need is the long-awaited Downtown location of one of DC's favorite meat markets. Red Apron said "suck it nooks and crannies" by one-upping English muffins with Italian tigelles that brilliantly hold eggs, chorizo, and the like. Come lunchtime, the nap-inducing Sunday Supper sandwich is a must: juicy pot roast, horseradish mashed potatoes, and beet slaw squeezed into a shiny, egg-washed roll.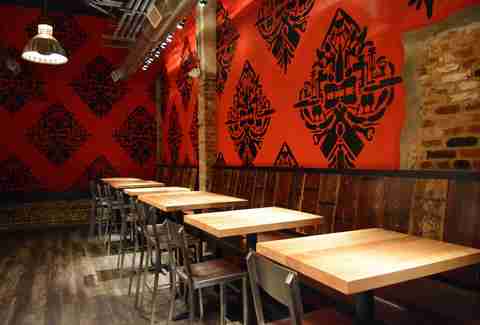 The Partisan (click here for info and address)
Penn Quarter
An inch away from Red Apron Butchery is another meatscapade from the Neighborhood Restaurant Group, as you may recall. Start dinner by making check marks on a meat menu divided by flavor profile. After the charcuterie course, up your protein ambition and tackle the entire pig's head on a platter. The Partisan menu shows promise from start to finish, thanks to the beer encyclopedia that is Greg Engert and the pastry expertise of Tiffany MacIsaac. Except for the Malört, because that's just gross.
Rí Rá Georgetown & Whiskey Room (click here for info and address)
Georgetown
Most of Rí Rá Georgetown is salvaged straight from Ireland, including the majority of servers and one of the most impressive Irish whiskey lists in the country. The expansive downstairs pub is bold and boisterous, while the upstairs Whiskey Room is sultry and welcoming to both novices and know-it-alls. Seek advice from their badass Scotch Sommelier (yea, that's a thing) or challenge a bud to a whiskey duel in a room lined with neon portraits of US presidents with an ounce of Irish in them.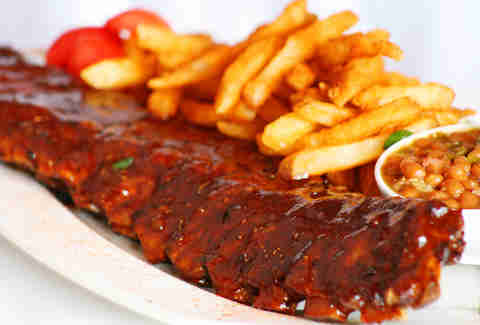 Carolina Kitchen (click here for info and address)
Rhode Island Row NE
This sprawling comfort food spot has a gold-hued, knickknack-filled interior that feels a little Vegas. Fortunately, the food is way homier. We have Chef/owner Lance London's grandmother to thank for items like grilled baby back ribs and golden fried snapper. If it comes from the sea, there's a good chance Carolina Kitchen can fry it up for you Southern-style.
Den of Thieves (click here for info and address)
U Street
Say goodbye to Hanoi House and hello to a DJ-driven bar that does classic cocktails on the cheap -- just when you thought an $8 Negroni was a NW DC impossibility. In addition to $8 drinks, there are snacks like Korean fried chicken and hot dogs topped with Asian slaw. Keep an eye out for owner Eric Hilton -- he sometimes mans the DJ booth himself.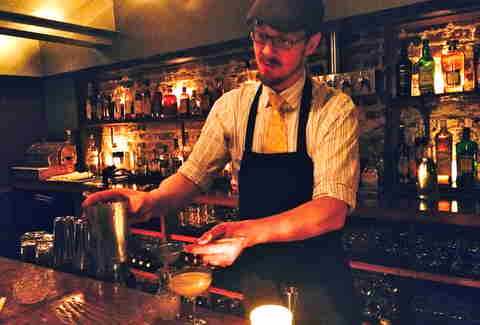 Dram & Grain (click here for info and address)
Adams Morgan
If you want to nab a coveted seat in this underground whiskey den, you'll have to text the bartenders on a burner phone. The number? That's a secret. Those in possession of the number can choose from 15 signature drinks including a cold-smoked cocktail and an elixir that morphs from a Sazerac into a Vieux Carre by way of a melting ice cube made of Benedictine, vermouth, and bitters. For now, they're only open Saturday nights. Here are 12 reasons to visit.
Bidwell (click here for info and address)
Union Market
If you want to see an actual waiter at Union Market, make a reservation at Bidwell -- the market's only fullservice restaurant. They take sustainability seriously by utilizing the rooftop garden and sourcing local whenever possible. Ask your plaid-appointed server to source a patty melt straight to your table with vintage cheddar and Thousand Island dressing on rye. It's an option for both brunch and dinner, and fortunately so is their lobster taco.