Where to go late-night in DC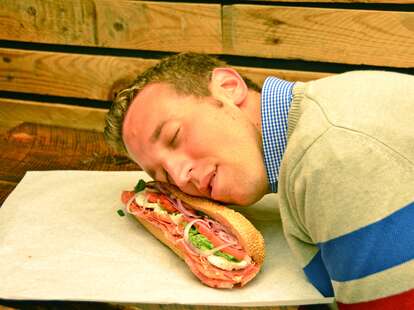 Sometimes you have to embrace the fact that every awesome night out has to come to an end eventually. Or does it? When you're desperately in need of late-night sustenance, these late-night joints are here for you.
Ben's Chili Bowl
U Street
Shoveling Half Smokes here after a night on U Street is a right of passage -- to call BCB an institution might be an understatement. But before you go, know two things: 1) cash only, and 2) be prepared to see creatures of the night under harsh high school-science-lab light. Though once you get your hands on some encased meats you won't so much notice anymore.

Dangerously Delicious Pies
H Street
Beer Brat, BBQ Pork, Pancake Batter, Chocolate Peanut Butter, and of course, the Baltimore Bomb, a Berger cookie-filled pile of wonderment. All these pies are available for your consumption on H Street, with or without utensils, until 330a on weekends.

Fast Gourmet
U Street
Running on empty? Fill up on food at the gas station, errr gourmet station? Only a late-night fool fails to order The Chevito: tenderloin, mozzarella, Black Forest ham, bacon, green olives, hard boiled eggs, escabeche, LTO, and mayo on a soft roll. This is no Quik Stop.

Amsterdam Falafelshop
Adams Morgan
Everyone's a vegetarian after 2a at this Adams Morgan mainstay (open 'til 4a on weekends), but the flavorful falafel wraps have the power to soak up even the most epic of evenings. Pick up a free map of Amsterdam ('s red light district?) after you power through the last of your fries.

Jumbo Slice
Adams Morgan
Living up to its name, this boatload of pizza can exceed 20in from bow to stern, able to set your mind and body right even if the evening has left you incapable of appreciating even the most straightforward of pizza-based nautical metaphors.

GBD (Golden Brown Delicious)
Dupont Circle
Fried chicken. Doughnuts. Fried chicken. Doughnuts. This is the only decision you should be making after the bars close in Dupont. And it really isn't a decision, because you're getting both (until 3a on weekends). Oh, and choose "Saucetown," it frees you up from a single sauce commitment. More everything!

Taylor Gourmet 14th Street
14 Street
Usually at a Philly shop the answer is simple: w/whiz. But at TG your answer better be w/balls. Don't disappoint sando mogul Casey Patten who says if you're not grabbing handfuls of risotto balls between bites of hoagie (until 330a on weekends), you're not doing it late-night right. If you're near H Street, there's another location there that's open late.

Oohh's & Aahh's Soul Food
U Street
Go big before going home (as late as 4a on weekends) with a platter of BBQ beef ribs, collard greens, and the "Best Mac and Cheese" in DC. Guy Fieri digs it, and so do Allen Iverson and Beyonce's husband. That's a trio you can trust.