This Adams Morgan seafood shack has an ice cream sandwich luge
From the guys who brought you Cashion's Eat Place, Pop's SeaBar is bringing fried seafood and exciting cocktails to Adams Morgan. It's as casual as the Jersey Shore (there's one table in the whole joint), there are plastic sharks to play with, and there's an ice cream sandwich luge (more on that later). Here are the top 10 dishes and drinks to tackle from your barstool.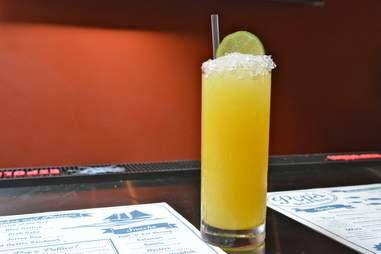 Laura Hayes
Hup Hup Orange Crush ($8)
Maryland is in the house. Well, at least in a glass. Pop's serves up a mean Orange Crush -- a drink you'd typically find in Baltimore bars in the summer, just about anywhere in Ocean City, along the Eastern Shore, or your rich buddy's boat. The version at Pop's is a step up, while still staying true to the original: vodka, aquavit, Combier, OJ, and lemon.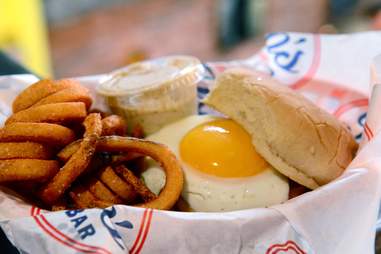 Laura Hayes
Pop's Patty with Taylor Pork Roll ($10.25)
This is indeed burger heaven. Not only is the patty perfect, but its potato roll vessel is awesome at soaking up the runny egg, and the slice of Taylor Pork Roll lends saltiness. Chef John Manolatos became obsessed with the king of processed meats while roaming the boardwalks of New Jersey as a kid. The sandwich is also topped with American cheese, because 'Murica! 
Laura Hayes
A Dozen (or more!) Oysters ($2.25 Each)
Pop's SeaBar doubles as a raw bar, meaning you can slurp down some of the best oysters out there: Wianno, Wellfleet, Tom's Cove, Old Salts, and Malpeque. They come with all the right accompaniments of course. They've got dedicated shuckers on each floor so you can watch someone expertly prepare your dozen.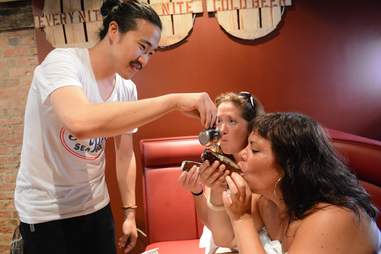 Laura Hayes
Ice Cream Luge ($8)
Everyone knows that if you turn an ice cream sandwich on its side it becomes the perfect luge for liquor. Right? In the case of Pop's SeaBar, you're getting a mint chocolate chip ice cream sandwich and a trickling stream of amaro (a bitter Italian liquor making a heck of a comeback). While it may not always be poured by Eddie Kim himself, this brilliant creation was his idea. You know Eddie for his work at Daikaya and The Partisan. He's kind of a genius.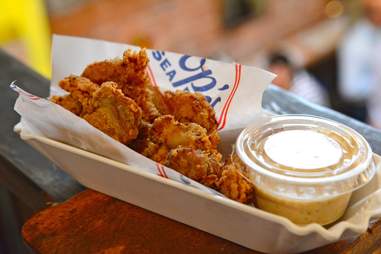 Laura Hayes
Boardwalk Chicken ($8.99)
This small ship of popcorn chicken is also known as Pop's Special Treat. Just wait and see what sounds come out of your mouth after bite one. The chicken is brined for at least 24 hours before hitting the fryer. The crunchy texture coupled with juicy, sweet dark meat makes it next-level delicious. The chicken's served, of course, with Jersey Sauce.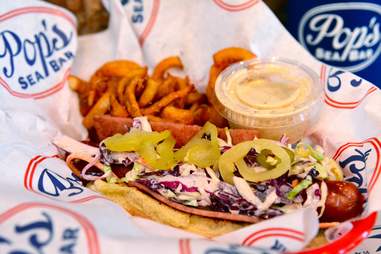 Laura Hayes
Jersey Dog ($8.25)
There may be a new contender for best dog in town, though the jury's out on whether it's cheating to wrap a frank in Taylor Pork Roll, creating a pork-on-pork party. Creamy coleslaw adds tang and crunch, rounding it all out. It's served, like most basket-bound dishes, with curly fries and (yes) Jersey Sauce. 
Laura Hayes
Bicycle Bomb ($7 + $3)
This drink order is actually a tour de radlers paired with shots, including a very tasty Ruby Redbird from Shiner. The refreshing selection of citrusy beers is a fun way to hold on to summer. And shots are well, shots. As an added bonus, you can take home your koozie for a buck.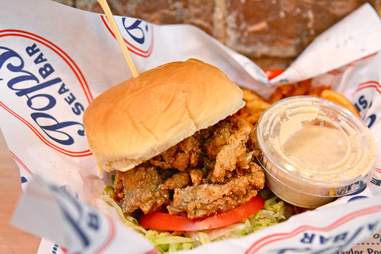 Laura Hayes
Fried Oyster Sandwich ($11.50)
Dig into a generous pile of fried oysters, lettuce, and tomato served with... you guessed it... Jersey Sauce. Jersey hasn't gotten this much attention since the glory days of Snookie. Pop's SeaBar Partner Justin Abad says the sauce is pretty much a secret, but it involves two of America's favorite condiments -- ketchup and mayo -- and resembles a remoulade.
Laura Hayes
Blue Catfish ($13.50)
You can get this whiskered catch "fried, simple or deviled", along with two terrific sides. Deviled doesn't mean devious in this case (or cooked twice like eggs). Rather, it means dusted with blackening spices like black pepper, cayenne, and other dried herbs. Sides include cole slaw, corn on the cob, potato salad, and curly fries. 
Laura Hayes
Peel 'n' Eat Shrimp (1/2 pounds $12.99)
You'll find these in the snack section of the menu. No Jersey sauce here though, just traditional cocktail sauce, a squeeze of lemon, and a few rounds of corn to munch on while you do all that peeling. It's worth it.
Sign up here for our daily DC email and be the first to get all the food/drink/fun in town.