Meet the Teenager Carrying on DC's Mambo Sauce Tradition
Andy Burton, the founder of Uncle Dell's Mambo Sauce, tells us how this condiment became a staple of DC's culinary history.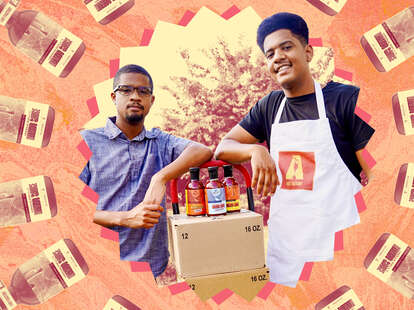 Andy Burton and brother, Nyles

| Image by Maitane Romagosa
Andy Burton and brother, Nyles

| Image by Maitane Romagosa
If DC has a flavor, it is undoubtedly mambo sauce. Just as diverse as the city that created it, mambo sauce is known for its distinctive red-orange color and its sweet-sour flavor that can taste like barbecue sauce, buffalo sauce, or something completely its own—depending on the restaurant that made the condiment.
For those unfamiliar, mambo sauce can be found drizzled on fried chicken, chicken wings, french fries, fried rice, and anything in between. While the sauce is reliably tomato based, the similarities end with that ingredient—mambo sauce can be sweet, sour, spicy, thick, bright red, or burnt orange. But regardless of the differences, it remains a staple of DC cuisine.
The condiment is traditionally made by carryout spots around the DMV area, but some are packaging the sauce in an effort to expand access to this piece of DC's culinary history. The latest among them is Andy Burton, whose Uncle Dell's Mambo Sauce has become one of the best-selling versions of the condiment in the region. After starting his company, Andy's Factory, at the tender age of 5, the young entrepreneur has continued to grow his culinary empire under the tutelage of his mother, and with the help of his older brother, Nyles. We chatted with Burton to learn more about his company, his connection to mambo sauce, and the driving force behind his desire to continue this long standing DC food tradition.
As a local, how would you describe mambo sauce and its relationship to DC?
Mambo sauce is so DC because that's where it began. For a long time, DC was the only place you could get it. I've heard stories of people asking family and friends to buy sauce from the carryout before they'd visit them out of town. My Uncle Greg is about 50 now, and he talks about being at different carryouts and finding different foods. There never seems to be a conversation about life at that time that didn't include a story about picking up some carryout.
I think mambo sauce is also intertwined with being a young person in the city from the 80s and 90s. I won't lie, I wasn't all that impressed when my mom and dad talked about it long ago. It took me getting older and seeing the level of change in DC happen before my eyes to really appreciate how they felt and why the sauce was so personal to them.
What is your history with mambo sauce? Do you remember the first time you had it?
Most of my early experiences eating mambo sauce were with my maternal grandmother. She would go to a carryout in Bladensburg, Maryland and order wings. They always had mambo sauce drizzled on them. I was a picky eater though and wasn't always a fan of the sauce or what it was covering—I was that kid that didn't like mixing foods!
Later, mambo sauce became a staple in our house, but I didn't get the full carryout experience because mom made it at home. I can remember her giving away jars of it at the end of parties because she only put it on fried chicken which we didn't eat that often.
When did you first start making mambo sauce? What was the inspiration for it?
I first started making mambo sauce myself in 2015 for a school assignment. I've been homeschooled my whole life, and an assignment actually gave me the push I needed to start my "company" when I was five. By 2015, I turned to my mom to find new inspiration for this updated assignment, and she explained the concept of franchising to me—I interpreted the concept as a way for people to create a new business without necessarily having an original idea of their own. My mom asked me what in our household I thought I could franchise and make my own. I picked mambo sauce.
It was an easy choice. So many of my friends and family already knew and loved our mambo sauce. I decided it would be a good product for my business project. But my mom wouldn't just hand over her recipe—instead, she had me watch her make it in small batch after small batch. I then had to do the math and the adjustments to make a big batch.
After I'd perfected my own recipe, my mom made me make flyers, design a logo, and create a small business plan—the whole nine yards. I even had to do a mock sales presentation at my table with some homeschool moms we knew giving feedback on how I could improve before the big sale day. It paid off. When we went to the first pop-up shop, I sold completely out in a few hours. I had about 30 jars I think.
So how did you turn this into a full-fledged business?
When I decided I wanted to start a serious business, bottling this mambo sauce was the only thing that came to mind. The reaction I received for years from our family and friends about how much they loved the sauce made it easy. I stuck with the name I had been using since I was five, Andy's Factory, and incorporated the business in August 2019.
It sounds like Andy's Factory is truly a family affair, and we've heard your brother plays a big part. What's it like working with your older sibling?
Working with my older brother Nyles (or Bee) is perfect for me. He's very supportive and he works on the more administrative functions of the business that requires sitting at a desk and more focus. That's something that's difficult for me to do. I have to keep moving around. So we balance each other out. It's also good to have his support because I am still doing school work and that's been making for a few hectic days here and there.
Now, at almost two years in, I can say it is starting to feel like I'm working with both brothers! My little brother, David, he's 8, and is the best taste tester ever. He also likes to tag along with me on deliveries when he can. I'm glad to have both of them around.
What's the story behind the name Uncle Dell's? Is he a family member as well?
My little sister Blaire and I are only six years apart, but when she was little, she called me Uncle Andy. I really love little kids and I was always very nurturing to her, which I guess is how I got the nickname. I named my initial sauce Uncle Andy's mumbo sauce. When I took my ideas to my creative director, though, the team alerted me to the copyright issue for Uncle Andy's.
Still, I wanted to keep the notion of "Uncle" something with the sauce because I want all of our products to have a familial theme. I changed the name of the sauce to "Uncle Dell's" to honor my maternal grandfather, Lieutenant Colonel Wardell Guyton, better known to us as Poppy. Our family has experienced lots of ups and downs recently, and I really wanted to honor a great man in my life.
I also want those who enjoy our sauce to feel like they are a part of the family. So far, everything I've made and all I've planned is really something we've actually enjoyed in our Burton family for years.
What differentiates your mambo sauce from other sauces?
Uncle Dell's Mambo Sauce is different from other mambo sauces because of its versatility. It can be used as much more than just the traditional chicken wing dipping sauce—it's great on a variety of meats, as a veggie dip, seafood sauce, and more. I feel like it's gourmet mambo.
In all honesty, mambo sauce varies from carryout to carryout, which is part of the beauty of it. My mom's personal favorite, for example, was from a restaurant near Howard University, where she went to college. Everybody had their favorite and in the end, it's all the differences of the sauce that makes the whole mambo experience authentic.