Inside the PornBurger guy's exclusive DC supper club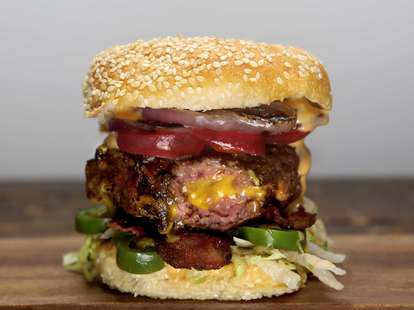 What if the baddest burger dude in DC invited you to his house for dinner? What if said dude was Mathew Ramsey, the creative genius behind all these PornBurgers? What if everything was so amazing that you kept checking the wall behind you for brain matter because your mind was totally blown by the experience?
That's what went down at Bar R -- known colloquially in these parts as "that PornBurger guy's supper club". Since only a few will experience this honor, we've chosen to bring you inside with us. Spoiler alert: Bill Murray is involved.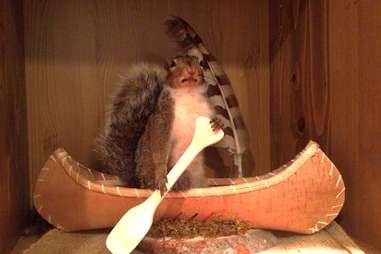 Mathew's basement apartment in Bloomingdale has been converted to a Texas homestead for the occasion. It's even appointed with taxidermy: an antelope named Fred and a canoeing squirrel called Daniel Day-Lewis. This is fitting, given that Bar R is named after his family's ranch in Caledonia, TX. "The town has a population of eight, and my pops has usurped the mayorship," Mathew says. "His responsibilities include handing out beer koozies that say, 'I drank beer with the mayor of Caledonia'."
Upon crossing the threshold, you're informed of "the rules". The first is simple: "When this record's finished, it's up to you folks to line up the vinyl for the evening." The second is a little more dubious -- "Sh*t's gonna get weird, so roll with it." Let's just say some things went down that we can't talk about. Finally, the menu's a sweet slide rule of sorts. You can only advance to the dish description when the plate hits the table.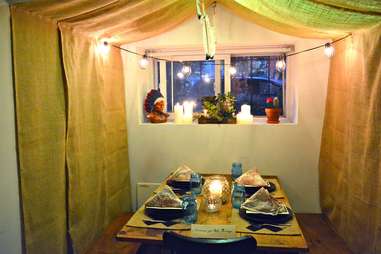 After a cocktail served with chatting, you're ushered to a cozy table that seats four. But, if you just want to come as a twosome to have the craziest date possible, you can do that, too. The price stays the same -- $300 for the evening. We challenge anyone to find a better way to spend three hundos. But don't get too excited. Bar R seatings from now through December sold out in a matter of hours, and Mathew has yet to decide whether or not to schedule more. (PLEASE! SCHEDULE MORE!)
That being said, the table was set for five. If there's one thing Mathew loves more than burgers, it's Bill Murray. He dropped a place setting for him -- just in case. There's more to this Bill Murray-themed evening. Every Bar R dinner stars a PornBurger for the main course. At this particular dinner, four perfect "Bill U Murray Me?" burgers arrived at the table.
He describes it as "a looker with a heart of gold," because it's seared on the outside, medium rare on the inside, with a molten core of melted cheese and creamy sous vide egg yolk. It's also topped with grilled red onions, tomato, applewood-smoked bacon, quick-pickled jalapeño, shredded romaine, and smoky Thousand Island dressing. Right around when the burger hits the plate, a special visitor arrives. It's not Bill Murray, but a close second. Eddie Kim, bartender extraordinaire, pops by to make a killer cocktail.
Served alongside the burger is a life-changing side: a generous bowl of crispy gnocchi tater tots. You'll wonder if there's MSG in them, or some kind of miracle drug, because they're the best burger accompaniment (and possibly the best anything) you've ever tasted.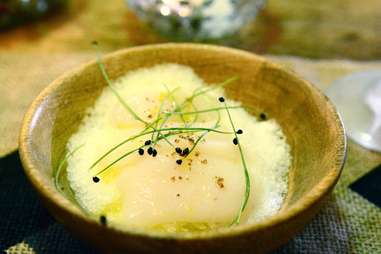 Other dishes from the evening included an amuse of a fig brûlée atop a sea salt potato chip with smoked honey ricotta and micro basil; a diver scallop crudo on a bed of cucumber snow with jalapeño oil, micro herbs, and ginger mist; and seared lamb belly with foie gras cognac crème sauce and roast physalis. Physalwhat?
Once the savory courses are complete, you're sent packing to the back yard where you take seats around a fire circle. It has a very "Kumbaya" air to it, especially because Jason Orfanon is serenading you and your burger-filled belly on the accordion. He's from DC's own Second String Band. The night ends with whiskey and a coconut brown butter cookie sandwich by the fire. It's stuffed with Dolcezza's ricotta cardamom gelato. When you leave, you'll ask, why am I sweating so much? Then you'll realize you're just oozing cool.
Sign up here for our daily DC email and be the first to get all the food/drink/fun in town.