For DC residents, Inauguration Week always comes with a slew of headaches, from navigating expansive road closures to jostling through masses of clueless tourists. But there is one major perk to come out of the whole ordeal: late-night drinking and dining. From January 14th through the 22nd, 44 bars and restaurants have permission from the Alcoholic Beverage Regulation Administration to stay open 24 hours a day and serve booze until 4am. The restaurants on the list will also be required to serve food until at least two hours before closing. (Curiously, the Trump International Hotel's Benjamin Bar & Lounge isn't among them, so it'll be closing at midnight or 2am, depending on the day of the week.)
So, whether you want to toast our new president, drink until you forget what year it is, or have a nightcap after a long day's work, you legally can do so until the wee hours. There are lots of options for your late-night debauchery. Here are our picks for inauguration imbibing, with a little something for everyone, no matter your budget or sense of refinement.
U Street
Say #thanksobama with a "Dancefloor Journey" dedicated to him on the night before the nation bids him farewell. The 9:30 Club is your one-stop shop for booze, grooves, and moves, where you probably won't be able to hear any political arguments over the loud music.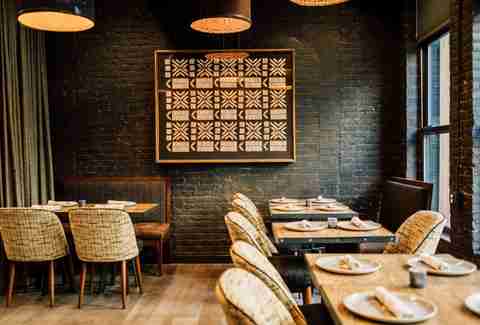 Downtown
For comfort food and unique cocktails, head to Bonfire. Their bar snacks -- like short rib tots and skillet mac made with smoked gouda and truffle Cheddar -- lay the perfect foundation for copious drinking. Plus, you can never go wrong with warm, sweet s'mores on a bitterly cold night. All the marshmallows are house-made and come in flavors like peppermint, salted maple, and pumpkin spice.
Georgetown
One of DC's OG power-dining spots, Cafe Milano may be your best bet to rub elbows with the political elite during normal hours. It's doubtful she'll be there this week at any hour, but Hillary Clinton was spotted there this month in one of her rare public appearances since the election. Don't expect things to get rowdy here, but stop in to finish off a sophisticated evening with a Negroni nightcap and classic Italian dishes.
14th St
Embrace the spirit of inclusivity by dining your way around the world at this cozy gathering place. Compass Rose's menu showcases street foods from Nigeria, Korea, Tunisia, Argentina, and many more. Don't miss the restaurant's signature dish, khachapuri, a traditional Georgian item that combines some of our favorite things: cheese, bread, eggs, and butter. The drinks are also quite eclectic: You can close out a night with an amber wine, a Moscow Mule draught, or a good old-fashioned Stroh's lager, among many other selections.
Penn Quarter
Even if you haven't set foot in a Hard Rock Cafe since the Clinton administration, don't write it off for inauguration festivities. There's bound to be tons of great people-watching with all the rowdy tourists, and for history buffs, it's located right next to Ford's Theatre. And who knows -- maybe some celebs will decide to hang there simply to hide in plain sight?
14th St
This fine French establishment is another good bet for politician sightings. Michelle Obama, Newt Gingrich, and Joe Biden are just a few of the VIPs who have stooped to dine with the plebs here. You can gossip the night away over on-point steak frites and a nice glass of red wine like a true American pretending to be a Parisian. Don't skip dessert, because masterful pastry chef Fabrice Bendano turns flour and sugar into gold on a daily basis, like the Palet Chocolat-Framboise.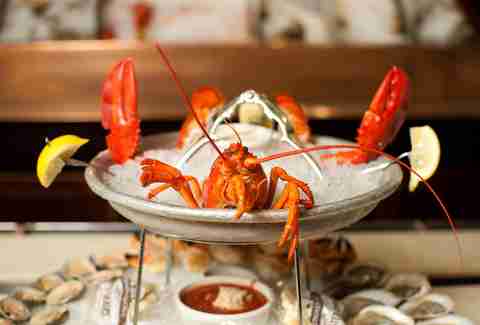 Downtown
Throw it back to the 1800s with a visit to the old time-y Old Ebbitt. They have a dedicated late-night menu with wings and burgers, in addition to a respectable entrée selection including steaks, seafood, and pastas. The biggest reason to go? Half-priced oysters nightly from 11pm to close.
Adams Morgan
When you're in for a night of bad decisions, Madam's Organ has got you covered (and possibly uncovered, if things go well). Cheap booze and karaoke are often a recipe for regret that also has the potential to lead to an inaugural hookup. Just avoid disclosing your political views before stumbling off into the pre-dawn glow, or else risk sabotaging your romantic rendezvous.
14th St
Craft cocktails at Red Light often come with a pyrotechnic show: think blow-torched garnishes and drinks that are literally on fire. Bring a date and snuggle up on the heated outdoor patio or mingle in the often-crowded bar area for some unique spins on drinks and snacks.
Georgetown
Here's a gameplan for the lazy: drink at a hotel bar so you don't have to find a way home at the end of the night. Then again, running a tab at The Ritz might cost you a small fortune, where signature cocktails go for $17 a pop. But if you're feeling fancy, you won't be let down by the two swanky food options. The dining room, Degrees, offers upscale American fare, including regional nods with the DC Brau Brined Cornish Hen and District Hot Chicken with Virginia hot sauce. The cocktail lounge, dubbed The Living Room, has a huge fireplace and free s'mores that are passed around by butlers.
U Street
This Boston transplant is here for you when all you want is a cheap burger and a beer in the wee hours. There's no need to panic over pronouncing foie gras that late at night -- the wildest thing on the menu of classic fast-food offerings is a jalapeño burger. And while not overtly political, Tasty Burger does reference Parks and Recreation with its Chicky Chicky Parm Parm.
U Street
Like any respectable sports bar, The Prospect is lined with giant TVs -- over 40 of them in total, plus two private viewing boxes. For a refreshing change of pace, you can belly up to the bar and scream at strangers over ESPN highlights instead of politics while noshing on more-creative-than-average pub food, like loaded venison fries and crab flatbread.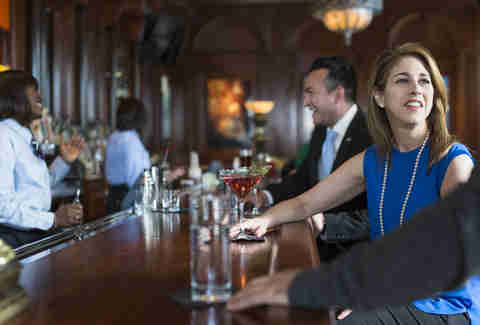 Downtown
Wave goodbye to the Obamas or say hey to your new neighbors from The Hamilton, which is just a stone's throw away from the White House. (Please do not literally throw stones at the White House, unless you want to spend the rest of inauguration week in the clink.) Enjoy live music and cocktails that come with a history lesson, as the drinks list features American spirits and recipes that predate Prohibition.
Sign up here for our daily DC email and be the first to get all the food/drink/fun in town.