The Best Meal You're Not Eating in DC
Calling all cavemen. And not the kind on the damn Paleo diet who've sworn off gluten and joy. We're talking about the kind who relish carving into a whole animal with their tribe. Consider this your smoke signal because Birch & Barley's "Beast Feast" is a carnivorous fever dream, and also the best meal you're not eating in DC.
To book the off-menu experience (Tuesday-Saturday), rally six to eight friends and give the restaurant a call 72 hours in advance. It practically screams bachelor party -- for grooms who value good food over good strippers. Note that the "beasts" vary by season.
Warm up for a meal that will include three whole animals and sides with a charcuterie platter that's practically pornographic. No part of the pig is off limits, so expect face meat to melt in your mouth and chewy pig ears to rebound off your teeth like gymnasts. There's even a Bill Cosby-free half-smoke. Just remember to pace yourself.
Included in the $95-per-person dinner are large-format beer pairings so creative you'll itch to take notes that you can save and regurgitate the next time you want to impress someone. Greg Engert, who the boys from Esquire Network's Best Bars in America recently dubbed the "Willy Wonka of Beers," is responsible for the pours. Many are so rare you can only get them at the brewery (Willy Wonka magic, remember). We lapped up this Aecht Schlenkerla Fastenbier from Germany made with 50% smoked malt. It complemented the smokiness of the charcuterie swimmingly. Pro tip: challenge your tablemates to pronouncing schlenkerla.
Now that you've had some liquid lubrication, it's time for beast number one from Chef Kyle Bailey: a whole grilled suzuki (Japanese sea bass) served alongside donut-like zucchini fritters, smoked tomatoes, smoked mayonnaise, plus garlic scapes and wood sorrel. Don't worry about those last two unfamiliar ingredients. Just focus on the taste. Greg pairs the fish with a crazy collaboration brew: Anchorage/Jolly Pumpkin Calabaza Boreal.
Next up: a roasted stuffed duck with foie gras. Unlike some dishes advertising foie on the menu, there's no skimping. The lobe that arrives at the table is the size of Dikembe Mutombo's left hand. Carefully slice it and spread the warm, fatty patty onto a duck round. The platter also includes snow peas and salt-roasted carrots drizzled in a nasturtium-pine nut pesto. Recognizing the classic pairing of duck and cherries, Greg pours Kriek De Ranke -- a blonde ale meshed with cherry lambic that only comes out once a year.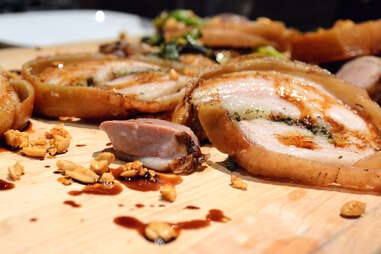 Air and sea have already been covered, so it's time for a land beast to dazzle in the form of a pork duo: roasted porchetta and barded tenderloin (meaning the loin was wrapped in fat). Sure, you'll have to sleep sitting up while wiping away the meat sweats, but by God is it worth it. Also on the platter: glazed new potatoes, cured asparagus, pickled rhubarb, grilled scallions, peanuts, and charred lemon. The beer pairing, Cuvée Des Jonquilles, has a lady-like label because Jonquilles translates to daffodils.
Maybe you were expecting the final battle to be a small scoop of ice cream. But that's not Beast Feast worthy, so the kitchen team sends out a wineberry and sour cherry trifle instead. Use a spoon to dive deep into pastry cream, lemon chiffon, and fruit. Don't feel guilty if you barely make a dent because the leftovers make an epic next-day breakfast. The final pairing? A Firestone Walker Double DBA lending just the right amount of toffee notes. And after that? A nap, ideally.
Sign up here for our daily DC email and be the first to get all the food/drink/fun in town.