DC's Politicians, Celebrities & Random Dudes on the Street Reminisce on the Half Smoke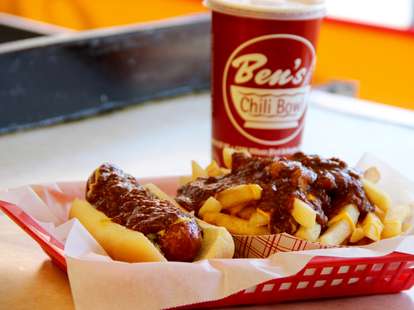 Lani Furbank/Thrillist
Lani Furbank/Thrillist
DC is a melting pot, so it's no wonder that we have a bit of an identity crisis on our hands when it comes to food culture. The city boasts great versions of practically every style of cuisine, from Laotian to Yemeni, but there are very few things that are quintessentially DC. Except, of course, the half smoke. While the status of the half smoke as DC's signature street food may not be up for debate, the origin of the sausage definitely is.
Many before us have tried to uncover the creation story of the half smoke, but haven't reached an entirely definitive answer. It's thought that Briggs and Co. meatpackers were the ones who first created DC's own sausage, but now nearly everyone has a slightly different version. Ben's Chili Bowl serves what is arguably the most iconic half smoke, but many insist that the true half smoke OGs are the folks at the roadside Weenie Beenie in Shirlington.
The name is a source of even more confusion. Some will tell you that the half smoke's moniker is derived from its ingredients: half beef and half pork. Others add that the sausage must be half smoked -- that is, smoked at a specific temperature for a shorter time, a technique used to prevent the link from drying out. And a few believe that the name comes from the way the sausage is often served: split in half, right down the middle.
But no matter where you land in this greasy debate, chances are, you have some sort of opinion about the half smoke. We asked members of our community -- and a few out-of-towners -- to share their memories about the Ben's Chili Bowl half smoke. This is what a wide variety of folks, including regular diners, chefs, bartenders, politicians, local business owners, and even a few celebrities, had to say:
Kitchens across the city have paid homage to the link in their own ways
"Hot dogs were really the gateway charcuterie for me, and when you live in DC and you're talking hot dogs, you have to pay respects to the half smoke. My favorite part of creating half smokes is that there's no set recipe, no real version. It's always been half beef and half pork, and it's always half smoked. We had to figure out our version at Red Apron through trial and error, and then put our own spin on it." -- Nathan Anda, Chef and Butcher, Red Apron
"Personally, the half smoke, or 'glizzies,' as it's more affectionately known, has always been a curious item. No one in the DMV seems to know what it really is, but the half smoke we have at DCity Smokehouse is exactly like the spicy Texas links I grew up eating... a few years ago, a friend of mine from Virginia set out to recreate the half smoke his grandfather used to get at the butcher. He and I did the usual Google searches to start, then we bought up any half smokes we could find. The whole time, I kept thinking they tasted so familiar, but I wasn't from DC, and didn't have childhood memories of getting half smokes from a street vendor. One of the last half smokes we tasted was from Manger, which I believe was originally a German meat processing company. That's when it clicked: half smokes to me were Texas sausages. I do have memories growing up getting sausages at the Texas State Fair and local barbecue spots, like Spring Creek Barbeque. In comparison to our Texas briskets, sausages are barely smoked and mild in heat. After that realization, the mystery is not what it is, but where the name comes from." -- Andrew Chiou, Director of Operations, DCity Smokehouse
"Wagshal's was established in 1925, and my family took over in 1990. We came across an old recipe for kielbasa when cleaning out some storage, and realized that the recipe was very similar to the half smoke. With some tweaks and testing (copious amounts of half smokes were eaten), we developed an awesome half smoke. Today we sell over 13,000 a year." -- Brian Fuchs, Principal, Wagshal's
It's the stuff of legends
"A few years back, Dimitri from Paris played an open-to-close set at the club. His manager wrote me in advance of the show: "Dimitri said, tell Will to take me to Ben's Chili Bowl." I said, happy to oblige. The date came and I was texting with him before his six-hour set: "Are you sure you want to go before your set? They're open late, so we can drop by after for a half smoke." He said, no, I have a stomach of steel. Let's go beforehand. So we went and he downs a chili half smoke with chili cheese fries and a Coke. I'm thinking, there's no way he's going to be able to DJ for six hours after eating that. We get to the club, and I ask him if he wants anything before he goes on, hinting like, you might wanna hit the john before you start. He says, "Just a large coffee from 7-11." He downs the whole thing, and never even takes a pee break the entire night. To this day it's legendary at the club. A real feat. I took a photo, in case no one believed me." -- Will Eastman, Owner, U Street Music Hall
Chefs and bartenders agree it's the true king of late night
"Back when we used to go to punk rock shows in the '90s, we would often top off the evening with a couple of half smokes at Ben's. They were one of the pioneers of late night eats in DC, and the memories we have from that will always be some of my most delicious." -- Nathan Beauchamp, Chef, The Fainting Goat
"Whether it's at a ball game or on the street late-night, half smokes are a DC staple you've gotta try at least once! But pro tip: when going for the late-night option, skip the chili and cheese... and thank me in the morning." -- Benny Hurwitz, Head Bartender, Jack Rose Dining Saloon
The Ali family of Ben's Chili Bowl have fond memories
"If we were going on a picnic, or to Kings Dominion, or on a road trip, they were perfect. Some people will ask me, 'Vida, I want to get some, but I'm traveling to Baltimore, is it okay if I put it all together?' I'll say, 'I can't tell you, because it's a personal preference, but to me, the messier it gets as it travels, the better it'll be when you open it.'" -- Vida Ali, Family Member, Ben's Chili Bowl
"I enjoy eating everything, but the half smokes are very, very good. They really are good... I don't have half smokes often. I'm 82! I'm 82, so I'm cutting back on meat." -- Virginia Ali, Matriarch, Ben's Chili Bowl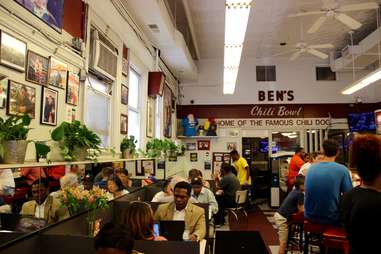 Ben's attracts long-time regulars and tourists alike
"I grew up in the place, because we used to get together and play basketball every Sunday morning with two of Vida's brother-in-laws. It's been about over 30 years that I've been coming here. Everybody's friendly, it's a family environment, the half smokes are good, everything on the menu's good. I've had everything they have, and I can't just say one thing I like best. A lot of times they have me taste -- when they get new products, I'll be the guinea pig to see how it tastes. Because they know that I'm gonna tell it like it is." -- Alex Talton, Temple Hills, MD
"It's been an institution in the African American community. Historically, it's important, just being here as one of the only businesses on U Street to survive the 1968 riots after Dr. King died. And they're open late. So if you're out in DC, DC shuts down at 3, Ben's is still here, and you can still come get a half smoke. It's very good." -- Tracy Jackson, Glen Burnie, MD
"I heard about how it was such a staple here, and all the celebrities came here, President Barack Obama, the whole nine yards... I just heard it was really good, and since I'm from New York, you know, I'm used to Coney Island and Nathan's. So, of course I've got a New York attitude, you know, you think everything's better in New York, but it's pretty good." -- James McKenna, New York
"I took my friends here as kind of like a good local place that has a lot of history steeped into it. It's definitely the go-to thing to do. You know, you go to a pancake house to get pancakes, you go to Ben's Chili Bowl to get a chili dog." -- Krista Hunsicker, Glover Park, DC
"It's a part of DC's history, and we wanted to be a part of DC's history... hot dogs are famous everywhere, but when we heard about Ben's Chili, we wanted to take a part in the half smoke." -- Sharone Malone, Tulsa, Oklahoma
Politicians worship at the altar of the half smoke
"The half smoke is a longstanding part of the DC cuisine scene. I typically get one when I go to Ben's Chili Bowl. Very little can top a half smoke with chili and a side of cheese fries. The half smoke has helped to define the uniqueness of our great city!" -- Vince Gray, former DC Mayor, candidate for Ward 7 DC Council
"The half smoke has been a signature of U Street's Ben's Chili Bowl -- and the District of Columbia -- for decades. DC has changed, but the half smoke survived the riots and endured, until it has now spread throughout the region. I was especially delighted to help cut the ribbon at the new Ben's near Capitol Hill, and have my favorite half smoke so close to my home." -- Congresswoman Eleanor Holmes Norton (D-DC)
"Half smokes are a DC delicacy, and have been for years. They're a must-try for any tourist and an occasional indulgence for most residents. For me, there's nothing like a well done half smoke. I love a burnt one!" -- Mayor Muriel Bowser
Even celebrities take notice
"I remember the first half smoke I had was when I got to DC for college at Howard. They sold them on the corner -- there was a really grouchy guy that would serve them. I was always amazed that he did such brisk business because he was surly, but they were good and they were affordable. For me, not only was the half smoke a delicious and affordable treat (I love Polish sausage, and I love love love hot dogs, so what a combination!), but it was also such a cool new experience for me to buy something from a hot dog truck. I had never seen that before." -- Carla Hall, Celebrity Chef; Co-Host, ABC'sThe Chew; Cookbook Author; Competitor,Top Chef
"The food at Ben's was everything I wanted and more! The atmosphere felt like I was eating at my family's house; I loved it." -- Guillermo Díaz, Actor, Scandal
It's the sausage that launched a thousand burgers
"During our years of eating our way through DC's burgers, we've never found one that was really, truly representative of the District. Crab on a burger is not Washington; that's Baltimore. Tired of waiting for someone to come up with one, we decided to do it ourselves. And since you can't think of DC food without thinking of half smokes, we knew we had to have one in there. Toss in some mumbo sauce and, boom, this burger is DC through and through." -- Jody Fellows, Founder, Burger Days, A Never-Ending Quest to Find the Best Burgers in DC, MD & VA
Sign up here for our daily DC email and be the first to get all the food/drink/fun in town.