Certainly the most important meal of the week, brunch is when you get to indulge, day-drink, and set a base for those oh-so-necessary Monday morning hangovers. While DC loves -- and offers -- many delightfully boozy brunches, you don't need to actually be in the District to get your bottomless mimosas on. There are plenty of spectacular brunch options just outside the nation's capitol, so do yourself a favor: cross state lines to hit up one of these establishments for the pleasure of some pork belly hash, thick-cut bacon, oysters on the half shell, and more.
Takoma Park
Go for the tequila Bloody Mary, stay for the buttermilk biscuit with fried chicken or duck confit Cubano. If you've ever wandered into a Jeff Black restaurant before, you know you'll leave wanting to go back -- the menu is too expansive and good to try everything in one sitting. When you do go (it's a when, not if), order a pound of Addie's Mussels, one of chef Black's signature dishes -- the garlic broth they swim in is fantastic.
Old Town, Alexandria
It's all about the savories at Brabo, so start with the bistro board -- sausage, cured meats, hard-boiled eggs, and pate, served with a helping of beer mustard. It's not your typical brunch fare, but it's a must, and easily shareable, so you can still have your fill of smoked polenta or Virginia ham & eggs. No bottomless options here, but that's more a reflection on the dining experience -- this place deals more in sophistication than debauchery.
Crystal City
With pink flamingos and Barbie dolls adorning the purple & lilac walls, Freddie's is by far the quirkiest restaurant in the area -- and it's fantastic. A regular spot for the gay crowd, Freddie's Fabulous Champagne Brunch offers both buffet and a la carte options. If you opt for the latter, the omelettes are your best bet -- the veggie option is surprisingly good, and comes packed with spinach, feta, and mushrooms. Go in a group and stay all day… karaoke starts at 8pm.
Alexandria
With a mostly seasonal menu in partnership with nonprofit Arcadia Center for Sustainable Food & Agriculture, along with many local farms, you're bound to be surprised on every visit -- and with chef William Morris in the kitchen, it doesn't matter what time of year you go: it'll always be on point. Coconut-braised pork belly & Carolina grits topped with a fried egg… need we really say more?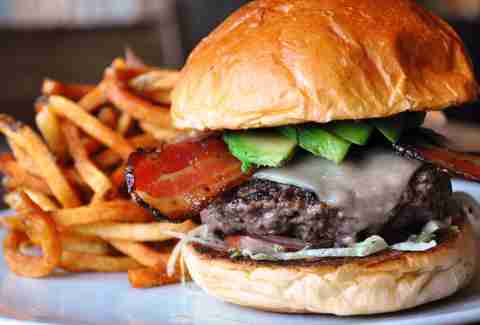 1924 Pennsylvania Ave NW & others
Somehow, Founding Farmers manages to keep the farm-to-table concept alive and kicking, even when that idea may feel passe to some. It's expanded both north and south these days, but is staying true to its origin, serving delicious food using ingredients that come straight from the farm. If you're a coffee lover, then you'll be happy to know that they serve Compass Coffee alongside an extensive brunch menu of American classics such as buttermilk pancakes and biscuits & gravy.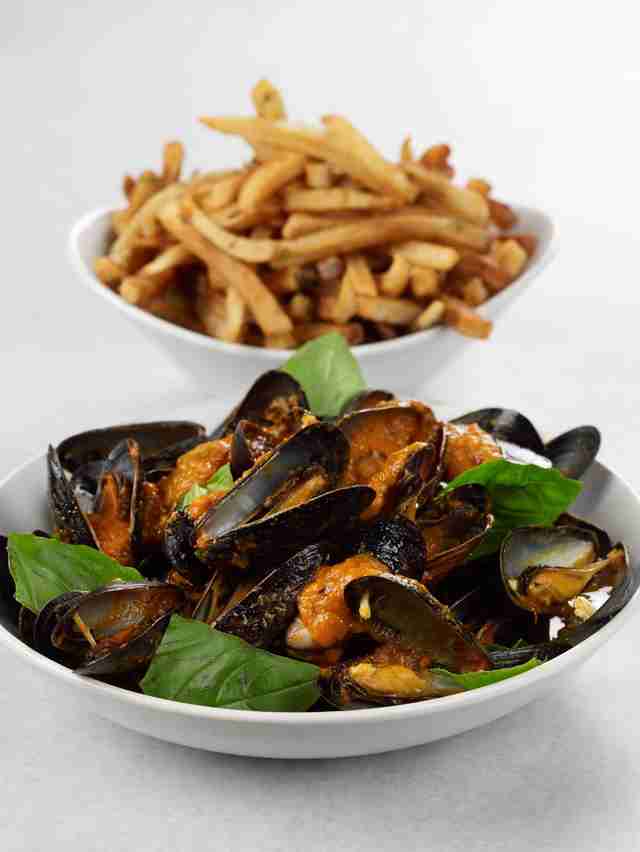 Clarendon
No list of brunches whether in DC or not is complete without giving a nod to The Liberty Tavern; it's an Arlington institution with accolades a pile of dishes high… and wait times on Sundays to prove it. The go-to move here is The Breakfast Table, a $22 all-you-can-eat buffet, which distinguishes itself from most brunch buffets by being filled with super-fresh pastries, cookies, fresh fruit, smoked salmon, fried chicken, and thick-cut bacon. Basically, you end up with the delightfully overwhelming sensation of being a kid in a candy store, only, you know, grown up. There are also a la carte offerings such as buttermilk pancakes with mascarpone cream & granola, and a fried chicken sandwich served with spicy jalapeño slaw, which pairs nicely with the "Man-Mosa" (a pint glass filled with ice, OJ, and Triple Sec). Throw in a shot of tequila, and you have yourself a little party.
Ballston
If, like us, you don't like to get out of your pajamas before mid-afternoon, then not to worry: SER welcomes you with open arms. Show up at this joint in your sleepwear, and you'll earn a mimosa on the house. For $32, you can get an appetizer, entree, and dessert. The huevos al gusto pairs especially well with your pyjamas, and includes your choice of chorizo, Serrano ham, blood sausage, shrimp, pork loin, or steak. (And uh, don't forget to order a pitcher of red sangria.)
Clarendon, Rockville, and Olney
This $30 all-you-can-eat Mediterranean brunch is right up your alley if you're a fan of gigantic brunches that deal more in meats than eggs. The gyro hash is genuinely remarkable (and they throw an egg on the plate for good measure), but the focus is a pita stuffed with beef, lamb, and fries. And if you ever thought the simple penny has outlived its use, think again: mimosas at Cava are just one cent a piece. Lincoln would be pleased.
Arlington
Your search is over: this is your greasy spoon. No matter where you live in the metro area, this place is worth the drive, as true diners are so few and far between. It's a diner, offering all the same diner menu options that exist at every other diner across the land... but damn, it's a mighty fine diner. Sometimes, all you want are eggs sunny-side up, home fries, crispy bacon, and ketchup.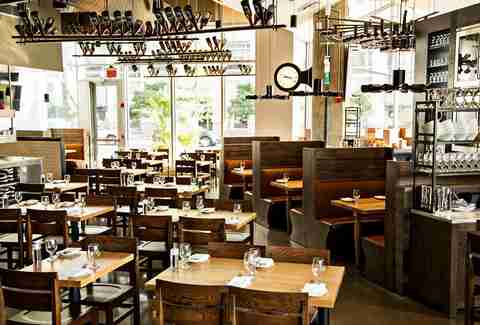 Bethesda, Arlington (& other locations)
If you're not into delicious oysters on the half shell or Blue Bay Mussels from Prince Edward Island served with applewood smoked bacon, then there are plenty of other options at Mussel Bar in Bethesda -- although we might think you've gone crazy. That is, unless you go for the crab cake Benedict or the Benedict with braised pork, which are just a few of the options available, in addition to an impressive list of wood-fired pizzas. Both locations have extensive patios, perfect for those warmer days, but should you want a more intimate setting, the original location in Bethesda is a little darker than in Arlington, which offers up floor-to-ceiling windows cornering N. Glebe and Wilson.
Mosaic District
Just because you're at brunch doesn't mean you have to order eggs. It's been a year now since BRINE made the Mosaic District in Fairfax a destination, and this place knocks it out of the park with all things seafood. The Mosaic Platter, which is comprised of six each of oysters, clams, Carolina shrimp, and ceviche, is a seafarer's dream.
Bethesda
Barrel & Crow combines tastes of the South with the Mid-Atlantic, and their dishes for brunch include crab beignets with Old Bay tartar, fried Amish chicken & waffles with collards and bacon, and shrimp & grits with andouille sausage. An industrial interior of metals, wood, and leather, the dining room is comfortable and elegant -- perfect for a long, leisurely brunch.


Sign up here for our daily DC email and be the first to get all the food/drink/fun in town.