While Northern Virginia's culinary scene is often overlooked, the Federal City is currently dominating the culinary world, gaining national attention as the Bon Appétit restaurant city of the year... a move that's stoked all our egos a little. However, the restaurant scene in Arlington, Alexandria, and other surrounding suburban areas is also pretty remarkable -- Northern Virginia has a delicious and diverse food scene. Many of these spots pay homage to traditional Southern fare with new takes on the classics, and others take advantage of our proximity to the bounties of the Chesapeake, focusing on fresh, local seafood. Either way, you have tons of high-quality options when it comes to participating in DC's favorite hobby: brunch.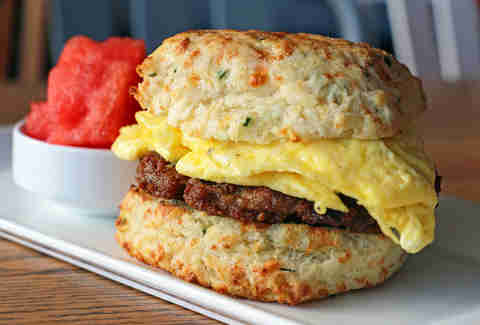 Del Ray
Open for only a few weeks, Junction Bakery is already a neighborhood favorite. With an industrial coffee bar and an open kitchen, this welcome newcomer offers up breakfast classics like fresh, ripe fruit, and à la carte options like bacon and eggs, but the breakfast sandwiches with their "round the world" twist is the highlight here -- Korean, Italian, and Spanish styles are notable. "The Country" is extra delicious -- a fluffy cheddar chive biscuit stuffed with just as equally soft scrambled egg and sausage. Pair with a glass of the sparkling for optimal enjoyment. Served 11am to 2pm on Saturday and Sunday.
Clifton
The husband-and-wife duo behind Trummer's are heavy hitters in the dining scene, which is why it's no surprise that their dishes and cocktails reflect a high level of passion and commitment -- including bringing on board executive chef Clayton Miller, who once cooked at The French Laundry. Located less than an hour away from the city, Trummer's on Main is a gorgeous farmhouse with exposed hardwood beams and large windows, which allows plenty of sunlight to filter in. You can opt for brunch classics like the mimosa or spiced Bloody Mary, but your first meal of the day may be best spent caffeinated, with an Espresso Martini made with Stoli, Grand Marnier, vanilla, and -- naturally -- espresso. Rise and shine, Washingtonians. Brunch is served 11am-2pm Saturday and Sunday.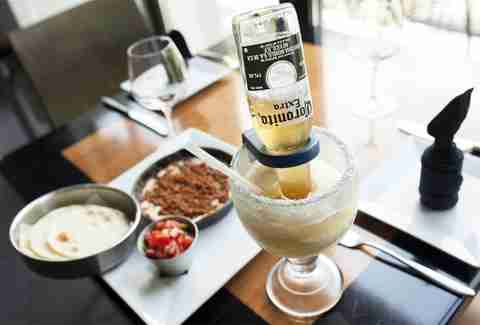 Arlington
Three courses for $19 -- not too shabby -- served during this boozy brunch where tequila can be ordered by the litro. Grab a few of your friends, as this two story restaurant has a bar large enough for you all. Choose a snack, like ceviche, guacamole, or tacos, then an entrée, and a dessert. If you go for this deal, you're eligible for $2 cocktails, to boot.
Old Town Alexandria
Framed like a colonial-era tavern, Jackson 20 focuses on American cuisine with a Southern twist -- so order down-home brunch standards like biscuits and gravy, or the Southernized version of a BLT, which adds over easy eggs and fried green tomatoes. Chef Brian McPherson's slow-cooked beef brisket hash is really excellent -- green peppers, sweet onions, and Idaho potatoes are tossed with tender beef brisket, then topped with two over-easy eggs alongside toast. Brunch is served from 8am to 2:30pm on Saturdays and Sundays.
Arlington (& other locations)
Gather as many friends as you can for optimal sharing opportunities: this $22 Spanish brunch deal lands you three tapas per person, including delights like paella, gambas al ajillo (garlic shrimp), and spicy patatas bravas. The relaxed setting here is the perfect place to grab a few drinks, sit on the patio, and people watch. Grab $2 sangrias. Brunch begins at 11:30am.
Alexandria
An easy walk from the King St metro or the Old Town Trolley, this spot's known for its exquisite mini waffles. We especially recommend the "K-Town" (lightly battered fried chicken, kimchi, and Mae Ploy), and "The Elvis," which is covered in bananas, peanut butter, and syrup. Order a magnum of Champagne and a carafe of juice for $40 -- not too shabby a deal -- or try out the "L'eggo my Eggo," which involves butter washed rum. Yeah. Brunch is served Sundays, 11am-2:30pm.
Arlington
This recently opened gastropub and bar offers up a reasonably priced menu that features items like breakfast pizza and wagyu steak and eggs, but the true magic is in the form of a lobster Benedict. Even better, you can order bourbon flights for brunch... that's Southern hospitality at its finest.
Alexandria (& other locations)
Get brunch started with a sake oyster shooter or three, then go all out with crabcake eggs Benedict, oyster po-boys, a smoked salmon platter, and/or Old Bay fries. This place really channels Maryland into Virginia. You can pair these up with $8 Bloodys (you pick the spirit, from pickled vodka to Scotch) or variations on the mimosa, including one made with basil syrup.
Del Ray
Quiet as it is kept, this tiny pizzeria is more than just about pizza. First of all, they have Duke's mayonnaise -- if you're not familiar, just try it, because it will change your life. Their hot fried chicken sandwiches and double-patty hamburgers are excellent, but what really makes this place special are their Funfetti pancakes, served with cream cheese frosting and maple syrup. Brunch is served from 10:30am to 2:30pm.
Merrifield & Reston
There's something delightfully illicit about infusing a childhood treat with alcohol, and Ted's Bulletin does one hell of a job making up tasty, weirdly nostalgic mixtures like toasted coconut, bananas Foster, and a White Russian so large that you're more likely to get full than tipsy. Make sure to pair one of these bad boys with their chicken and biscuits, drizzled in honey and served with a side of mumbo sauce... or go for their salted caramel pop tart, four words which should go together more frequently. Get there early (doors open at 7am), as this place is normally packed by 9.
Sign up here for our daily DC email and be the first to get all the food/drink/fun in town.