Looking to roll out of bed and position yourself in front of a really, really good, practically unforgettable burger? We've rounded up the very best of what's between buns in 12 different DMV neighborhoods, so you'll always have a great burger nearby. And if you're feeling mobile, these meat wads are definitely worth traveling for, although you won't feel much like moving once you're done.
The Proper Burger
Duke's Grocery (address and info)
Dupont Circle
Recently dubbed one of the 33 best burgers in the nation by a certain leading publication, this double-patty pleasure is swimming in accolades AND sweet chili sauce. Also topping your Creekstone Farms beef is Gouda cheese, charred red onions, dill pickles, arugula, and garlic aioli. Don't stop there -- pay a little extra for both a fried duck egg and mound of chicken liver pâté.
Burger Américain
Le Diplomate (address and info)
Logan Circle
Up the street is another double-decker beauty. Le Dip's Burger Américain is dressed up in a creamy sauce most akin to Thousand Island dressing (which, let's face it, is still a mystery), plus pickles, red onion, and Land O'Lakes American cheese. It's all stuffed into a home-baked bun, and we all know how good the bread department is at Le Dip.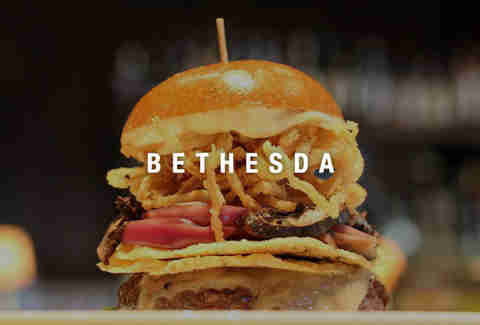 Truffle Burger
Food Wine & Co. (address and info)
Bethesda, MD
Do some jaw stretches en route to Bethesda, because the restaurant's most talked about burger is a tall leaning tower of all things truffle. Pickled and crispy onions, roasted garlic truffle aioli, portobello mushroom, local greens, and truffle cheese dress up a patty of prime Angus. If you reach for a knife and fork, you've already been defeated.
The Jalapeño Burger
The Black Squirrel (address and info)
Adams Morgan
This burger den cranks out deceitfully decadent whoppers: they use gourmet Creekstone Farms beef that's ground in house and blended with duck fat. Then, the burgers are cooked in a cast iron pan (with more duck fat!) forming a crispy-on-the-outside, juicy-on-the-inside bite. Opt for the Jalapeño Burger because it comes with guacamole and two grilled jalapeños stuffed with ground lamb and blue cheese. The boardwalk fries with Old Bay are also a win.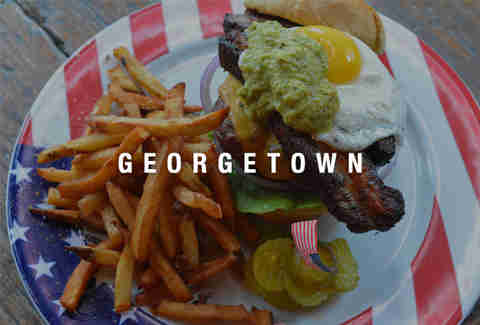 Big Belly Burger
Old Glory BBQ (address and info)
Georgetown
The BBB tastes like the camping trip you no longer have the time to take. That's because it's cooked over real burning wood, not gas. It's topped with pimento cheese, green chili verde, a fried egg, and most importantly, a borderline dangerously thick strip of house-made pork belly. God bless America.
American Kobe Hamburger
BLT Steak (address and info)
Downtown
This burger is too rich for the chef making it. "I just can't do it," says Jeremy Shelton. That's cool, more for us. He takes 100% Wagyu skirt steak, strip steak, and ribeye and grinds it to a perfect 75% meat-to-fat blend. Then, as if that weren't enough, he goes and plops it on top of a thick slice of pastrami. The expertly cooked fried egg drips down, bringing it all together for a whopping (but worth it) $27.
The Dino
Red Apron Butcher (address and info)
Penn Quarter
Located in the same space as The Partisan, the newest Red Apron Butcher serves up a lot of Dino Burgers. A spicy cotechino pork burger is draped with broccoli rabe, funky Fontina cheese, and tomato aioli on top of a Kaiser roll. You can also get this guy at Red Apron's other locations in Union Market and Merrifield, VA.
The Big Bad Wolf
Kangaroo Boxing Club (address and info)
Columbia Heights
The three little pigs were most DEFINITELY harmed in the making of this burger. The Kangaroo Boxing Club crew assembles the Big Bad Wolf by starting with their Costanza Burger, made of ground Angus mixed with pastrami. Then they add pulled pork, peppered ham, and bacon. You'll huff and you'll puff and you'll... quite possibly collapse shortly thereafter.
Prez Obama Burger
Good Stuff Eatery (address and info)
Capitol Hill
POTUS loves burgers so much that Spike Mendelsohn named one for him. Actually, there's more to the story behind the Prez Obama Burger, which is smothered in horseradish mayo and adorned with applewood bacon, onion marmalade, and Roquefort cheese. The burger's origin dates back to the 2008 election when Spike pitted an Obama burger vs. a McCain burger. The McCain burger was loaded with fiery ingredients like Southwestern chipotle mayo, corn and roasted red pepper salsa, and jack cheese. You know, because McCain was so hot and spicy. Right?!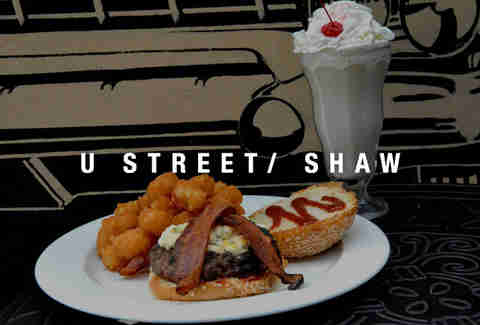 Smoke Stack Burger
The Satellite Room (address and info)
U Street/Shaw
Stinky blue cheese and smoky bacon balance each other out in TSR's Smoke Stack Burger. It also gets a boost from savory chipotle BBQ sauce. If you're still feeling like your stack is too empty, add a fried onion ring, fried egg, or sautéed onions. Have one while you play giant Jenga, or between boozy milkshakes.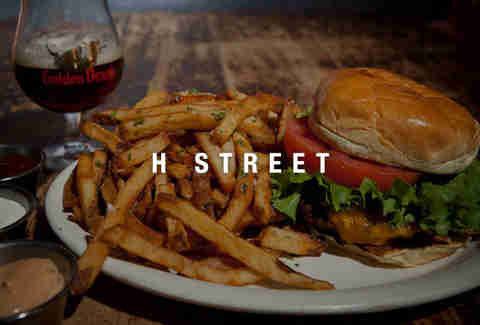 The Bison Burger
Granville Moore's (address and info)
H Street
This pick isn't as baller as some others on this list, but the fact that it comes with some of the best fries in the District, plus Belgian beer, ups its awesome quotient. Oh yeah, and the fact that it's a damn bison! GM's Bison Burger has a bit more flavor than beef, and it's a little leaner too. All you have to do is pick your cheese and enjoy the Dijonnaise for dipping, dunking, and spreading.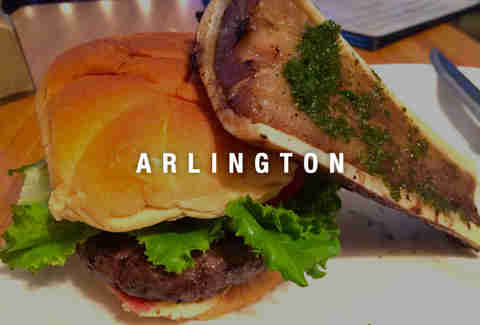 The Dogcatcher
Ray's To The Third (address and info)
Arlington, VA
There are almost too many burgers to choose from at Ray's To The Third, especially since you can customize your own masterpiece -- adding toppings like seared foie gras with truffle oil or Ray's Purgatory Chili. We're recommending that you embrace a little decadence by going with The Dogcatcher: a relatively simple patty served alongside a massive beef bone. Use your knife to spread the marrow on the bun before taking a bite. There's a reason people call it "God's butter".
Sign up here for our daily DC email and be the first to get all the food/drink/fun in town.