Where to Get the 8 Best Wings in DC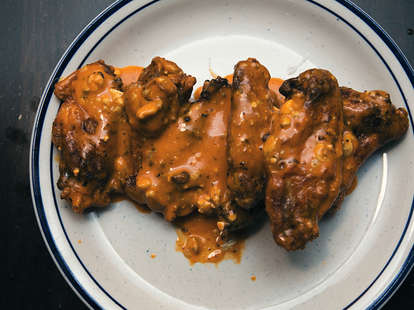 You've finished your tater tot trot, so it's time to get ready for a wing walk. Fine, truth be told these top-notch DC chicken wings are a bit too spread out to cover comprehensively on foot, but however you choose to construct your journey, you'll be awarded with some seriously crisp, juicy, chicken-y goodness. Behold, the finest wings in DC.
Adams Morgan
True to its name, Smoke and Barrel is heavy on barbecue and whiskey, and yet Smoke and Barrel's wings are a serious standout. It's well-known for its vegan wings and "Muddy" style (dry rub with sauce), but it's the Buffalo Blue wings that are really special. Smothered generously atop juicy, smoked wings, the Buffalo Blue sauce is a messy delight that makes all other Buffalo sauces seem watery by comparison. Thick with butter and globs of blue cheese and generous helpings of cayenne and garlic, it's a small wonder that otherwise healthy carnivores would be willing to eat vegan wings as long as they're doused in this stuff.
Adams Morgan
Everyone loves Sriracha. It is an immutable law of nature. Roofers Union's Sriracha Honey wings take full advantage of this fact without just mindlessly shot-gunning the crowd favorite condiment over everything. The crisply fried wings are coated in a sticky glaze of the eponymous ingredients, the slow burn of Thai chilis tempered by the mellowing sweetness of honey. The heat is balanced, but bearable, which is good because you're going to want to shove a lot of these in your face. Go at happy hour when they're $5 an order and you can do just that.
Adams Morgan
Jack Rose knows whisk(e)y. Exceedingly so. Is it, then, any surprise that Jack Rose's wings are covered in bourbon? Distilled into a sweetly aromatic glaze with hints of vanilla on the nose accented with honey and habanero, the Old Crow bourbon sauce is oddly and satisfyingly almost exactly like what you would imagine sipping a dram of bourbon would taste like if it were transformed into a chicken wing. If you're going to go the whole nine yards and forego beer and pair the wings with a bourbon, go for something on the woodier and spicier side to complement the sweetness in the glaze.
Shaw
No disrespect to Bonchon -- whom we all know is one of the best names in the Korean fried chicken world -- but Kochix is just as deserving of mention. While Bonchon churns out wings with perfect, candy coating-like skin (thanks to double frying) infused with the signature soy-garlic with an almost machine-like consistency and precision, Kochix does so with a more organic and handmade feel. Imperfections in the skin create clusters of sauce and crunch that add unpredictability and character to each wing. Kochix's sauce is also on the sweeter and stickier side. None of this is surprising when you realize Kochix is a tiny corner shop and not the burgeoning, hyper-designed chain Bonchon has become. And we should all give the underdog the shot it deserves.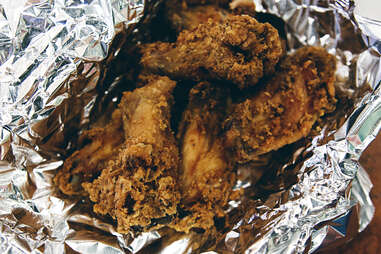 U Street/Shaw
A U Street mainstay, Oohh's and Aahh's slings some of the best soul food in town. This, of course, includes fried chicken. There's a dining room upstairs, but you're just as likely to see people carrying aluminum-lined Styrofoam containers loaded with wings on U. Glistening in oil and fried to a satisfying crunch, these aren't for anyone on a diet or trying to keep their face not covered in grease. It's hearty, stick-to-your-ribs fried chicken full of salty, peppery flavor with a hint of lemon. Pro tip: it's open until 4am on the weekends. Perfect for post-9:30 club or bar hopping.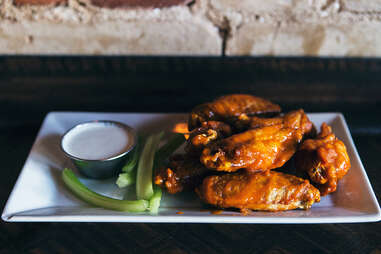 Bloomingdale
A Bloomingdale gem since before Bloomingdale became the next Shaw, Boundary Stone boasts some of the best bar wings in town. The Honey Hot Wings are a DC favorite and deservedly so. Simple, spicy, sweet, crispy. There's little else to say about them except that they are delicious. Put them in your mouth. Boundary Stone is thoughtful enough to offer them in a vegan variety as well, because these wings are equal opportunity delicious.
Cleveland Park
Fat Pete's serves giant wings. As it should. Smoked and finished off on the grill to produce some nice charring, Fat Pete's smoked wings come whole (drumette, wing, and flat) with the option of dry rub or a so called "Voodoo" sauce. Go for the Voodoo and you're treated with a face-melting heat that doesn't drown out any of the underlying barbecue flavor. This is a multi-napkin affair, so be prepared, but it's worth it.
Capitol Hill
Ron Swanson eats his turkey legs wrapped in bacon. He calls it "The Swanson." Were Ron Swanson to eat chicken wings, he would eat them at Stanton and Greene. Smothered in a spicy barbecue sauce, Stanton and Greene's wings are then crusted in crispy bacon bits. Repeat: BACON CRUSTED. While that might seem extreme and needlessly pandering to the "bacon is best" crowd, the effect is something anyone could appreciate. The bacon adds texture to every bite and a salty smokiness to complement the sauce. Some people might prefer more bacon with their wings and others less, but Stanton and Greene is probably one of the few places in town where you're going to have that conversation. Either way, Ron Swanson would probably tell you to stop talking and eat your damn food.
Sign up here for our daily DC email and be the first to get all the food/drink/fun in town.