The 11 Best Deals You Can Score During DC's Summer Restaurant Week
Ready, set, reserve.
After many months of takeout and home-cooked meals, DC's annual summer restaurant week is back—and it's the perfect time to celebrate your favorite local spots, as well as brand new restaurants that opened in recent months.
Hosted from August 9-15, the Restaurant Association of Metropolitan Washington's restaurant week includes brunch, lunch, and dinner promotions at restaurants around the DMV area. Whether you opt for a $22 brunch special (that includes bottomless mimosas!) or grab a seat at one of the city's hottest new restaurants for just $55 per person, you can't go wrong at any of the more than 250 participating restaurants. But to help you narrow it down, we rounded up 11 brand new spots, highly anticipated reopenings, and local favorites with killer deals to check out this year during summer restaurant week.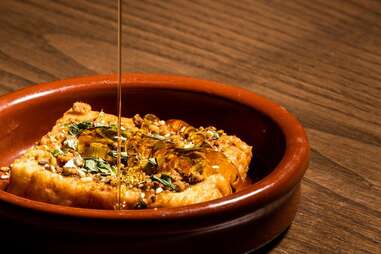 Dupont Circle
Previously known as the go-to Turkish spot Ankara, this Dupont Circle restaurant got a mid-pandemic rebrand just in time for its reopening in March. The restaurant now showcases Levantine cuisine—a combination of flavors from Syria, Lebanon, and Israel—through its menu of hot and cold meze and grilled dishes. The shareable menu includes cold items such as duck prosciutto with Turkish coffee and orange, spreads like beetroot and dukkah shawander, hot mezze items (fried halloumi, falafel and more), and a host of baked breads and larger entrees.
The deal: Brunch entree and bottomless mimosas for $22 or dinner for $35. For brunch, get unlimited mimosas in your choice of 10 different flavors and choose an entree from options like scrambled eggs and Turkish sausage or gheysavah, a savory and sweet omelet with dates and cinnamon. Dinner includes one cold mezze, one hot mezze, a spread with spicy taboon (bread), and dessert. Plus, the option to add on a selection of three beers or wines is a great way to try the restaurant's selection of Medditerranean wine from Turkey, Israel, Palestine, and more.
How to book:Official Restaurant Week Link
Dupont Circle
Chef Frank Ruta, formerly of Palena and Mirabelle, features fresh andflavorful, locally inspiredcuisine that tells the story of each ingredient's growers and producers at Annabelle. The romantic corner spot occupies a historic Dupont Circle space that previously housed Restaurant Nora for 40 years.
The deal: Three-course dinner for $55. Appetizer choices includechilled melon and kaffir lime soup,smoked salmon, and herb-stuffed Rhode Island squidwith n'duja vinaigrette and fingerling potato. A choice of seasonal entrees like Pennsylvania sweet corn ravioliwith chorizo, pan roasted organic chicken breast with braised baby bok choy, and crispy fried local rockfish. For a sweet ending, diners can select from four ofAnnabelle's seasonal desserts.
How to book: Via Official Restaurant Week Link
Capitol Hill
At the newly revamped Art and Soul, chef Danny Chavez features a locally sourced menu from Chesapeake Bay watershed states.
The deal: Three-course lunch for $22 and three-course dinner for $35. For lunch, choose from a variety of salads or corn soup queso to start, then try entrees like a pulled pork sandwich with pineapple slaw or cornmeal-crusted catfish with farro and summer squash. The dinner menu includes entrees like shrimp and grits, fried Amish chicken thighs, and strawberry bread pudding for dessert.
How to book:Official Restaurant Week Link
Downtown
The iconic Bombay Club just reopened to debut a major facelift and new menu items alongside old favorites from the menu of regional Indian fare.
The deal: Three-course lunch for $22 and two three-course dinner options for $35 and $55. Standout dishes available all day include chicken reshmi kabab with chili and cumin, Bengali fish curry, chicken korma, which all come with rice and naan, and a choice of dessert from options like carrot halwa and mango panna cotta.
How to book:Official Restaurant Week Link
Penn Quarter
After opening just a month before COVID-19 shuttered DC restaurants, Cranes has cemented itself as a unique destination for Spanish and Japanese cuisines. The ambitious restaurant by chef Pepe Moncayo offers seasonal tapas, a la carte options, an omakase tasting experience that spans six courses, and an extensive sake menu.
The deal: Four-course dinner for $55. The pre-fixe menu begins with heirloom tomatoes with iberico and shiso pesto, followed by egg with potato seaweed and ponzu, and mushroom rice with wagyu beef. A seasonal dessert will finish the meal. Pescatarian and vegetarian can be accommodated.
How to book:Official Restaurant Week Link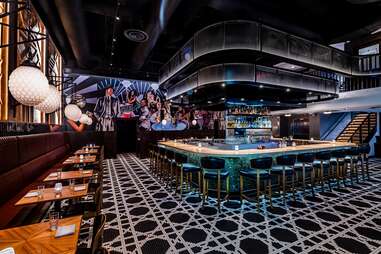 Navy Yard
This brand new restaurant in Navy Yard offers a take on reimagined diner food with international flair. Deviled eggs with pastrami and "everything" spice, chicken pot pie, smash burgers and rotating blue plate specials like lasagna, fried chicken, and more are just a few of the offerings in this swanky Art Deco-style space.
The deal: Three-course dinner for $35. Gatsby's restaurant week menu offers starters like arancini stuffed with yellow squash or shrimp cocktail, entrees like barley risottowith a chestnutpesto or a half roasted chicken, and desserts to finish it all up like a classic sundae with a brownie from soon-to-open bakery, Mah-Ze-Dahr.
How to book:Official Restaurant Week Link
Downtown
La Bise, which opened in June, features modern and seasonal takes on classic French fare in a bight and colorful setting downtown.
The deal: Three-course dinner for $55. Appetizers like chilled melon soup, beef tartare, and pork belly with local watermelon, avocado, cucumber, cilantro-sauce vierge are available to start. Entrees include summer corn risotto, Amish chicken, and a classic steak frites, and guests can choose from corn custard, an earl grey chocolate tart, and Paris-Brest for dessert.
How to book:Official Restaurant Week Link
Dupont Circle
At the new Banneker Hotel by Kimpton, this brand new restaurant serves classic French food in a sleek setting. Think French Onion soup, steak tartare, Nicoise salad, moules frites, blue cheese crusted filet mignon and other bistro favorites.
The deal: Three-course dinner for $55. Start with escargot in garlic and parsley butter, a grilled peach salad, or tomato carpaccio, then choose from entrees like roquefort-crusted filet mignon and seared diver scallops with eggplant caviar, preserved lemon, and fava beans. Dessert options include a chocolate tart with butterscotch and candied hazelnuts and peach melba with vanilla ice cream.
How to book:Official Restaurant Week Link
Dupont Circle
Opened just last month in Dupont Circle, Mi Casa features a Tex-Mex inspired menu in a tropical setting. Chef Angel Araya, who also helms Mi Vida, offers a range of top-notch dips, enchiladas, burritos, and tacos, and the bar has agave cocktails and 100 types of tequila for sipping.
The deal: Three-course dinner for $35. Mi Casa is offering a family-style menu for restaurant week, giving guests the perfect opportunity to sample from the entire menu. Get guacamole, queso, or chile-dusted crudite to start, then move onto the main course of sizzling steak, chicken, and shrimp fajitas for sharing along with a selection of sides like chipotle corn. Churros with bitter-sweet chocolate sauce provide a sweet way to finish your meal.
How to book: Official Restaurant Week Link
Adams Morgan
Offering a modern spin on Japanese izakaya and street food, Shibuya Eatery has a menu of binchotan grilled skewers, bowls of fresh udon and soba noodles in various combinations, sushi, and more at a tri-level restaurant in the heart of Adams Morgan.
The deal: Three-course lunch for $22 and two three-course dinner options for $35 and $55. The lunch menu starts off with a four-piece salmon avocado bowl followed by a choice of hot noodles (soba or udon) with toppings like sugar-cured pork belly or pickled mushrooms and finished off with mochi ice cream. The $35 dinner option includes a four-piece fresh jumbo lump crab California roll, two skewers from the binchotan grill with sides and rice, and mochi ice cream, and the $55 option includes eight pieces of sushi to start and matcha panna cotta with strawberries and whipped cream for dessert.
How to book:Official Restaurant Week Link
Dupont Circle
This high-end sushi spot by chefs Nobu Yamazaki and Masaya Kitayama is a notoriously tough reservation, but restaurant week offers the opportunity to score a seat inside.
The deal: Dinner for $55. The set comes with fatty tuna (toro) tartare to start, followed by your choice of warm dishes like miso grilled butter salmon, pork shabu-shabu ramen, or fried fish. Guests can then choose from an assortment of sushi or sets like the tuna or salmon trio and finish the meal with green tea or black sesame mochi ice cream.
How to book:Official Restaurant Week Link
Aparna Krishnamoorthy is a freelance food and travel writer based in Washington DC. You can generally find her obsessing over the next meal or planning the next getaway. Follow her on Instagram and Twitter for more dining and wanderlust adventures.