The 10 Best Deals You Can Score During DC's Winter Restaurant Week
Restaurant week is back with dine-in and takeout options.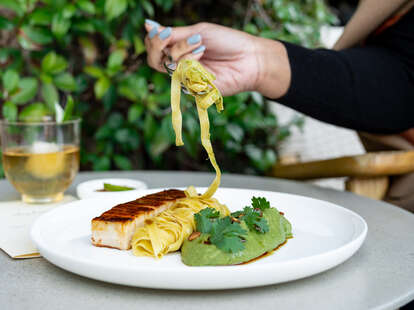 DC's annual Winter Restaurant Week is back, and it comes at a time when restaurants need your support more than ever as they contend with the Omicron surge and inclement weather resulting in some unexpected closures.
Hosted from January 17-23, the Restaurant Association Metropolitan Washington's Restaurant Week includes brunch, lunch, and dinner promotions at restaurants around the DMV area. In addition to the standard options available in the dining room, the group knows this year is all about flexibility—so there are ways to take advantage of deals at home as well, with takeout meals for two at $70 or $100 and meals for four at $140 or $200.
Whether you opt for lunch at a top Mexican restaurant that recently got a revamp or grab a seat at one of the city's hottest new restaurants for just $55 per person, you can't go wrong at any of the more than 175 participating restaurants. But to help you narrow it down, we rounded up 10 brand new spots, highly anticipated reopenings, and local favorites with unbelievable deals to check out this year during Winter Restaurant Week.
For hearty bowls of pasta and some seriously sweet dessert options, head to Alta Strada's locations in Mount Vernon Square or the Mosaic District in Fairfax, Virginia. As one of the city's most popular Italian restaurants, it's only fitting that this neighborhood joint is offering extensive Restaurant Week menus that hit on all the favorites.
The deal: With plenty of options for a large group or some picky eaters, Alta Strada should do the trick. This Restaurant Week menu from chef Michael Schlow is expansive, offering options at every course. Starters include romaine hearts, meatballs, crispy Brussels sprouts, and calamari. For the second course, pick from an array of pastas or pizzas, plus some of the spot's award-winning chicken or eggplant Parm. Just be sure to save room for dessert as pastry chef Alex Levin is serving up cannolis filled with vanilla ricotta filling, in addition to other Italian classics including tiramisu, bombolonis, and gelato. As an added bonus, Alta Strada is rewarding loyalty with a $40 gift card for anyone who dines three or more times during restaurant week at Alta Strada or its sister restaurants, NAMA Sushi and TICO.
Celebrate Restaurant Week at one of the most romantic restaurants in Dupont Circle. This townhouse has been converted into a luxurious dining room showcasing the precision and technique of a former White House chef, Frank Ruta. Annabelle's menu features fresh and flavorful, locally inspired cuisine that tells the story of the growers and producers, several of whom come from the nearby Dupont Farmers Market.
The deal: The three-course Restaurant Week menu is priced at $55 per person and is available both in the dining room and to go. Appetizer standouts off the in-house menu include butternut squash and shitake mushroom soup and a salad of roasted parsnips. For mains, guests can select from porcini mushroom ravioli, pan-roasted organic poussin, and rainbow trout rubbed with special spices, grilled and served with oyster mushrooms.
New to Restaurant Week this year is chef Tim Ma and bartender Margaux Donati's Bar Chinois. This neon-lit space offers a sprawling dim sum menu paired with a French-inspired beverage program for a dining and drinking experience that's truly unique.
The deal: For $55 per person, you can pick from a three-course dinner menu that includes dumplings, crab rangoon, and red chili wontons, plus guests have the option to pair each course with craft cocktails, wine, or bubbles. Bar Chinois also offers to-go and delivery options if you'd prefer to dine at home.
Step aside Le Diplomate, there's a new French brasserie in town—and this one comes with a waterfront view at The Wharf. Another new addition to restaurant week this year, Bistro Du Jour has a menu sure to please any Francophile.
The deal: During Restaurant Week, the brasserie is offering a $25 lunch option and a three-course dinner menu for $40. The dinner menu starts with your choice of French onion soup or salad, followed by a choice between lamb shepherd's pie, coq au vin, or a salmon filet. A tray of cookies in the chocolate chip, gingersnap, and chocolate explosion varieties caps off the dining experience.
You don't have to schlep to wine country to experience some of the best varietals from around the region. City Winery in Ivy City is an urban winery featuring dozens of bottles—some made in-house and others sourced from around the region. The space is massive with two floors of indoor and outdoor dining and concert venue space.
The deal: For Restaurant Week, The Barrel Room Restaurant & Wine Bar will be offering a three-course menu at dinner, plus wine pairings to accompany each course. Offerings include crowd pleasers like arancini and Maryland crab cakes to start and wood-fired flatbreads as sharable main courses.
After a year-long hiatus, DBGB is roaring back to life at CityCenterDC. And it's never looked better than during DC's Winter Restaurant Week. The menu leans toward French bistro-style dishes hitting on all the comforts from bar bites to larger, French-inspired entrees like coq au vin. The cocktail menu, which includes a wide selection of craft beers and sommelier-selected wines, also elevates DBGB's status as one of the best spots downtown.
The deal: For $55 per person, DBGB offers a three-course menu. It starts with your choice of three appetizers: radicchio and endive salad, smoked salmon, or sunchoke soup. For main dishes, diners can choose from succulent coq au vin, olive oil baked cod, mushroom pasta, or truffled boudin blanc. Then the meal finishes strong with three options for dessert: chocolate mousse, bread pudding, or a caramel sundae.
Pennyroyal Station debuted in Maryland's Mount Rainier neighborhood in 2020, and it's a colorful addition that's quickly become a community gathering place. Housed in a 1900s-era First Bank, chef Jesse Miller covers lunch, happy hour, and dinner with menus that are sure to please.
The deal: This come-as-you-are, laid-back atmosphere offers one of the most flexible Restaurant Week experiences, as nearly all of the dishes come off of the regular menu. Pennyroyal Station is offering a dine-in lunch for $25 and dinner for $40, as well as Restaurant Week To-Go options. A popular pick at lunch is the PLT, a pimento cheese sandwich with fried green tomatoes that's a riff on the classic BLT. For dinner, try the deconstructed vegan pot pie. Whether you're vegan or not, it's a savory and hearty offering with smoked maitake mushrooms, potatoes, carrots, and edamame, served in a mother sauce of cashew cream.
How to book: Reservations and to-go orders are accepted via website.
If Michelin quality is a must for your Restaurant Week experience, then chef Danny Lledo's dinner menu might be the coveted seat you seek. Lledo specializes in Spanish-style tapas and seafood dishes, and he's won several awards for his renditions of paella.
The deal: The restaurant is dishing up a four-course tasting menu for $55. After choosing between land and sea, you'll sample dishes that range from grilled octopus to smoked duck breast or roasted cauliflower. Plus, the menu comes with some indulgent upgrades like caviar and truffles, along with a carefully selected wine pairing for an additional $40 per person.
This recently revamped restaurant, formerly known as Las Gemelas Cocina Mexicana, remains one of the most lauded Mexican eateries in town. The space, located in La Cosecha, a Latin American food market, is now offering a full-service restaurant experience with modern interpretations of classic Mexican dishes from regions all across the country.
The deal: Whether you want tacos at brunch, lunch, or dinner, Destino has you covered for a dine-in experience that will transport you to Mexico. Both the lunch and brunch menu allows you to select one antojito, which are Mexican-style street dishes, plus a main, such as tortas or chilaquiles, and dessert options like chocolate flan. Meanwhile, for dinner, options include enchiladas, mole verde with egg noodles, and a quesadilla. The three-course brunch and lunch menus are $25, and the dinner menu runs for $40.
WHINO is both a restaurant and art gallery for those looking to get their wine, charcuterie, and cheese on during Restaurant Week. Each menu focuses on a mix of modern small plate dishes that combine American and international flavors and ingredients created by executive chef Terry Natas.
The deal: Guests will have a choice of a sharable first course, second course, and dessert priced at $40 per person for dinner, or a choice of one meat and one cheese from the charcuterie section of the menu along with a sharable first course, second course, and dessert priced at $55 per person. Top picks include a gyro made with house-blend beef and lamb, plus Greek spices, and a porchetta roast with fennel and rosemary spices and served with roasted red potatoes, spicy broccoli rabe, and pork jus.