Best DC Food Trucks and Where to Find Them
Looking for the best food trucks in DC? Food trucks may not be as popular or trendy as they were just a few years ago, but that does not mean there isn't still delicious food to be had at the ones that have persisted. Here are nine of the tastiest mobile stops in the city currently, and what to order when you get there. Most of them roam, so it's best to check each truck's social media account for accurate locations.
Best known for its corkscrew-shaped hot dogs sourced with 100-percent grass-fed beef, and a variety of unique toppings (aka the best part of a hot dog), Swizzler is a really cool local truck that gets creative with this ballpark classic. You will likely find a crowd lined up, but it's worth the wait. The sweet and spicy combo of the "Feast Mode" with caramelized onions, whipped goat cheese, candied jalapeños, and black pepper honey is a flavor bomb in a soft brioche bun. Our advice: If they are anywhere reasonably close to you, seek them out. And when you are there, treat yo'self with the combo of a dog and truffle fries.
Where is it? From Metro Center to NIH to Rosslyn, Swizzler goes everywhere.
This iconic graffiti-laced truck is hard to miss and is a great stop for Vietnamese staples that have been given a modern American twist. The pork belly tacos are bomb, the banh mis are not traditional but tasty, and the chicken or beef pho is especially good on a cold day. Whether you are a fan of Vietnamese food or have never tried it before, PhoWheels has something for you.
Where is it? Get yourself a steaming cup of pho or a banh mi at Chantilly, Chevy Chase, and many spots in between.
Sometimes you just need to indulge and get a decadent mac & cheese. But it's even more worth it at CapMac where you get unique flavors, tasty sauces, and fresh produce. Yes, you can get a salad if you really want to, but let's be real, we are in it for the cheese here. The Classic Mac (macaroni noodles topped with aged cheddar, even with more cheese, and Cheez-Its) is the most popular item for a reason -- every spoonful is a decadent, cheesy bite. The seasonal pastas (Cacio E Pepe FTW!) or the Bolognese are excellent choices as well, so look for the weekly selection of specials.
Where is it? Catch them at the curb in Franklin Square, Farragut, and other downtown DC locations.
You can now get Timber Pizza at its Petworth brick-and-mortar location, but find the OG mobile wood-fired pizza truck at various area farmers' markets and tons of other locations throughout the city. The self-proclaimed Neapolitan-ish style pizzas are the bubbly, blistered, and probably not quite like any others you've had before. The Green Monster with pesto, zucchini, and crispy kale is absolutely fantastic, as is the Bentley with chorizo, soppressata, and a drizzle of locally made hot honey.
Where is it? Weekly at the Ballston Farmers' Market, and the Penn Quarter Farmers' Market, but also plenty of other locations.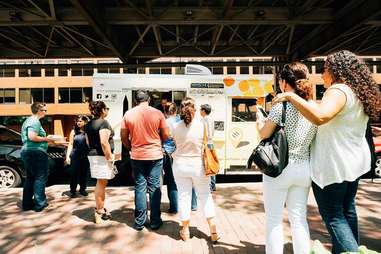 Per its name, Arepa Zone specializes in Venezuelan style arepas with a variety of filling choices. The Pabellon is a hearty mix of shredded beef, black beans, queso fresco, and sweet plantains and is a satisfying combination of savory and sweet. To say the arepas here are stuffed would be an understatement -- they are literally overflowing. To pile it on even further, douse yours with a hearty helping of the delicious green sauce.
Where is it? Usually around DC, but occasionally in Tysons Corner and Friendship Heights.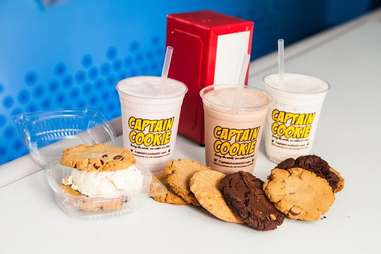 Who doesn't love a gooey ice cream sandwich? This dessert truck has an ice cream and cookie of the day -- pick those and watch the talented staff make your ice cream sandwich dreams come true. You'll definitely need a spoon to eat these enormous and delicious goodies. If you don't feel like a sandwich, a cookie and the organic milk is the perfect sweet snack.
Where is it? A truck that's always on the move, best is to keep an eye on its social media.
Your veritable stop for deeply comforting food, Puddin' delivers Cajun and Creole flavors and soul-satisfying dishes like shrimp and grits, po'boys, and, of course, bread pudding. The shrimp and crawfish etouffee is a little taste of N'awlins, the gumbo is deeply flavorful, and the fried oyster po'boy is one fantastic sandwich. Whatever your order, make sure to get the brown butter bourbon bread pudding -- rich, buttery, soaked in bourbon, and oh so delicious. The truck's motto is "divine comfort food" and we couldn't agree more.
Where is it? Weekly schedule announced on Twitter.
This is your stop for a taste of a simple Himalayan food specialty: momos. These dumplings are freshly made and packed with pork, chicken, or vegetables, each with a distinct flavor. You may not think that a few dumplings will make a meal, but these are stuffed to capacity. Along with the accompanying hot sauce and the Nepalese potato salad, you have yourself a winner. Don't roam too far from the truck with these -- they are best eaten hot.
Where is it?Office-heavy areas like Metro Center, Union Station, and L'enfant Plaza.
Sign up here for our daily DC email and be the first to get all the food/drink/fun in town.