Grocery shopping is not bar hopping. It's not fun, it's not social, and it's usually done sober. Well, that's starting to change as DC grocers increasingly make the occasionally onerous task something to look forward to -- and yes, some of them use beer to accomplish that feat. Here are 11 DC grocers that bring a little something extra to the table/shopping cart.
Mt. Pleasant
The small Mt. Pleasant market has made a big impact on the neighborhood. From a duo of former international workers, Each Peach is a self-service grocery store that's also a community gathering space and a place to grab a bite to eat. Best sandwich on the menu: The Dude. Packed with Italian meats, mozz, and banana peppers, it really ties your lunch together.
Capitol Hill
No list would be complete without the famous Eastern Market. The place is overflowing with merchants, and it's practically impossible to do any shopping since your hands are often occupied with eating. Tuesday's outdoor lineup keeps patrons on their toes because the farmers and vendors are always changing what they have to offer, usually to fit the season. And indoors, there's a specific merchant for everything -- from a deli to a ravioli-maker to a solid lunch spot for some sit-down fare.
Dupont Circle/Adams Morgan
Everything here is local. And by local, we mean within the Chesapeake Bay Watershed. Beers on draft are always $4 and the food goes beyond standard grocery store fare. There are made-to-order pizzas with pesto, saffron pasta, and handmade empanadas & pupusas. Also: a wine dispenser. Grab a pint and a basket and grocery shop with a local buzz.
Multiple Locations
This Asian grocery chain has its diehard fans. And for good reason. The prices are super low and the meat selection is nose-to-tail -- not because it's trendy, but because that's how they've always done it. It's stocked with an array of exotic fruits and veggies, but the coolest part of H Mart is its noodle counter. There are only a few seats, but if you can grab one, do it. Order some simple hot udon soup or cold Korean noodles, as it's never good to shop hungry.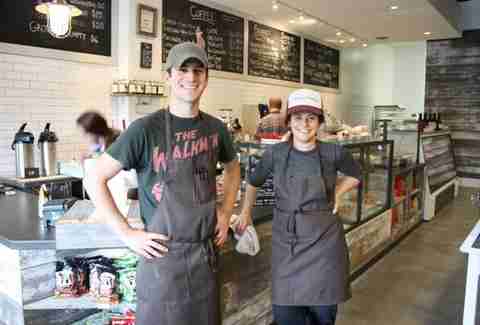 Chevy Chase
The upper NW market is the brainchild of trained butcher Anne Alfano and former music journalist Matt Carr. These guys focus on products from Virginia, Maryland, and DC, but while shopping, you can grab a sandwich, slow-cooked ribs, or a seat at the small beer and wine bar, which all make the trek North well worth it.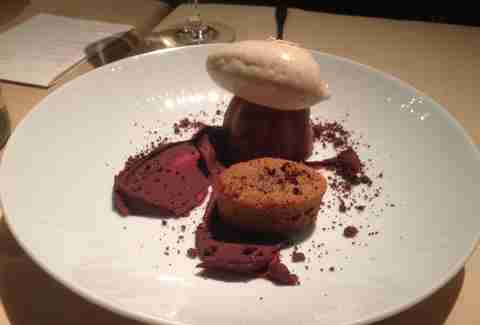 Penn Quarter
It's a market on the first floor, a lounge on the second, and a restaurant on the third. Chef Frederik de Pue, of Shaw/Mt. Vernon's Table, created the first market in this new(ish) neighborhood near Downtown. Shop for cereal and milk and then enjoy the tasting menu upstairs.
Shaw
This place may be the epitome of eating and drinking where you shop -- the small market is home to the locally famous supper club. But don't expect to just run into the store to pick something up. The hours are pretty limited because the market is only open on Thursdays, Fridays, and Saturdays.
Georgetown
The ultimate Jewish deli in Georgetown has a huge selection of meats and cheeses behind the counter. But everyone talks about what people are eating in front of the counter -- the 4 Meat Grinder. The size of a small baseball bat (and weighing about as much), it's loaded with salami, coppa, mortadella, and soppressata -- fit for a family of four or an extremely hungry you.
Columbia Heights
The market is just North of U Street on the ground floor of the Capitol View development and has the basics: eggs, milk, cheese, etc. But what it has that others don't is a legit selection of sushi that's ready to roll. The store hasn't been open that long, so it's still trying to find its sea legs.
NoMa
What was once just a forlorn warehouse has become a food and drink Mecca drawing the hungry and thirsty masses across North Capitol. Some big names are here, including Maketto, DC Empanadas, and Righteous Cheese. This market is really more of a food incubator, with vendors testing their wares before going even bigger. We're looking at you Red Apron Butcher.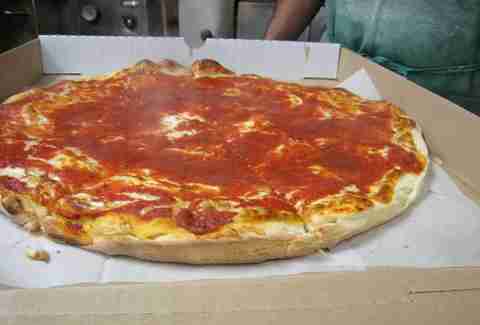 Multiple Locations
As Italian as it can get without being in New Jersey, this market has plenty of supplies for making the right calzone at home. But it's the pizza by the slice, which goes for only a few bucks, that keeps the crowds coming. Just a word of advice: buy more than one slice. Anything less and you'll regret it.
Full disclosure: the author of this article works part time at Glen's Garden Market.