T
o the DC tourist, a
half-smoke
with its traditional toppings might be little more than a chili dog. But ask an expert, and you'll realize there's a world of a difference between your average hot dog and DC's famed half-smoke. It's "another creature entirely," Anthony Bourdain
remarked
as he bit into one on his show
No Reservations
in 2009.
Not only that, but the half-smoke is much more than a sausage. In this town, it's a symbol.
Recommended Video
This Restaurant Reinvented the McGriddle
What is a half-smoke?
While there's no formal recipe, half-smokes are typically a combination of ground pork and beef stuffed into a natural casing. They are smoky and spicy, and have more of a bite than your standard, incredibly uniform, emulsified dog. For some, the most important feature is the heat. "The real difference is, it's spicier," says Eric Mittenthal, president of the National Hot Dog & Sausage Council. "That's the one thing that sets it apart."
Many food writers describe DC as not having a "culinary identity" or having one that has only recently arrived. The half-smoke side steps that entire debate. Most half-smokes sold in the city are just marketed as a delicious sausage -- not the food that ends debates about all food in DC ever. And that's why it works.
 
But some local culinary figures have questioned whether half-smokes are actually any good. If you generally like sausage, but don't like half-smokes, you probably just haven't had a good one with the right toppings. However, its critics are missing the point. In a town that struggles for basic representation, a half-smoke is more than a cheap meal. It's a reminder that DC is a city itself, not just the nation's capital. There are things that make this city unique, not just merely the background of political dramas. Like the half-smoke, you either appreciate the character and flavor of the District, or you haven't gotten to know it at all.
To explain what makes the half-smoke so intrinsically linked to the identity of DC, you have to look at its history. Though people have tried to theorize, the origin of its name remains a mystery. Some have speculated that it's a sausage only smoked halfway -- though that theory doesn't carry much weight. Others say it's because the sausage is made with a 50/50 combination of beef and pork, but the exact breakdown of the meats vary widely. Or, perhaps, many places split the sausage in half (a popular option), grilling each side so there's double the char.
History of the half-smoke and Ben's Chili Bowl
Whatever the origin, what we do know is that the half-smoke was first manufactured by local meatpackers Briggs and Co. and then turned into a breakfast sandwich by Weenie Beenie, which opened in 1954 in Arlington, Virginia.
 
At some point, the half-smoke became a fixture on the menu of Ben's Chili Bowl, a restaurant that opened in 1958 on DC's U Street, then the central artery of a black neighborhood known for its theaters and jazz clubs. In DC, Ben's Chili Bowl is not only credited with catapulting the half-smoke to local fame, but the former movie theater-turned-pool hall-turned-restaurant has become a symbol of longevity and entrepreneurship in the once majority black "Chocolate City."
 
Ben's has been a constant fixture on U Street, through all the turns of history that the neighborhood has been through. When the restaurant first opened, the strip was known as Black Broadway with a plethora of black-owned businesses and performers like Duke Ellington, Cab Calloway, and Pearl Bailey frequenting the neighborhood theaters. But much of U Street was destroyed during the 1968 riots after Dr. Martin Luther King Jr.'s assassination. Afterwards, the neighborhood was vulnerable to DC's crack cocaine and heroin epidemic. In the late '90s, a Metro stop along the Green Line was built, ushering in a new wave of development and, soon after, gentrification.
"There's a lot of nostalgia [around Ben's] because we've been here so long, because we've persevered. Because we've been able to hold on during the rioting era, the drug era," says Virginia Ali, co-owner of Ben's Chili Bowl, who was recently featured on the podcast Dish City. "Now, we've got competition. But we've been here long enough that we've been able to stand on our own two feet."
While Weenie Beenie -- the original purveyor of the half-smoke -- is still slinging links, the half-smoke might not be an iconic food if Ben's had burned like the much of U Street during the 1968 uprising. Instead, it stayed open, becoming a refuge for cops and protestors alike. It's nowhere near the oldest restaurant operating in DC, but it's an important part of its historical fabric. Plus, it's affordable and centrally located, making the half-smoke a more democratic food than, say, an orca platter at Old Ebbitt Grill.
The appeal has started to slowly spread beyond Washington. "We don't just have the locals that we used to have," Ali says. "We have people from all over the world. It's now on everybody's map." If the half-smoke is known outside of DC, it's because of Ben's celebrity diners like Bourdain, Dave Chappelle, and particularly Bill Cosby, who became a fan of the sausage when he was stationed near Washington for the Navy in the 1950s. Before his 2018 assault conviction, Cosby was something of an unofficial mascot for Ben's and famously ate there for free. Until 2017, his likeness was painted on the side of the building.
The evolution of the half-smoke
While Ben's U Street location, with its famed mural, is a hot spot for DC half-smokes, you can now eat them at all kinds of local establishments. You can have it cheap, from a stand along the National Mall or a Chinese carryout. You can have it dressed up in a brioche bun and topped with fried onions and beer cheese at HalfSmoke, a millennial-centric eatery in Shaw.
Ana Marin, co-owner of Meats and Foods on Florida Avenue, sells half-smokes that her husband Scott McIntosh makes in-house. His sausages are the most popular item on their menu by far. Marin, a San Francisco native, moved to DC two decades ago. While she can't remember her first half-smoke, she's certain she had it at Ben's, which she considers a classic. "We tried to make what tastes good, instead of trying to adhere to the canon," she says.
Like Ben's, Meats and Foods traffics in nostalgia. But while Ben's has black-and-white photos of politicians and entertainers on its walls, Meats and Foods has action figures from the '80s and a whole lot of Garfield-themed art. The generational divide has perhaps resulted in a distinct approach to the half-smoke itself. McIntosh's version is smokier than those sold at Ben's.
 
When it comes to comparing their sausage, Marin demurs, saying she and McIntosh never wanted to stake out any kind of ownership over the half-smoke. "We would never say we have DC's number one half-smoke," Marin says. "It's just a flavor of sausage we make that we put the same amount of effort into as we put in for all our other sausages." The decision not to highlight the half-smoke on their menu seems like an act of respect to Ben's, which is nine blocks west of Meats and Foods.
 
But it's also an acknowledgement that, despite Ben's close ties to the sausage, no one owns it. If the half-smoke has no set recipe, there's room for innovation. Perhaps one day we'll see a half-smoke that is kosher or halal. Even Ben Ali, the godfather of the half-smoke, never ate one because the sausage had pork, which went against his Muslim dietary restrictions. In an age of meatless fast-food burgers, might we see an Impossible Half-Smoke? Maybe, although the official stance from National Hot Dog & Sausage Council is pretty clear. "I haven't heard of [a half-smoke] that's not a pork and beef mixture," Mittenthal says. "If it doesn't contain meat, it's not a sausage by government definition."
Ben's Chili Bowl celebrated its 61st anniversary this year, and it now has six locations -- from Northern Virginia to inside Nationals Park. As the restaurant continues to earn clout from residents and tourists, the half-smoke itself further cements its place into local history. And the more popular half-smokes get, the more license people like Marin have to make it their own and, certainly, the prouder DC residents feel about this iconic food.
Presidents have come and gone, and housing prices have dipped and spiked, but a sausage has stood the test of time. Here are the best places to eat a half-smoke in Washington DC.
Where to eat a half-smoke in Washington DC
Various locations
Ben's Chili Bowl delivers on the three main components of a half-smoke: the snap, the smoke and the spice. Tangy yellow mustard cuts the richness of the sausage and onions give a slight crunch. The chili is like a saucy avalanche. Regarding texture: If you want a more charred sausage, ask for your half-smoke to be split and grilled so more of your sausage's surface area is hitting the grill. If you like the snap, keep it intact.
Arlington, Virginia
Weenie Beenie purportedly sold the first grilled half-smokes. They stay true to its breakfast origins by serving it with an egg.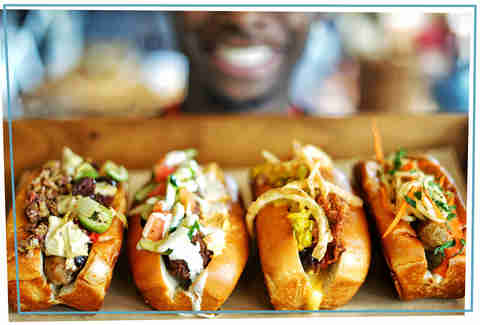 Shaw
Halfsmoke's namesake is a behemoth of a sandwich served on a brioche bun and incredibly extra toppings like bacon and beer cheese. If you were raised during the '90s, this spot will draw on memories by delivering their menu in a trapper keeper, your food in a metal lunchbox and your bill in a classic Disney VHS case.
Georgetown
This Georgetown butcher shop excels in huge sandwiches that are big enough for two meals. Their half-smoke is a more manageable size and is topped with mustard, thinly sliced red onions, and a hefty pickle slice. You can also buy Stachowski's half-smokes to cook at home.
Shaw
Spicier than other offerings, DCity Smokehouse's version of the half-smoke comes topped with chunky brisket chili (with beans!). Their sausage is made in-house and you can also buy the DCity's half-smokes to cook at home.
Old Town
Haute Dogs' half-smoke is one of 12 meat options that can be served 20 different ways (if you don't count the customizable "Choose Your Own Toppings" option). There are more traditional styles like "Coney Island" and "Chicago." ... And then there are styles like "Pho" that dress up sausages like a bowl of noodle soup, with bean sprouts, hoisin sauce, and basil.
Shaw
Meats and Foods sells a smokier half-smoke than most purveyors. Chili comes in two varieties: a rich meat sauce chili and an acidic tomato-based veggie chili. The sausage is made in-house and you can buy packs to take home.
National Mall
Half-smokes are part of the core menu at the National Museum of African American History and Culture's Sweet Home Cafe.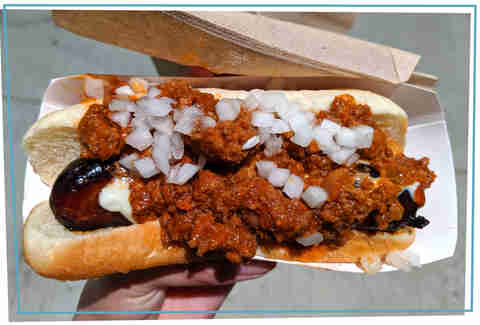 Waterfront
The half-smoke offered at Audi Field, home of DC United, is generously grilled with a crisp exterior that lends itself to a hearty snap. But it lacks a signature smokiness and spiciness. The chili tastes more like bolognese. Still not terrible for stadium food, or if you are particularly sensitive to spice.
Sign up here for our daily DC email and be the first to get all the food/drink/fun in town.